プランID:12352 Brought by:​ ​​ ​Glass Art Experience Studio Ito Station experience classroom
[Ito, Shizuoka Prefecture, fusing] Let's make a chopstick rest! Fusing experience (chopstick rest)
864yen~​ ​(tax included)
Fee per participant
Plan ID:

12352
Shizuoka / Ito, Usami, Kawana
Chopsticks making experience
Empty-handed OK
1 person participation Allowed
Children can join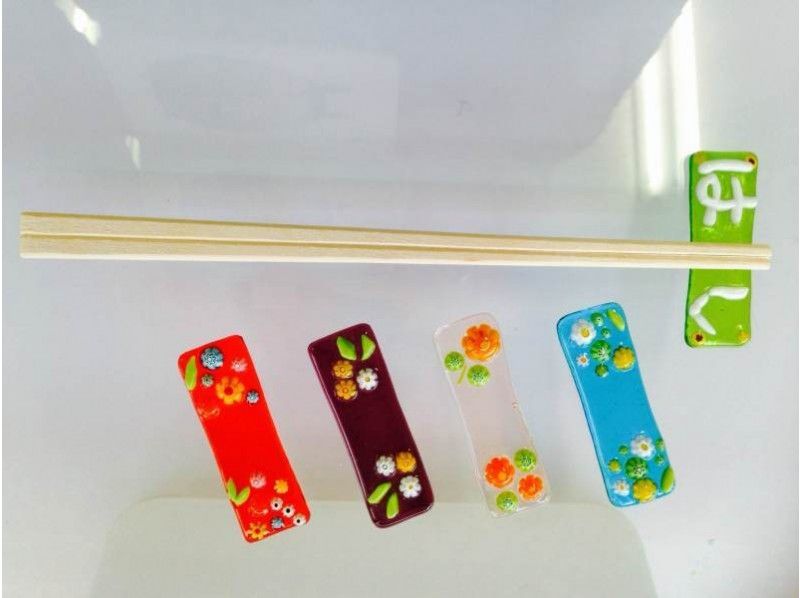 Starting time

Participating age

2 years old ~

Time required

Within one hour

ScheduleRegularly
Assemble point Look in GoogleMap
There are no story stories of this plan yet
Description​ ​
In a way to bond the colorful glass in a high fever, to arrange the Italian Venetian glass (millefiori), you can create your own original chopstick rest. Perched small but, there is a strong presence chopstick rest. Experience is simple. Venetian glass is put on top of the base, only temporarily fixed with glue! Colorful glass is melted together, why not make a beautiful chopstick rest.
Easy even for beginners!
Chopstick rest fusing experience, I feel fine work with small, but you can also participate in small children. Please join us.
Offer a wealth of glass!
Please choose the color you like from a lot of glass. Basic color in 26 types, Venetian glass to put on the base, millefiori and in the sense of a thousand flowers, there is also the original of the rod-shaped glass. Please make your only work.
Attractions of the plan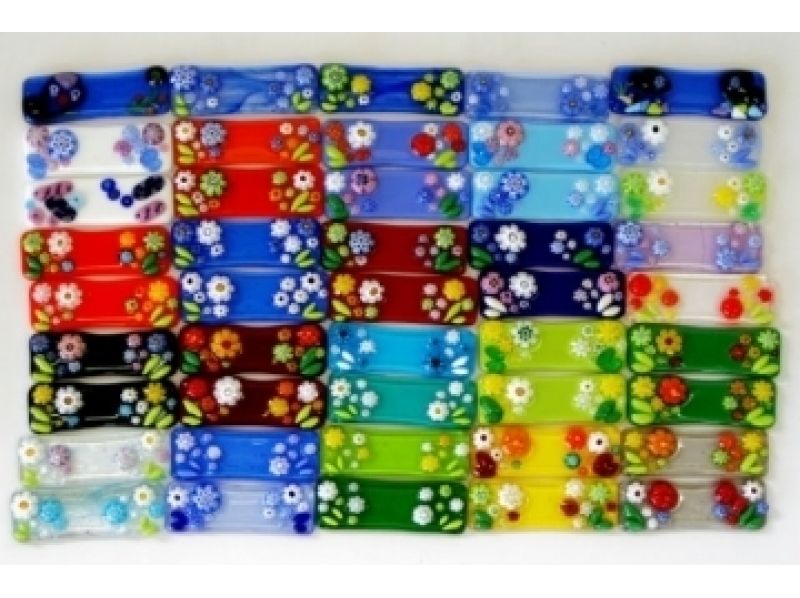 Colorful in the completion of the cute chopstick rest!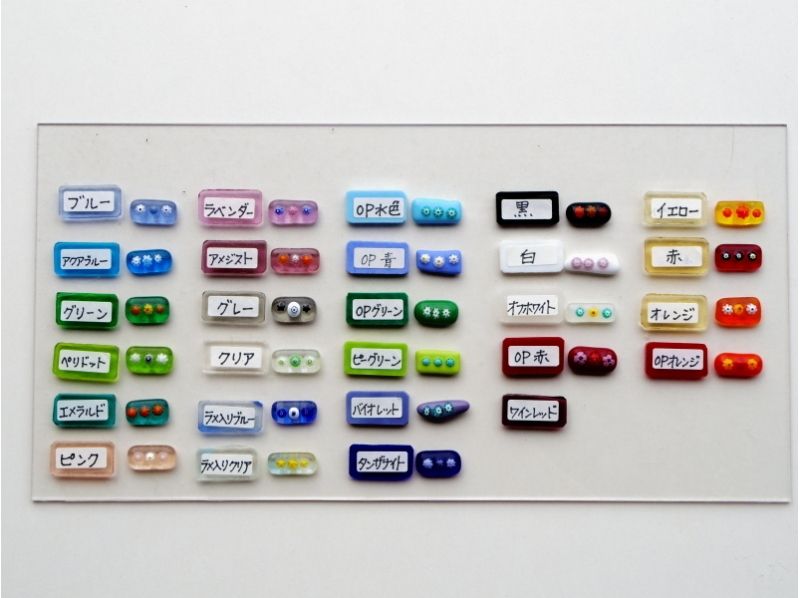 Time of the meal is more fun with my chopstick rest. You can choose your favorite color
Information
Minimum number of people
1 person
Number of people who can book
1 to 20 people
Schedule
Regularly
Assemble time
Please fill in your time of hope in the remarks column in the following time at the time of booking
10:00 to 15:00
Assemble point
Glass Art Experience Studio Ito Station experience classroom
Reservation deadline
Before 2 days
Regarding advance preparation
| | |
| --- | --- |
| About clothings and must-bring items | There is nothing especially'll have. |
| About rental items | Nothing in particular. |
Facility information
Changing room
toilet
shower
Hot spring
Locker
Hairdryer
Parking Lot
convenience store
Supermarket
Access and map
Location
Ito, Shizuoka Prefecture Yukawa 1-9-13 Kameya Building 2F
How to reach by car
About 30 minutes from Atami
Parking available nearby ※
How to reach by train
About a 1-minute walk from JR Itō Line-Izu Kyūkō Line "Ito Train Station"
---
料金について
Basic charge
| | |
| --- | --- |
| Participants / per person 864yen | 2-year-old - |
※Prices including all taxes.
※ The above is the basic charge.
* Prices may vary depending on the schedule, so please see the price list displayed after selecting the schedule.
| | |
| --- | --- |
| Included in price | 体験料、材料費 ※お箸置きを1つお作りいただけます。 |
| Those not included in the price | It takes about 10 days from the experience date. As soon as completed we will send. (240 yen extra shipping) |
---
About payment / cancellation
| | |
| --- | --- |
| About payment | 当日現金、またはクレジットカードにてお支払いください。 ※ご利用いただけるカード/VISA・MASTER・AMEX・JCB・銀聯・ダイナースクラブ |
| Payment method | The payment method specified by the operator. |
| About cancellation fee | Cancellation fee does not have to give me, but please contact us as soon as possible if it is canceled. |
| Cancellation by operators. | 設備の不調・故障によって体験が中止となる場合がごいざます。 中止となった場合、現地までの旅費などの賠償には応じかねます。 あらかじめご了承ください。 |
Other
Matters require attention
※ In the case of more than 10 people, please make a reservation at least one week prior to the experience date.
Other notices
Schedule details
① visit - accepted
② description of production procedure
③ production
④ complete payment
Everyone's experiences
No reviews yet
864円~(税込)
Fee per participant
Included in price
体験料、材料費 ※お箸置きを1つお作りいただけます。
When you book this plan 8 pt I will save it!
| | |
| --- | --- |
| | Starting time |
| | Participating age2 years old ~ |
| | Time required Within one hour |
| | ScheduleRegularly |
| | Assemble point Look in GoogleMap |