Plan ID: 11455 Brought by:​ ​​ ​BUNGY JAPAN (bungee Japan) good luck bungee
【Nara · Misato Town】 Wishing for luck from a maximum height of 30 meters! Kansai Yuichi "Portable Bungee" ★ Action camera rental included ★
(34件の体験談)
9,000yen~​ ​(tax included)
Fee per participant
Plan ID:

11455
Nara / Ikoma, Ikaruga
bungee jumpling
Empty-handed OK
1 person participation Allowed
Active refreshing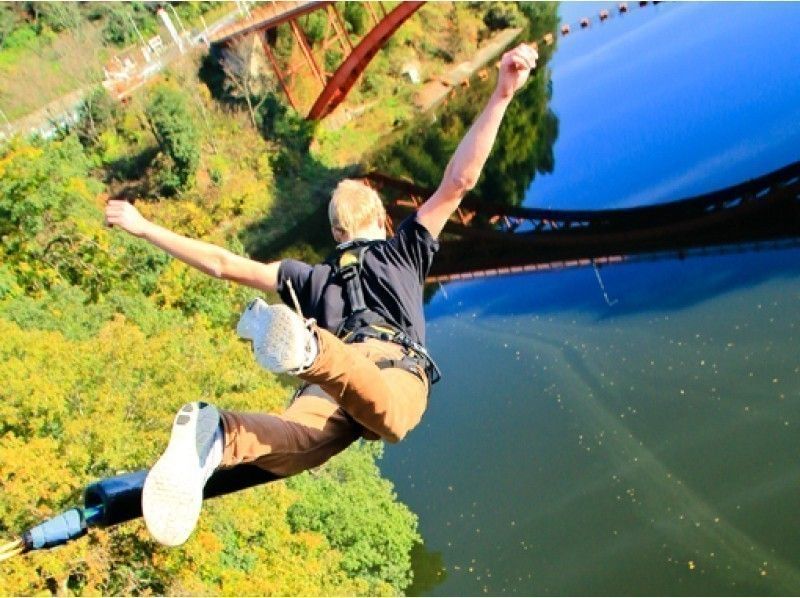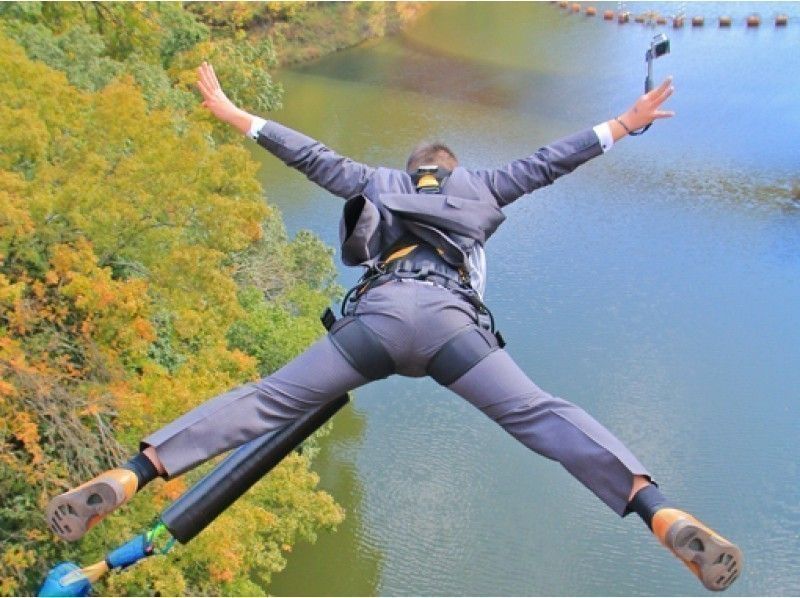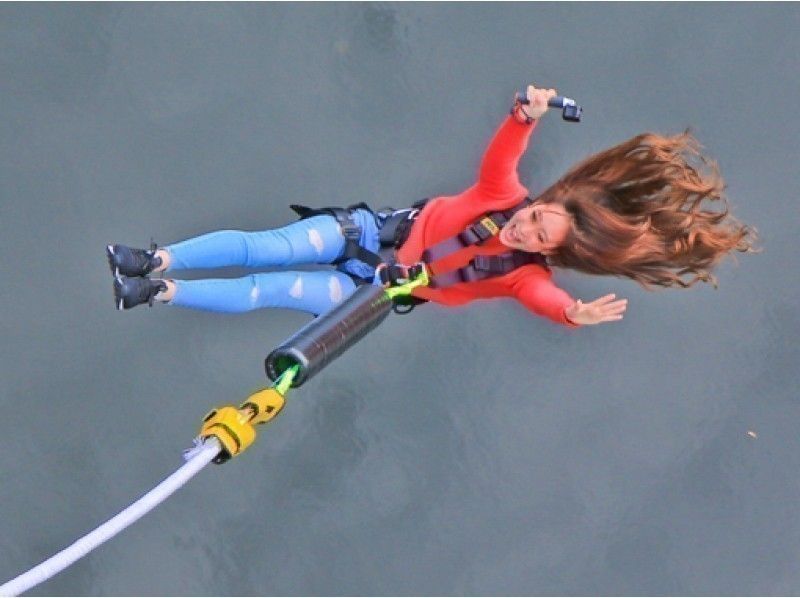 Starting time

09:00

09:30

10:00

10:30

11:00

11:30

12:30

13:00

13:30

14:00

14:30

15:00

15:30

16:00

16:30

19:00

19:30

20:00

Participating age

13 years old ~

Time required

1-2 hours

ScheduleMid March, 2017 ~
Assemble point Look in GoogleMap
昨日、念願のバンジージャンプを して来ました????❣️ 正直、下を見ると 死ぬ覚悟と言うか かなり踏み出す一歩に 勇気を要しました。 人が翔ぶのを観てるだけでも 怖かったので リタイアも考えましたが スタッフさん始め 皆様が支えてくださり 気合で翔びました‼️ 結論、最高な達成感 爽快感に包まれました????✨ まだ未経験の方は 超‼️お勧めです???????? 次は地上約60mのバンジーに 挑戦します☺️???? いずれはスカイダイビングもしようと ???????? 貴重な体験、本当に有難う御座います❣️
Description​ ​
"Kaibutsu bungee" opened in 2016 as the 50th anniversary limited event of the town regulation of Nara "Misato Town"!
Opened the bungee jumping base on the historic lucky bridge designated as a registered tangible cultural property of the country!

The only bungee jump in Kansai is reopened long-awaited from March 2017! It is!

Jump from the bridge that is 30 meters high.
It is a great opportunity to challenge "bungee jump" which is one of the hottest new adventure activities in Japan now!

※ Points · coupons can not be used for this plan.
※ Bungee jump repeater discount (certificate) can not be applied.

Please gather at 15 minutes before the start time.
Let's grasp the better fortune in the bungee!
After the jump to a jumper, you will be fitted with a body type of harness that ends in an upright position. Jumper is pulled by winch to the platform that will welcomed friends to wait for the blessing, you will want to be greeted with applause.
As luck Bridge name, certainly on this occasion, please grab the good luck in the bungee!
It will jump into a new world!
But everyone knows, bungee jumping can not challenge that there is no courage and action. Why do not you come and experience on this occasion the height of 30m?
If Susumere themselves the first step to overcome the fear, it should have spread a new world in front of the eyes!
You can shoot with action camera!
Action cameras are available to all customers who participate! Let's get tension, before and after the jump, and aerial images with dynamic feeling!

※ If the action camera is a machine trouble, we will give you the photo data in the original USB.
Attractions of the plan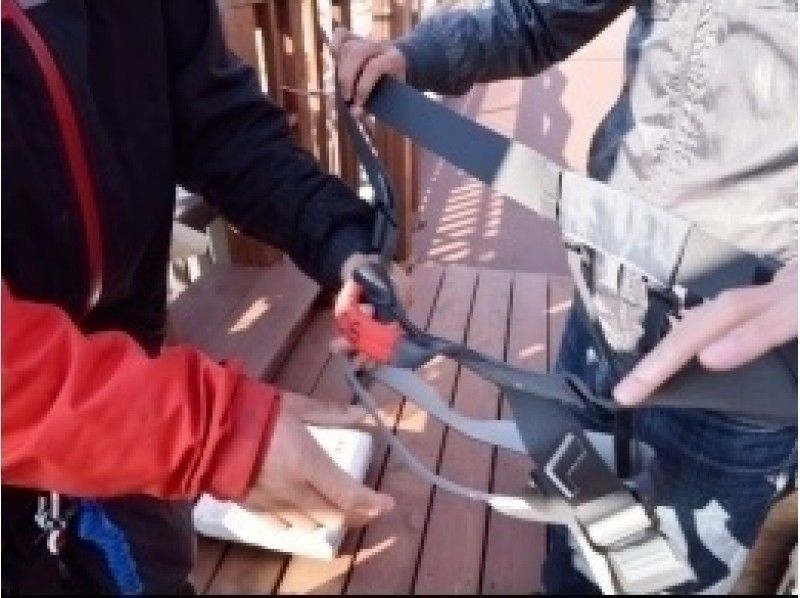 Double, check to triple Weighed before the jump, and adjust the bungee of equipment to suit individual body weight. To ensure the safety of the jumper, sticking out about safety procedures, double, and a check in the triple.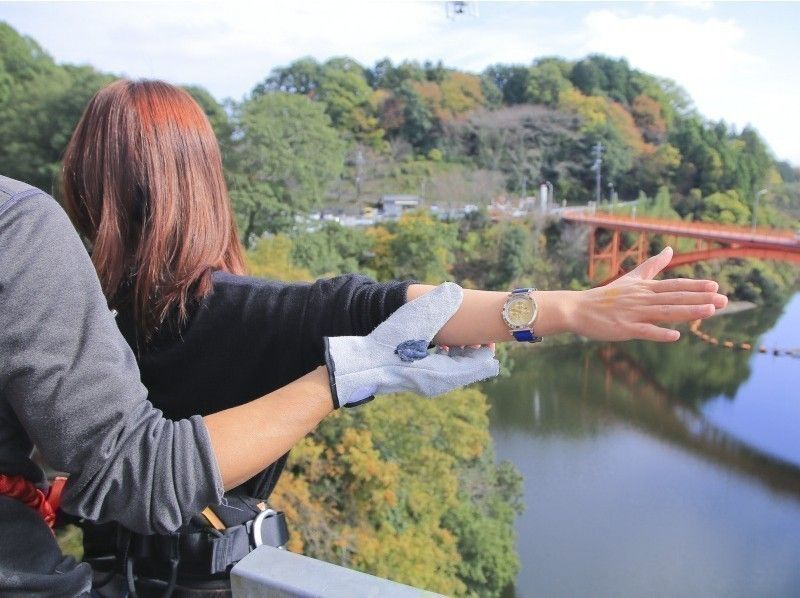 Ideal for first bungee To enjoy nature in the whole body, you can enjoy the feeling of freedom and a sense of accomplishment. It is better to be bungee first experience is First to here!

There is a photo service (charge separately) Faces the spectacular scenery, the moment you jump toward the lake, consistently photographer will shoot was happy to safely jump finished up to your face. The data will give you on the spot in the CDR. Please apply for those who wish at the reception on the day.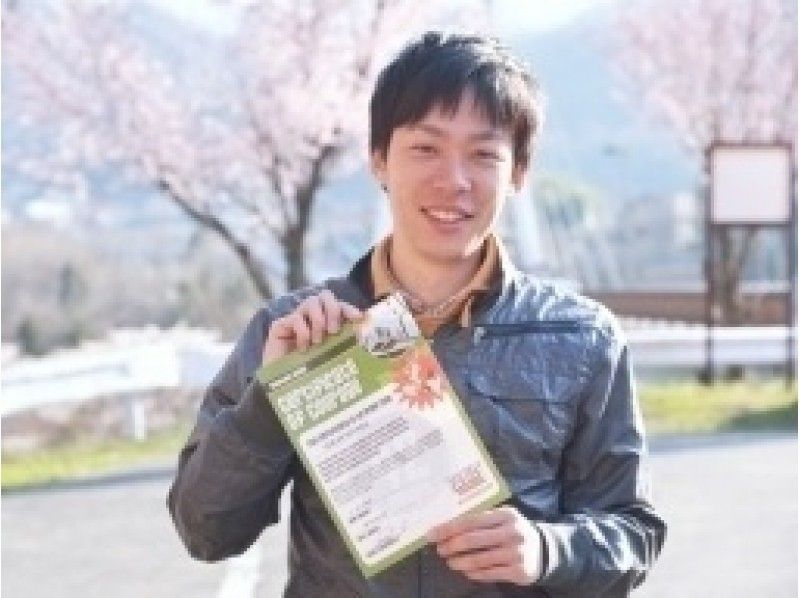 His new testimony Gift certificates to those who overcome the fear with a splendid courage!
Information
Minimum number of people
1 person
Number of people who can book
1 person~
Schedule
Mid March, 2017 ~
Assemble time
9: 30 ~ 11: 30, 12: 30 ~ 17: 00 (16:30 reception end)
We have departs at 30-minute intervals in the above-mentioned period of time.
Please tell your choice of time at the time of booking.

Please gather at 15 minutes before the start time.
Assemble point
Good luck bungee
Yubinbango636-0923 Nara Prefecture Ikoma-gun heguri Shigisan 2280-1
Reservation deadline
The day before, until 5 PM
Regarding advance preparation
About clothings and must-bring items
Skirt Please avoid.
- Early spring or early fall, please provides many single jacket because there are times that feel particularly cold. In addition, in order to jump toward the river, because there rarely that would wet a little clothes after jump in Japan, it is recommended to prepare a change of clothes and the like.
Shoes will recommend exercise shoes. Please avoid walking difficult shoes such as high heels.
About rental items
·nothing special
Facility information
Changing room
toilet
shower
Hot spring
Locker
Hairdryer
Parking Lot
convenience store
Supermarket
Access and map
Location
Yubinbango636-0923 Nara Prefecture Ikoma-gun heguri Shigisan 2280-1
How to reach by car
Kinki motorway ⇒ Higashi JCT ·· second hill 奈有 fee road (National Highway 308) (10km) ⇒ Ichibu IC ·· national highway 168 (8km) ⇒ Zeino ... National Highway 236 (3.9km) ⇒ cross the Shigisan (bridge not, there is a parking lot in the straight direction)
How to reach by train
The road in the Nara Station or Osaka Station ⇒ Oji Station (15 minutes or 40 minutes) ... bus (Shigisan Gate line) ... "Nobutaka Bridge" in getting off ⇒ Nara bungee opposite of (a 2-minute walk) * road (right hand) enter.
---
time schedule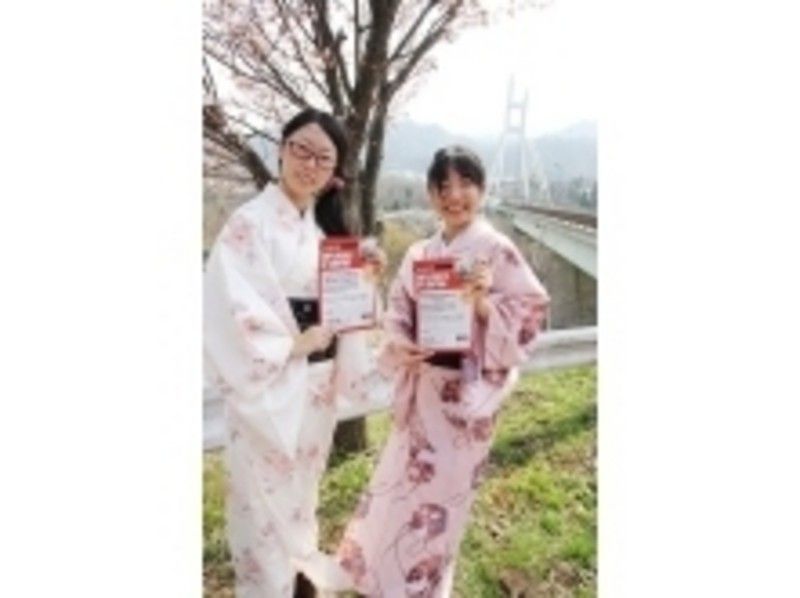 Now you have a jump ticket to be issued at the time of acceptance completion, it will head to the jump area. So harness installed, and can be used to perform the jump preparation such as the description of the jump. Because after the jump the end will be issued certificate at the reception, please visit us not forget!
---
Price
Basic charge
| | |
| --- | --- |
| Participants / per person 9,000yen | 13-year-old - |
※Prices including all taxes.
※The above is the basic charge.
※Prices may vary depending on the schedule, so please see the price list displayed after selecting the schedule.
| | |
| --- | --- |
| Included in price | 体験料、保険料、機材、アクションカメラ撮影 ※アクションカメラが機材トラブルの場合、お写真データをオリジナルUSBにお入れしてお渡しします。 |
| Those not included in the price | Photo pack: 3,000 yen (Please apply at the reception desk) |
---
About payment / cancellation
| | |
| --- | --- |
| About payment | ・当日現金にてお支払いください。2名様以上のグループのお客様には、全員まとめてのお支払いをお願いしております。 ・必ずお釣りのないようにお支払いください! |
| Payment method | The payment method specified by the operator. |
| About cancellation fee | キャンセル・変更の場合は、速やかにお電話にてご連絡ください。お客様都合によるキャンセルの場合、下記のキャンセル料が発生致します。 ・前日:体験料金の50% ・当日:体験料金の100% |
| Cancellation by operators. | ・通常の雨では決行いたします。ただし大雨や嵐、川の水量などにより中止させていただくことがまれにございます。 ・中止の際はできる限り早くお電話でご連絡いたします。その場合はキャンセル料は発生いたしません。 |
Other
Matters require attention
Weight limit: 40 ~ 100 kg
Please offer in advance If you have a chronic disease of the following Upon a bungee jump.
People who have heart disease, epilepsy, high blood pressure, diabetes, mental disorders limbs, etc. who are the eyes of surgery, etc. - the cornea, osteoporosis, dislocation, asthma, surgical experience
※ In addition, please note that you can not join us those who are pregnant.
Please note that those who have been drinking even in a small amount on the day will not be able to join you become covered by insurance ※.
Other notices
· For those under the age of 20, please be accompanied by a legal representative such as your parents or sign the confirmation letter of our company and bring it on the day.
(Since it involves compensation for insurance, we will limit it to the court agent.)
However, please contact us for foreigners who are visiting Japan by traveling overseas.
※ If you can not accompanied by, it will be pre-attached to the book document to E-mail (mobile e-mail address can not), or to send by FAX.

※ If the action camera is a machine trouble, we will give you the photo data in the original USB.
9,000円~(税込)
Fee per participant
(34件の体験談)
Included in price
体験料、保険料、機材、アクションカメラ撮影 ※アクションカメラが機材トラブルの場合、お写真データをオリジナルUSBにお入れしてお渡しします。
When you book this plan 83 pt I will save it!
| | |
| --- | --- |
| | Starting time 09:00 09:30 10:00 10:30 11:00 11:30 12:30 13:00 13:30 14:00 14:30 15:00 15:30 16:00 16:30 19:00 19:30 20:00 |
| | Participating age13 years old ~ |
| | Time required 1-2 hours |
| | ScheduleMid March, 2017 ~ |
| | Assemble point Look in GoogleMap |