[Online tour coverage] If you participated in a marine life exploration tour in the shallow water "Ino" of the coral reefs of Okinawa, it was a fulfilling content that both children and adults can enjoy!

Nowadays, the word "ZOOM drinking party" has become popular, and I've become accustomed to enjoying something remotely using the Internet.

I think there are many people who were not good at operating smartphones and computers, but now they are completely familiar with it.

I miss the days when it's hard to meet friends and family members who live far away and I have to put up with traveling, but it's fun to learn useful tools due to technological advances.

By the way, this time Activity Japan started " Online tour From "," using that ZOOM Okinawa's coral reef (Inou) exploration tour! !! Participate in Did.

First of all, from the impression of this online tour, ...

・ Adults are looking forward to their next trip to Okinawa
・ Children will be the subject of free study during summer vacation

We will pick up the recommended points and report on them, so please try them out when you have time ~

Click here for the online tour I participated in this time
Okinawa's coral reef (Inou) exploration tour started!

After gathering at ZOOM and greeting the participants, the online tour will start immediately!

This is "Mr. Yada" from Okinawa Sea Ashibi who is in charge of the guide!

This time, we will guide you through live broadcasting using ZOOM from the point called "Nagahama", which is about 15 minutes from "Zanpa Misaki", one of the standard sightseeing spots on the main island of Okinawa.


It was fine on the day of the online tour, and despite the beginning of June, the temperature was close to 30 degrees Celsius!

Ah, I want to go to Okinawa! !!

First of all, he will give a lecture from the equipment and belongings for exploring the shallow waters (Ino) of the coral reefs of Okinawa.

·gloves
・ Marine shoes
·towel
·drink

Ino is not a sandy beach like a beach, so you should definitely bring gloves and marine shoes with you.

Then, while walking in the shallow water where the magnificent view of Okinawa spreads, we will go out to search for creatures living in the sea.
Impressions so far:
・ The tour is fresh while playing live in real time!
・ Mr. Yada, the guide, looks kind and likes it!
Ino is full of Okinawan creatures!

The first thing I found was "Kuronamako".

Here, a quiz will be given by Mr. Yada, the guide.

・ What happens if you cut sea cucumbers?
・ What is the sea cucumber eating?

Do you know this answer?

In this way, while walking along the coastline of Ino, the online tour will proceed in a quiz format with themes such as marine life and the topography of the sea in Okinawa.


Besides, Blue sea star, pilumnus vespera, brittle star, blue devil, coral reef, sea urchin that should not be touched etc...

Inoue is full of Okinawan creatures!

While asking questions on the spot about what you were interested in Participatory feeling of answering quizzes with everyone is super fun !!
Impressions so far:
・ Guide Yada's explanation is polite and easy to understand!
・ Only in real time, if it is out of focus, it will be pushed in properly! Lol
Why is the sea in Okinawa so beautiful?

And at the end of the tour The question "Why is the sea in Okinawa so beautiful?" ..

Even though I think the sea in Okinawa is beautiful, when asked "Why?", I can't answer the reason ... bitter smile.

While interweaving the reason why the popular activity spot "Blue Cave" shines blue, Explain in detail the factors that make the sea highly transparent He is doing it.

this Knowing and not knowing will surely change your feelings of enjoying the sea of Okinawa I think! !!

And when there is a closing word, "Let's reduce the amount of garbage and protect the beautiful sea!", You should instinctively reply "Yes!" Lol
Impressions so far:
・ It was a fun online tour where you can learn about the sea of Okinawa in a fun way!
Summary of this online tour
Although it was introduced in a digest, the online tour of about 40 minutes has been completed so far.

Learning that cannot be experienced in an aquarium Then, the next time I went to Okinawa, I wanted to actually search for Ino!

The participants this time were only adults, For children, it will send images of creatures found during the tour as a result of free research That's right.

The perfect online tour for the whole family to enjoy! Please feel free to make a reservation ~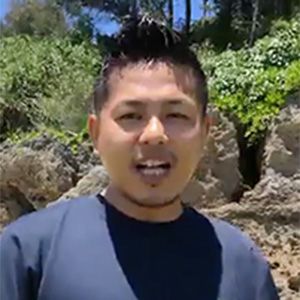 Comment from guide Yada High Sai! Gusuyo Chuganavira! (Hello! How are you guys!) Various interesting creatures live in the Ino walk, and we who live in Okinawa also walk around. Even if you can't come to Okinawa, it will be broadcast in real time, so I think you can enjoy it! The appearance of creatures that you always see changes, and it may be common not only to Okinawa but also to the seas of the whole country. In addition, you can enjoy highly accurate home study by not only preparing for Okinawa before coming to Okinawa and having your children teach you, but also thinking about it! It's difficult to go out at STAY HOME, but I feel fine with STAY POSITIVE! We look forward to welcoming you to Okinawa someday!
Experience tour information introduced on this page
Shop information introduced on this page
Okinawa
Okinawa main island
Yomitan Village (Cape Zanpa)/Kadena City/Chatan Town
SUP (SUP) stand-up paddle board
Snorkeling
Canoe / kayak
About 40 minutes by car from Naha Airport. Would you like to experience kayaking and canoeing with a mangrove on the Hija River in Kadena Town, central Okinawa Island? There are sunsets and nighttime from 7:00 in the morning, and it is also attractive that the creatures you can meet and the scenery you can see differ depending on the time of day. Enjoy relaxing in the wilderness surrounded by greenery.
business hours
7:00 to 22:00
Regular holiday
Open all year round