【HIS×アクティビティジャパン】2017年度ふるさと名品オブ・ザ・イヤー 体験アクティビティ部門賞を決定!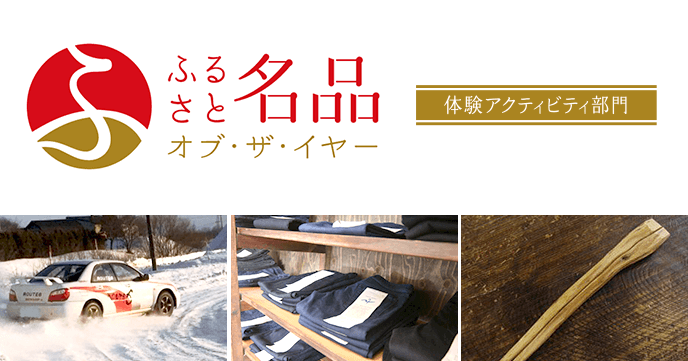 What is the hometown and the specialty of the year?
The "Hometown of the Year of the Year" is an award system that supports the development of the market and the excellent products that support the future of the region.
Private companies that support the creation of regional attractions are commended for their choice of specialties that sleep in each region and the stories and efforts that support them from their respective perspectives.
It is a major feature that the division awards of various cut are lined up. In addition, with the support of the government, we will create regional revitalization.
Hometown special product of the year special page is here
About 2017 "Experience Activity Division" category prize
HISとアクティビティジャパンが紹介している全国約3,000提携事業者、約13,000プラン(2018年2月現在)の「着地型体験アクティビティ」(アウトドア、インドア、クラフト体験、他)の中から下記ポイントを基準に部門賞を選定いたしました。
(1) Regionality: Does it make good use of local resources etc.
(2) Originality: Things that can not be experienced in other areas that have never been before
(3) Advancement: Creation of new added value such as creating demand for travel to Japan and experience plan utilizing IT technology
As the diversification progresses, such as the growing attention of consumers' consumption in domestic and foreign travelers, as the diversification progresses, we want to visit there with "experiential plan using nature and resources unique to that area" Through recalling it, we stayed longer, and as a result we selected three plans leading to regional revitalization.
部門賞決定の副賞として、アクティビティジャパンのWEBサイト、SNSを活用したPRと共に、HISグループのメディアネットワークでも、旅行者に訴求していく予定です。
Award-winning benefits
1st place) Activity Japan Posted first prize-winning exclusive banner on the WEB site
2nd) Announcement at Activity Japan's e-mail magazine
3rd place) Introduction by SNS of Activity Japan
Experience Activities Category Introduction of award-winning activities
PR point
【Regionality Whether we can make good use of local resources】
Taking advantage of the snow which is the characteristic of Hokkaido in winter, I enjoy the drift on the snow which I can not usually experience. After the drift run, you can enjoy the crab pot in the authentic Kumakura made of snow. Crabs used in the crab pot are crab crabs from Hokkaido, making it an attractive plan using local resources such as snow and ingredients.
【Originality】 Is there anything else devised?
Ebetsu city in Hokkaido where snow drift is taking place is located about 20 minutes by train from Sapporo. There was not a ski resort or a skating rink, there was no activity such as fishing fishing, and I was struggling to attract tourists in winter. Under such circumstances, activities of providing drift on snow were born due to the desire to provide attractive activities without large-scale facilities and special facilities and to attract tourists locally.
【Everyone can enjoy, I want to teach people unintentionally, photogenic, advanced]
There is a free transfer from the nearest station (JR Noguchi Station). The idea of ​​unlikely drift on snow is originality and innovation. Not only enjoying drift but also enjoying crab pot in Kamakura, we combine local resources such as "snow", "crab" and "Kamakura", I feel a charm not found in other experiences . Moreover, it is a photogenic plan such as anyone can feel free to participate if there is a driver's license (international driver's license), and can also take aerial shots from the sky using drone. Participants from overseas are also increasing.
Department set up company
Voice of the person in charge: In spite of the close proximity from Sapporo, I thought that I could manage to attract tourists to Ebetsu whose nationwide recognition is not so high, I am born this snow drift. Even without large facilities, we are making good use of local resources such as snow, crabs, and snow throws, and it is also a place to appeal local attractions. In addition, not only sports on snow but also pot experiences etc are combined, it is a plan that can be enjoyed even with families with children, possibly leading to an increase in residence time to the local. We are increasing the number of participants from overseas, and I think that they are contributing to creating a different flow of people.
---
PR point
【Regionality Whether we can make good use of local resources】
Kurashiki-shi, Okayama Prefecture is a spinning town that continues from the Edo era. It is also the birthplace of domestic jeans, and in recent years the number of people who know Kurashiki city jeans not only in Japan but also overseas is increasing. It is a plan that you can experience making jeans in the real place of such jeans.
【Originality】 Is there anything else devised?
Kurashiki city Kojima is a city full of jeans making, but there are few places where you can actually experience jeans making yourself. Using a dedicated machine, we actually attach buttons and rivets to the fabric by themselves, so the joy at the time the jeans are completed is also one.
We use good quality fabrics to use for jeans making even made to order made. In addition to simply making jeans, you can also enjoy the tours of the oldest jeans factory in Japan while you finish, you can learn about the history of jeans, "you can see, learn, experience, buy" I feel charm in that I can do it.
【Everyone can enjoy, I want to teach people unintentionally, photogenic, advanced]
Size can be selected from 6 different sizes of XS, S, M, L, XL, XXL, various shapes such as regular, slim, stretch and the like. The charm of this plan is that you can choose one of your favorite ones, more than 30 kinds of leather labels, rivets, buttons etc, and create only one original jeans in the world. It is also attractive that you can enjoy yourself in the middle of sightseeking in about 30 minutes.
Division setting company
Voice of the person in charge: 60 companies offer this experience Year more Over Okayama Is a company that makes jeans and has a reputation for bespoke jeans. However, custom-made jeans require specialized craftsmanship technology, money and time, so it was decided to start this plan, considering how to get close to custom-made jeans more easily and easily. . We now have.
With this plan, it is attractive that anyone can easily make made-to-order jeans without difficult technology. Before starting this experience plan, we are creating a place where a wide range of people can understand the local industry, such as creating a jeans museum as a place of learning for primary school children to understand the local industry.
Now Okayama Prefecture is being recognized by certain people as a city of jeans, but the number Year Until before Japan Awareness was not so high. Currently at the opening of Sazae Okayama As the scene where Mr. Sazae's experience of making jeans is broadcasted, the awareness of the local industry is heightened, and a wide range of people who have not visited so far Okayama I think it is connected to the opportunity to visit.
---
PR point
[Locality Whether you make good use of local resources]
Yakushima Is 2000 years old Year~ 3000 Year It is famous worldwide as a habitat of Yakusugi, which is said to be. There are many visitors for the purpose of enjoying nature outdoors by trekking and hiking. On the other hand, it is not well known that there are traditional crafts using Yakusugi. This experience is Yakushima In addition to learning about traditional crafts, you will have a valuable experience that will give you an opportunity to think more deeply about nature.
[Ingeniousness] Is there a device that can not be found elsewhere?
There are other companies that make Yakusugi crafts, but there are few places where you can actually make your own crafts. Yakusugi is currently banned from logging, but the stumps harvested in the Edo period are now in use, and these stumps will be reused effectively to make crafts. In this experience, participants can actually experience the process of making firewood using Yakusugi, such as "wood cutting," "cutting," and "shineing."
【誰もが楽しめる、思わず人に教えたくなる、フォトジェニック性、先進性】
のみを使用できる方ならだれでもが参加ができます。こちらの工房では屋久杉の木目や自然の造形を活かした工芸品が得意なため、はしづくりにおいても木の流れそのままに、その曲りにそって削ります。そのため通常のまっすぐなはしではなく特徴的な曲った箸が出来上がります。機械は一切使わず、すべて手作業で作ります。一膳一膳曲がりや木の質が違うので世界にひとつだけの箸がつくれます。"
Department set up company
Voice of the person in charge: There are many people visiting Yakushima for the purpose of trekking and hiking, but there are also many rainy days and snowy days, and some people with no physical strength, etc., and it seems like the planned outdoor Many people can not enjoy their pleasure.
I hope such people also enjoy Yakushima. What I was born as a result of considering how I can do it as a craftworker is craft using the stump of Yakusugi which is a local resource. Yakusugi is also expensive, how do you think you can experience it extensively, feel free to experience it has come to this chopsticks creation experience.
Since Yakusugi is characterized by being bent, I was told that at the beginning when I started making chopsticks, I could not use it as a chopstick from other cedars in other areas. However, the transformation of the idea that it would be easier to have a more natural shape enjoyed leads to the experience of creating unique unique shape chopsticks in the world.
The above ideas and ideas worked well, and it is said that the number of participants from overseas is increasing now. I think that there is a point that this experience is valued in that it provides the unknown value of "Yakushima which can be enjoyed even in indoor" to a wide range of people both in Japan and abroad.