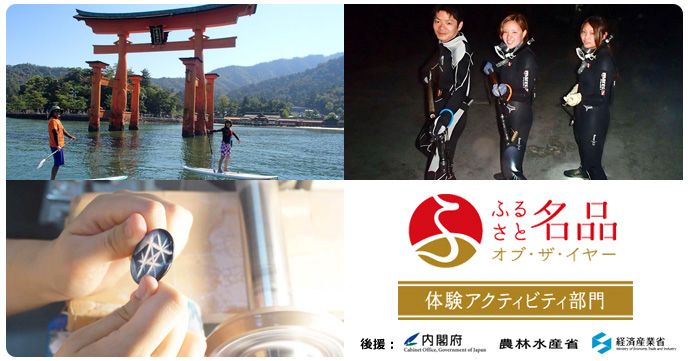 HIS×アクティビティジャパン
ふるさと名品オブ・ザ・イヤー
体験アクティビティ部門賞を決定
┃ふるさと名品オブ・ザ・イヤーとは 「ふるさと名品オブ・ザ・イヤー」は、地域に眠る名品とそれを支えるストーリーや取組を発掘し、表彰することを通じて、地域のチャレンジをより多くの人に知ってもらい、地域の将来を支える名品とその市場開拓および"地域のファン化"を支援する34部門からなる表彰制度です。HISでは、2016年度より幹事12社に参画し、4つの部門賞「デジタル観光パンフ」に加え、「体験アクティビティ部門」「こだわりの駅弁」 「ふるさと動画部門」を追加、地域の名品を取り扱う事業者が、様々な角度から地域に眠る名品とそれを支える取組を独自に発掘・表彰いたします。【公式ホームページ】 http://furusatomeihin.jp/
┃

About Fiscal 2016 "Experience Activity Division" Category Award
HISとアクティビティジャパンが紹介している全国約2,000提携事業者、約9,000プラン(2017年2月現在)の「着地型体験アクティビティ」(アウトドア、インドア、クラフト体験、他)の中から下記ポイントを基準に部門賞を選定いたしました。

(1)地域性:地元の資源などをうまく活かせているか
(2)独創性:今までにない、他の地域では体験出来ないようなこと
(3)先進性:訪日旅行の需要喚起、IT技術を活用した体験プランなど、新しい付加価値の創造

国内外の旅行者からの"旅ナカ"ニーズにおいて、コト消費の注目が高まるなど多様化が進むなか、その地域ならではの自然・資源を活用した体験プランで、そこに訪問したいと"旅マエ"に想起させることにより、より長く滞留し、結果として地域活性化に繋がる3つのプランを選定させていただきました。

部門賞決定の副賞として、アクティビティジャパンのWEBサイト、SNSを活用したPRと共に、HISグループのメディアネットワークでも、旅行者に訴求していく予定です。
┃

Award-winning benefits
1st place) Activity Japan Posted first prize-winning exclusive banner on the WEB site
2nd) Announcement at Activity Japan's e-mail magazine
3rd place) Introduction by SNS of Activity Japan
【Kagoshima Prefecture · Kirishima】 Let's challenge Satsuma Kiriko's new genre "ecoKIRI"! Satsuma facet cutting experience

[Operator]
Glass workshop deshimaru
[Basic charge]
6,480 yen (including tax)
[Duration]
All year (only on Sunday)
[Overview]
Making accessories using glass waste material from the manufacturing process of Satsuma facet.
┃

Reason for selecting category prize
Regionality:
Satsuma Kiriko, born as a foreign trade item, has gained a high reputation in the history of glass craftworks worldwide with its own unique technology while seeking a source for overseas countries. A facelift master who is acquiring the traditional technique of Satsuma Kiriko, which is created in Kagoshima, is conveying the real technology at the factory workshop.
Originality:
"EcoKIRI (Ekokiri)" which reborn as accessories by using glass waste material which did not tick at any time as it always comes out in the manufacturing process of Satsuma facet. It is worthwhile to introduce Satsuma Kiriko, which is valuable as a craft item and difficult to handle, as part of fashion and introduces it as an experience.
Advancedness:
There are many people who are using for 20s to 30s, many of whom experience the original "ecoKIRI (Ekkiri)" for gifts. Inbound correspondence is also possible, indeed customers of Malaysia, China, Hong Kong and the US have experienced, and it is spreading by the customers who actually made it. English and Chinese manuals are prepared and carefully taught.

霧島
"EcoKIRI" is a new genre of craft made from waste glass from Satsuma Kiriko process. The waste glass waste, which had been thrown away until now, is reborn as a new work by the customer. The final process is the accessories that can be enjoyed in daily life, while the glitter of Satsuma Kiriko remains as it is by the skill of the Koshi. Of course pendant tops, hair accessories and brooches, Male Tie pin and also please Golf It can also be processed into a marker. Let's choose the item that the person who wears it feels the most familiar. Traditional technology and new craftsman's thoughtful accessories will bring a new wind to everyday life.
【Hatsukaichi City, Hiroshima Prefecture】 Cruising the sea of ​​world heritage! SUP Experience School (half day course)

[Operator]
LAZYBONEZ (Lazy Bones)
[Basic charge]
4,000 yen (including tax)
[Duration]
Regularly
[Overview]
Miyajima · Itsukushima shrine which is also registered as a world heritage site. Among them, cruising Torii which can only be obtained by the low tide of the evening by SUP. An impressive experience that you can also pass through the torii if it is a high tide at the time of the experience.
┃

Reason for selecting category prize
Regionality:
Regionality: a combination of world heritage x royal road of activity. At the time of high tide, because it is not possible to go to Torii by foot, it suddenly appeared from the sea from the tourists, and the appearance of walking on SUP (stand up paddle board: hereinafter SUP) is a spectacle of surprise. The photographs were taken well and the thermal gaze from the tourists was also strong. Because it can only be done by the low tide of the evening only, an exciting experience that can be done only in the morning at high tide. Green is shining early summer, the contrast of the mountain produces a superb view. Some say that "I was able to notice the beauty of Miyajima once again by seeing it from the sea."
Originality:
The experience of "passing through the torii at SUP" is a valuable experience that anyone can be satisfied with. By having contacts that match the sanctuary shrine to the preference of modern times, it is possible to make a unique approach from the viewpoint of sightseeing We are proposing a modern and advanced new way of worshiping.
Advancedness:
Inbound inquiries are also increasing. It is possible to correspond in English. It is not only the experience of the sea, but also landed in Miyajima and a break in the local cafe is also caught. The voices say "I'm glad you caught the torii" are the most frequent, and the satisfaction level is high.

広島・宮島
After you make a set, after the firm lesson, it began rowing toward the torii of Miyajima. Enjoy around the the Quruli the torii, it is a beginner SUP experience tour. (Autumn-winter wear wet suit)
【Okinawa Prefecture Kunigami-gun Headquarters Town】 Um, that is the experience! I can experience! Mori Pin experience!

[Operator]
Blue box
[Basic charge]
12,420 yen (tax included · meal price included in restaurant)
[Duration]
Regularly
[Overview]
Dive into the ocean at night in Okinawa and experience the fish of the sea flying. It is guided by instructors qualified as fishermen, and it can safely be carried out. Also, you catch the fish you caught at the Okinawa restaurant and you can eat it.
┃

Reason for selecting category prize
Regionality:
In Okinawa sea, you can catch fish representing Okinawa and eat it as Okinawan cuisine. In the restaurant, you can also enjoy conversation with a clerk living in Okinawa, you can experience Okinawa as a whole in all experiences, meals and exchanges.
Originality:
It is an experience that can only be fishermen qualified while paying attention to the small amount of how to play at night in Okinawa. You can enjoy it with your family and children, cook the fish you caught at a local restaurant, and consistently coordinate not only the experience but also how to spend the night.
Advancedness:
Adopted Korean registered staff born in Japan. Not only a simple interpreter but also a guide to familiarize Japan well, to know Okinawa well, and to know the ocean is "hospitality" to tourists visiting Japan.

名護・本部・瀬底島・水納島・古宇利島
I will go to the sea at night! Pick one of the sea fish with a harpoon in hand! Instructors qualified as fishermen will guide you carefully! It is! · Only Mori Ichi can be experienced in Okinawa! · In the evening of Okinawa, there is nothing to enjoy quite anything other than downtown area, so the nighttime activity experience is recommended! · We also made it possible to book Okinawa cuisine as well. I am free until 5 am and can enjoy it by group travel! It is! It is!
Please contact us immediately before reservation · group etc
Activities Japan Support Center
Contact form
At Activity Japan
Nationwide variety of activities
You can book and experience