【GARVY】 Activity Navigator Kobu Oobuchi's charge assault experience April issue theme "Survival game"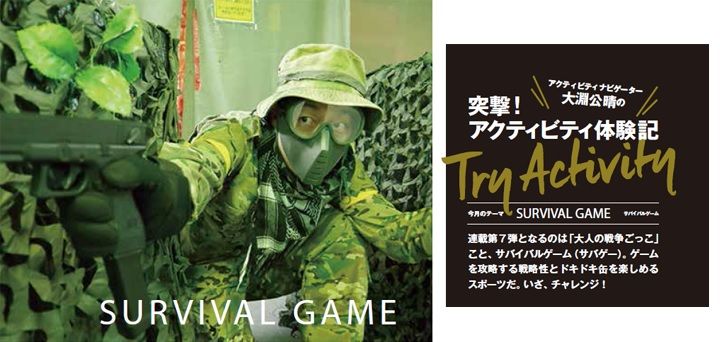 Kobu Oobuchi
The person responsible for the activity reservation information site "Activity Japan". In order to convey the charm of my favorite outside play, I'm flying around the country as my own "editor-in-chiech" and active!

Participate to join the company! Unbearable feeling of unique pounding
In recent years, the popularity soaring! Introducing a survival game (Sabagée) which is a sport originating in Japan. Sabagée is divided into enemies and friends by using air guns and BB bullets and shoots, and it is basic rule to leave on self declaration when shot. What I experienced this time is to attack the enemy places, take the flag, select the winning "Flag Battle" and one president role from the team and lose the presidential role when the president's role is shot is the representative "president warfare" Two. There are many other battle rules, and enjoying each is one real pleasure. There are also outdoor types where fields can be enjoyed on a large site and indoor type where population obstacles are installed and thrill can be enjoyed.

Although it is worrisome about clothes and equipment when it first experiences, most gifts can be rented up to gun equipment, camouflage clothing, goggles, hats, so it is safe to go hand in hand. Moreover, the ASOBIBA Akihabara store which cooperated this time is in a favorable location such as 4 minutes on foot from the station, you can drop in at the company return and you can enjoy it easily. The main way to participate is a pattern to rent out fields in a group and two patterns of free participation that can participate even from one person. Even beginners have staff support, so you can participate with peace of mind.

Fill out the application form first and rent a set of equipment. After changing clothes, carefully receive explanations such as rules on how to use guns and enjoy themselves from staff from staff. Keep the area visible from your opponent as small as possible, so as not to hit the tricks of Sabagée. Using obstacles and walls, it is important to get around well.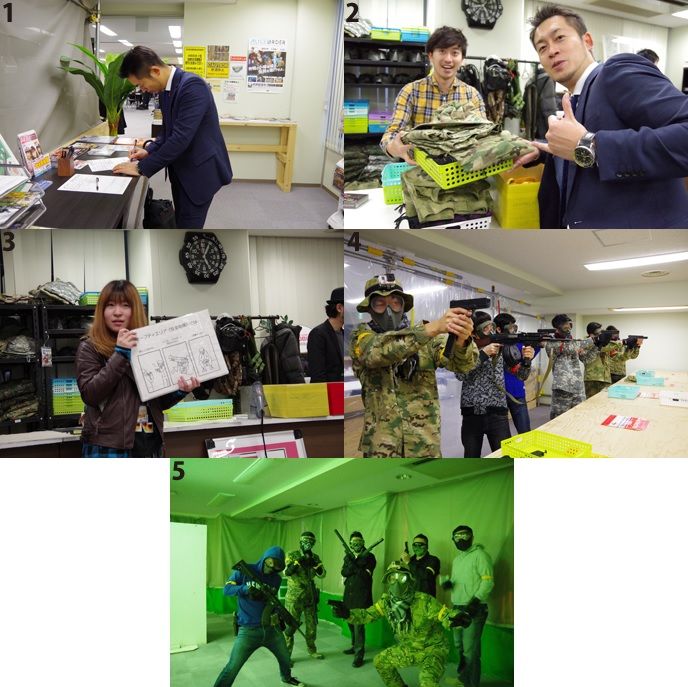 ① Finish reception and it takes about 30 minutes to start. ② It is safe to rent a rental set even with handsets such as gun set, camouflage clothing, goggles, hats, scarfs. ③ Rule explanation from the staff. It is easy to understand because it explains with the panel. ④ Learn how to load BB bullets and how to shoot guns. ⑤ Battle starts now! Beginners will also teach skilled fighters if you listen to anything. For safety, always wear goggles in the field.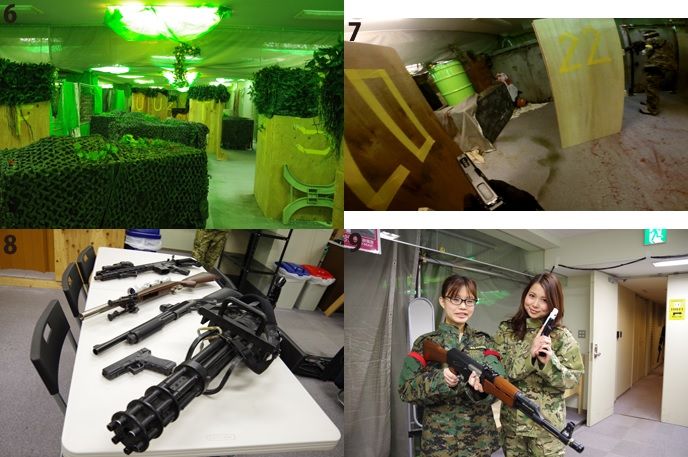 The six fields are quite wide and there are various obstacles, so the atmosphere is quite open. It is surprising that there is such a facility in the middle of the city. 7 Eyes in battle. I'm always excited because I don't know when or where the enemy will come out. As well as handguns, there are many types of guns, such as assault rifles, sniper rifles, and shotguns, all of which can be used with Savage. 9 Weekday Even at night Female Several participants in.
When it starts, it is a thrill above the imagination. The feeling of throbbing when you do not know when you are shot and the fear that the sounds and launch sound unique to indoor warfare are coming up (lol). Experienced warriors participating together say "Be behind the wall!" And say hidden, while hiding but also shooting hard, a splendid hit! Achievement of achievement when the first enemy is defeated is more than imagined.

In Sabagage, it is a rule to say "hit!" With a loud voice in a loud voice, to leave while raising a hand. And as I got used to somewhat, I became president and the presidential battle started. If you are the president, when you are shot you lose at the time of being defeated, there is a different tension from the Flag game, you can not move easily. Unfortunately I was attacked by the position and it was shot deadly ... .... In free participation type, you can join and return at any time, so you can easily adjust the time.

Why do not you stop by on the way back from the company and try to make it a new hobby?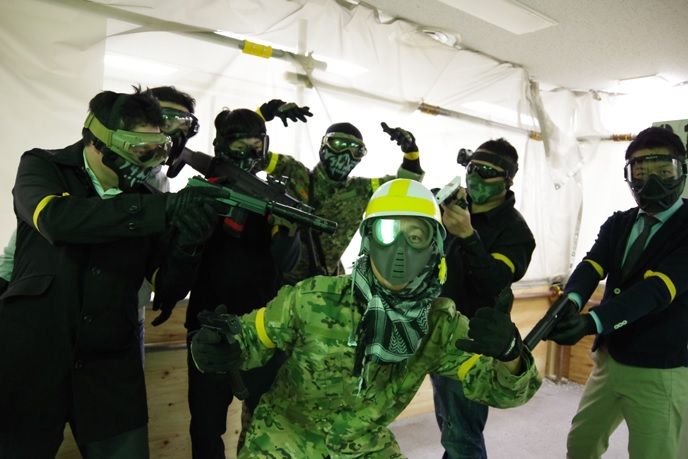 Group photo before the president's war. The president role wears a helmet as a marker. Age and group are all separated, and those who participate alone. Sabaggae can be enjoyed by anyone and prices are reasonable, so it's an activity that keeps ongoing.
Cooperation GUIDE
ASOBIBA Akihabara Field
The field concept is "ruins in the forest". Produce plenty of extraordinary atmosphere in the atmosphere. There is also a full rental set that even a beginner can be safe even for beginner classes, even with handbags. Let's go to play freely without hesitation.

秋葉原・神田・水道橋
Savage beginners are welcome! The field concept of the ASOBIBA Akihabara branch is "Abandoned in the woods." Why don't you feel free to join Sabague from a single office building in the middle of the electric street in Akihabara. The rules and rules for how to use weapons and tools are strictly defined, so even beginners can enjoy safely. Why not experience the realism and thrill that you can not get in your daily life! ?
AJ carefully selected recommendation plan

CQB Limited(シーキュービーリミテッド)
大阪北部(茨木・高槻・箕面・伊丹空港)
入会金・3時間の利用・ベーシックレンタル(エアガン、ゴーグル、グローブ、スカーフ)込のプランでサバゲーを体験してみませんか? 初心者の方でも手軽に楽しんでいただけるよう、低めの障害物を中心に配置した見晴らしの良いスタジオもご用意しております。 アクセスの良い駅直結のスタジオで、気軽にサバゲーを体験していただくことが可能です。

千葉・市原
It will be a plan to enjoy a one-day survival game. Basic Rental From a plan that allows products, with a towel shower, Instructor, equipment insurance, we offer a wide range of BB bullets unlimited use plan.

TACTICAL CHALLENGE(タクティカルチャレンジ)
鹿児島・桜島
A field dedicated to savage made by cutting through the mountain forest. Sniper to hide yourself and not find it in the enemy! There are various types of games, Number of participants And you can choose according to the purpose. Family Plan is a plan that you can play whole day up to 5 families. Even if you do not have the equipment and equipment Rental Can be used, and participation is also possible.
At Activity Japan
Nationwide variety of activities
You can book and experience