【Odaiba Autumn Firework Display】 Saturday, October 21, 2017 "Odaiba Maritime Art Fireworks Festival 2017 ~ Autumn Halloween Beach Festival ~" held!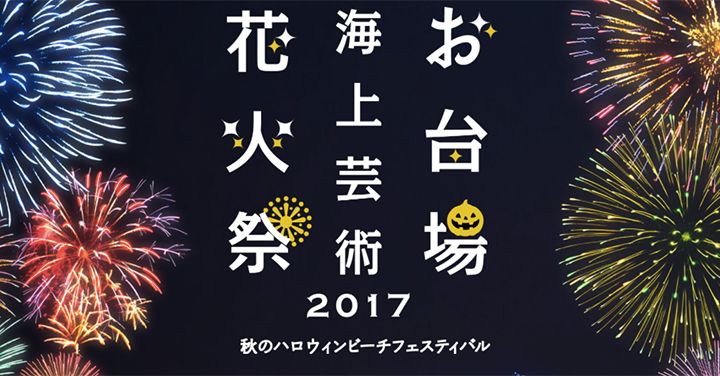 Enjoy Tokyo fall Odaiba in autumn
Fireworks and Halloween events
Tokyo Odaiba has a lot of exciting events in autumn ♪ As one of them, the event "Odaiba Maritime Art Fireworks Festival 2017 ~ Autumn Halloween Beach Festival ~" will be held on October 21 (Sat) with fireworks festival and Halloween event fused It will be held for the first time at Odaiba Beach Park in Tokyo! Mainly with one unique entertainment show through collaboration of music, fireworks and night view, inside the venue is decorated with pumpkin and lantern filled with Halloween mood and transformed into a photogenic space ◎

Halloween parade inviting special guests (to be announced at a later date) carries out "beach walking" where ordinary guests walk together inside the hall! You can change your mind to a cosplay and enjoy Halloween in 2017 fully ♪ Other food areas that can enjoy the taste of autumn and street performers · street performers will show off some fun performances here and there etc It's a fall press entertainment event in autumn that can fully enjoy 'Overnight you can not experience elsewhere' ♪

Activity Japan is accepting reservations for "Fireworks display touring cruise" very popular every time at fireworks display. From Tamachi, Asakusabashi, Kita Shinagawa, Hamamatsucho Temple of the Tokyo Bay Area where you can board from Hamamatsucho Observe fireworks from the deck from the deck ♪ Drinks with alcohol (including fried freshly prepared tempura set menu) and all-you-can-drink Tokyo Bay It is a cruising plan ◎Enjoy the event during the day and avoid fireworks by boat while avoiding crowds at nightIt is how to enjoy ☆End of reservation reception as soon as it is fullSo as soon as possible ◎
Reservation reception Odaiba fireworks viewing cruise
Odaiba fireworks viewing cruise contents
<Scheduled fireworks display time>
18: 30 ~ 19: 30 (planned)

★ View fireworks on a houseboat with an observation deck (digging tatami mat)!
Anchor at Odaiba Beach Park near the launch site! The inside of the ship is enjoyable with comfortable digging seat.
★ Fried freshly prepared tempura set and drinks all-you-can-eat!
<Example of meal menu>
Fried Tempura (9 items), sashimi, rice balls, snacks, Oshika, Okoshi, Miso soup, Dessert (Assorted fruits)
* The contents may change due to purchase situation etc. Please note.
<All-you-can-drink menu>
Beer, whiskey, sake, potato shochu (Black Kirishima), wheat distilled spirit (Nikaido), lemon sour, soft drink (cola, orange juice, oolong tea etc.)
You can choose from a variety of menus freely.
【Price】
Adult: ¥ 16,800, Middle School student: ¥ 14,800, Elementary school student: ¥ 12,800
[Please Note]
※ Yaoi boat will be 【Kaiseki】. Please note.
※ Yakata boat observation deck has a capacity. When you watch fireworks, we will inform you in turn.
※ Bringing in drinks, food etc. is possible.
【In case of fireworks display discontinuation】
Weather conditions For other reasons we will schedule a cabin of a houseboat from 17: 30-20: 00 when the fireworks display is canceled.
There is no postponement etc. In that case, there is no refund etc. Please note.
Event Details
To enter the event venue, it is necessary to purchase entry tickets separately from Odaiba fireworks display cruise. For details, please refer to "Odaiba Maritime Art Fireworks Festival 2017 - Fall Halloween Beach Festival ~"Official sitePlease confirm.

[event name]
Odaiba Maritime Art Fireworks Festival 2017 ~ Fall Halloween Beach Festival ~
[event date]
October 21, (Sat) 2017 [Holding time]
Opening / 15: 00
Firework launch start / 18: 30
[Venue]
Odaiba Beach Park (Minato-ku Tokyo District 1, Minato-ku, Tokyo)