SUP event "Hiroshima SUP marathon" 2017/11/12 (Sun) Hiroshima Kannon is held at Marugona off Tsukugoshima!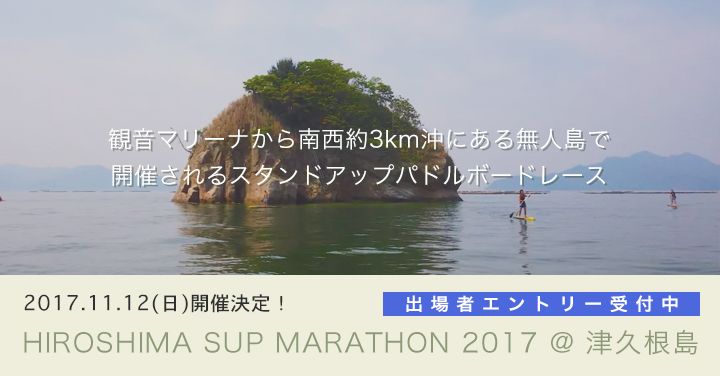 Hiroshima SUP marathon 2017
Contestant entry accepted
2017/11/12 (Sunday) Hiroshima Kannon Marina We are deciding to host "Hiroshima SUP marathon 2017" at Tsukugoshima floating about 3 km southwest! Adult section "Tsukugonoshima Race" 12 courses, Children's section "Kids Race" All official entry reservations for 6 courses are accepted at Activity Japan ◎ China area attracted excitement also in 2016 SUP race event ☆ We are waiting for the participation of Padrer from children to adults ♪ ('θ `)
Summary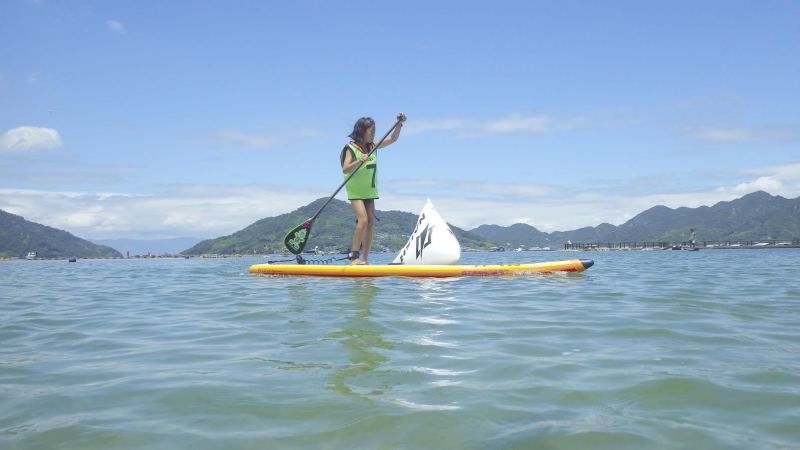 Hiroshima SUP Marathon held in 2016
"Tsukugoshima" floating about 3 km off the coast of Hiroshima City Marine Sports base "Hiroshima Kannon Marina". SUP marathon race which competes at the distance of about 6.5 km circling that Tsukugoshima! The kids class also wishes from the "Hiroshima SUP marathon" to be held in Hiroshima Peace City a wish to have a future SUP racer born.

■ Tournament name
Hiroshima SUP marathon 2017
[Competition Official Site]
 http://hiroshimasupmarathon.strikingly.com/
Date and time held
Sunday, November 12, 2017 (Sunday) 7: 30 ~ Start acceptance of contestants
Participation fee
Adult (Tsukunejima race):6,000Yen (tax included)
Dwarf (Kids Race 12 years old):2,000Yen (tax included)
Included in the price: each race entry fee (insurance premium)
■ Venue
Hiroshima Kannon Marina Seaside Park
4-chome Kannon-cho, Nishi-ku Hiroshima-shi, Hiroshima Prefecture 733-0036

● Kids Race (about 1km course race)
1. Middle school student
2. Elementary school 6th to 4th graders
3. Elementary school 3rd grader
● Tsukugoshima Race
1. 12'6 "Raceboard man and woman
2. 12'6 "Inflatable man and woman
3. Under 12 '5 "Surfboard Gender
4. NAISH ONE Class Gender
5. UNLIMITED men and women (mainly boards longer than 12 '6 feet)
6. OPEN (Board with width of 29 inches or more)
Regulation may be subject to change.
● DRAGON SUP 4 Team Race
Match race tournament of the day entry (4 teams max 16 teams)
1. Open Class
2. Mixed-sex class (1 or more of male girls among 4 members)

Recognition
Awards by gender (1st to 3rd)
The Tsukugoshima roundtrip race has AGE awards by age that omitted each class winner from the overall ranking.
DRAGON race is for each class winning team only.
● Time Schedule
7: 30 ~ Start of reception
9: 00 ~ Opening ceremony, athlete meeting
10: 00 ~ Kids' race start
11: 00 ~ Tsugakonoshima race start
13:00 Time Limit
14: 00 ~ DRAGON Team Race
15: 30 ~ awards ceremony, closing ceremony
Venue surrounding map · Access
Location
Hiroshima Kannon Marina Seaside Park
4-chome Kannon-cho, Nishi-ku Hiroshima-shi, Hiroshima Prefecture 733-0036

<Arriving by car>
From the Hiroshima Inter - 54 Route to the West Aerodrome entrance of Route 2
Intersection south to Gokkaichi Inter 2 Line Bypass
To Hiroshima heliport plane marina hop
* Marina parking is available at a fee.
<Those who come by other methods>
In case of bus
About 40 minutes to Marina Hop from JR Hiroshima Station Hirobusi Bus 3
From JR Yokokawa Station to Marina Hop About 30 minutes Hiroe Bus 8
● Taxi
About 15 minutes from JR Nishi Hiroshima Station About 30 minutes from JR Hiroshima Station
Course / entry entry
Activity In Japan, adults (Tsukunejima race) Both men and women receive 6 races and children (Kids Race) 6 entry race reservations are accepted.Tsukunejima race is closed for 120 people firstAs soon as possible we recommend entry.


Men's class / Women's Class / Kids class
Entry basic information
[Minimum number of people]
1 person
[Number of reserved people]
1 person~
[Date and time]
Sunday, November 12, 2017 (Sun)
[meeting time]
We will start accepting from 7: 30.
We ask that you accept the reception by 【9: 00】 when the opening ceremony begins.
[The meeting place]
Hiroshima Kannon Marina Seaside Park
Yubinbango733-0036
Hiroshima-ken Hiroshima-shi Nishi-ku Kannon-machi 4-chome
[Reservation deadline]
​ ​Before 5 days
[About clothes and belongings]
Please prepare yourself with SUP raceable equipment (wet suit, life jacket, buoyant body) and board, paddle, leashco on that day.
[About rental items]
Rental is not.
About payment / cancellation
[About payment]
Advance credit card payment only.
[Payment method]
Advance credit card payment only.
[About cancellation]
Please note that we can not refund anything except payment cancellation after payment.
[Regarding discontinuation]
Wind speed is 10 m / sec or more, wave height is 1.5 m or more, visibility is 2 km or less, stop it.
(However, kids race is wind speed 8 m / s or more, wave height 1 m or more, visibility 1 km or less.)
Storm wind wave warning, heavy rain warning, lightning warning notice issued.
The final decision of cancellation shall be 10 am at the event day.
Even when the competition is ongoing, we may cancel it if the competition chairperson determines that weather changes and the safety of the athletes are not secured.
Matters require attention
All participating players are obliged to wear a leash code, buoyant body of 2 kg or more.
It is recommended to participate in a state where it is possible to hydrate by hydration etc.