【Fireworks viewing reservation】 2017/7/15 (Saturday) ~ 16 (Sun) "Yokohama Sparkling Twilight 2017" held! !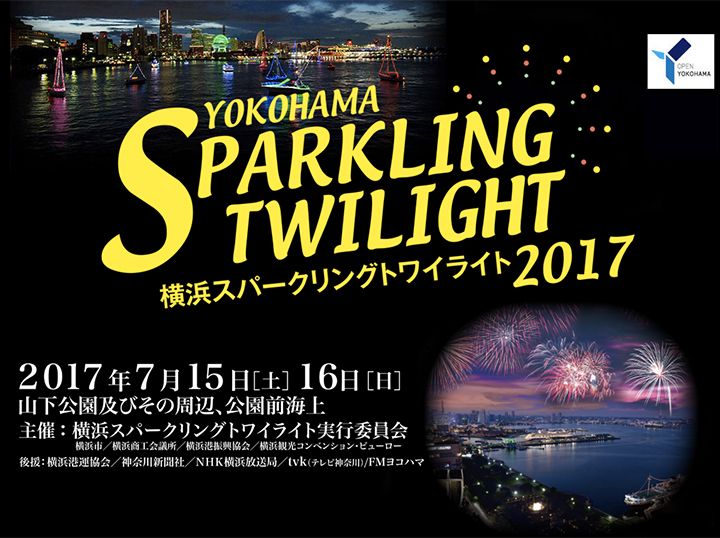 Source:Yokohama Sparkling Twilight 2017
It will be the 6th time this year"Yokohama Sparkling Twilight" will be held in 2017 for two days from 15th Saturday to 16th SundayIt will be done! This event held in Yokohama City and the Yokohama Chamber of Commerce and other organizations with familiarity with Yokohama's "Sea" and "Harbor" is a big event that can be said as "a scene of summer in Yokohama" ◎

The program begins from the daytime and there are lots of parades and stage live by ethnic costumes from around the world! Restaurant bar is also open from the day, so it is recommended for lunch on Yokohama walking date ◎ It is contents which you can fully enjoy Yokohama all day to the launch of "sparkling fireworks" from 19:30 on both days ♪

At Activity JapanI accepted reservations for "Yokohama Sparkling Twilight Fireworks Viewing" plan which was also very popular last yearI am in! We are preparing plans with all you can eat and drink, such as cruising which escape the congestion in the city and enjoy fireworks from the ship so please enjoy "special night" at port hill Yokohama ☆
Fireworks viewing tour plan
Fireworks display in 2017 is recommended to book "Special seats" and enjoy! Let's fully enjoy the fireworks that will beat in the night sky of summer without taking care of place and crowd ♪Meals and drinks included in the fireworks display plan are easier and more affordable than arranging them separatelyYou can book to ◎

Caution:
-Because of popular plans it is difficult for reservations to be already picked up depending on the opening date. Early booking is recommended! !
-There is also a plan not a fireworks display from the ship. Please check the plan content for more information.
→Click here for the fireworks display tour schedule nationwide
[Event title]
Yokohama Sparkling Twilight 2017
[event date]
July 15 (Sat) - 16 (Sun) in 2017
[place]
Yamashita Park and its surroundings · In front of the park Sea
[Organizer]
Yokohama Sparkling Twilight Executive Committee
(Yokohama City / Yokohama Chamber of Commerce and Industry / Yokohama Port Promotion Association / Yokohama Convention & Visitors Bureau)
[Sponsor]
Yokohama Harbor Luck Association / Kanagawa Shimbun / NHK Yokohama Broadcaster / TVK (TV Kanagawa) / FM Yokohama
[Official site]
http://www.y-artist.co.jp/sparkling/