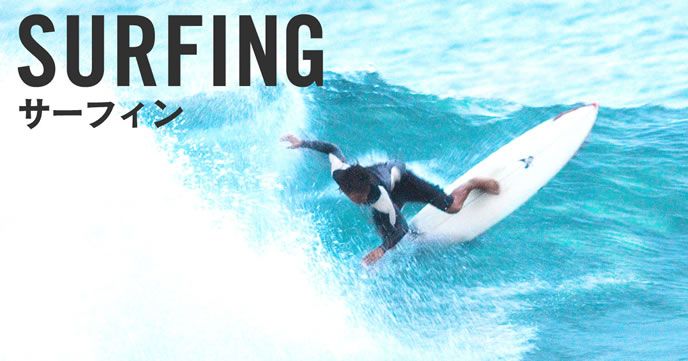 When will you be able to enjoy surfing?
Surfing is a sport of riding waves in the sea. It is a sport that deals with nature and is popular because of its exhilaration. In fact, Japan is surrounded by the sea on all sides, has various terrains, and has four seasons, so a variety of waves are generated. Japan is also a path for typhoons, and typhoon swells bring waves to places where they do not usually occur. Waves are basically created by the wind, which is also generated by the passage of low pressure, so waves are generated throughout the four seasons. Spring is the best wind in spring, typhoons from summer to autumn, and monsoons in winter bring waves to Japan.
The best season for surfing is still summer!
Surfing is a sport that you can enjoy in the sea, and summer, which has a feeling of openness, is also the best season. The water temperature rises, and the wet suit is light and you can enter the sea, making it easy to move and comfortable. In addition, summer is a time when good waves are brought, especially on the Pacific side, waves continue from the wind blowing around the Pacific High, and when a typhoon occurs, swells begin to enter from around the 20th parallel north. Because it is covered by the Pacific High, typhoons often move around it, and such typhoons continue to swell for a long time. Also, since summer is a long day, you can enter first in the morning, spend the day leisurely, and get cool in the evening and enter again.
Surfing can be enjoyed even in winter!
In Japan, high pressures overhang in winter and the monsoon blows in. It brings rain and snow to the Sea of Japan side, but it also brings waves. Of course, you can't cruise out and enter the sea while the wind is strong, but when the wind stops and calms down, it becomes a very nice wave. Seawater, of course, gets colder, but the temperature may drop months later than the temperature, and in winter it may be better than in early spring when the meltwater flows. And above all, the recent evolution of wetsuits is amazing and you can enjoy surfing even in the cold winter!