Minakami can also be reached by train Rafting point close to Tokyo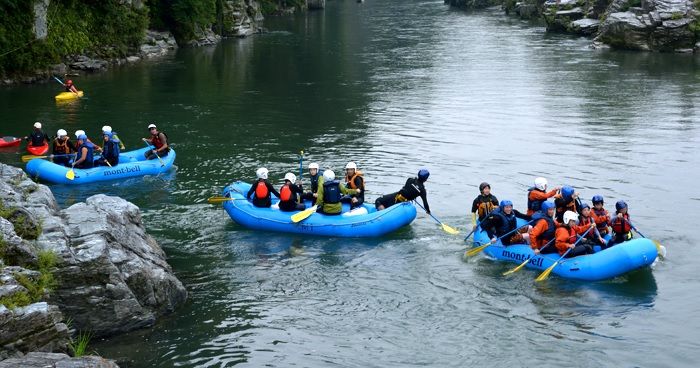 Not only hot springs can be enjoyed on the water (Minakami)!
If you call water (Minakami), there are many people who imagine hot springs.

However, on the water (Minakami) there is an area to be the source area of ​​the Tone River, where there is a field of rafting where you can ride down the river by getting in a rubber boat in the torrent.
The time such as spring is a snow melting season, the water of the river rises more than other seasons, so the river flows faster due to the increased water, so the optimum environment for rafting is created.

In addition, Minakami is one of the best rafting spots in the Kanto area, making it a popular spot for reasons such as being able to come and go by train.

It is a rafting point where you can come and go by train
Mizukami (Minakami) is the area hitting the upper basin of the Tone River with one of the best torrents in Japan.
In this place it is possible to do rafting where you can enjoy the river of torrent using a rubber boat.

There are many cases that it is said that a car is necessary to go to the field, but in Minakami (Minakami) it is also a feeling that we can come and go by train, and there are few people visiting from Tokyo etc. by train.

In addition, because it is possible to use the train, popularity is getting higher also because there are merits such as being able to experience thrilling in nature without worrying about traffic jams when coming back and forth .
What is the amount of time and money when traveling by train?
Ueno (Minakami) from Ueno station by using the express train "gakutaka" arrive at Takasaki in about 45 minutes, transfer to the conventional line from there will be about 64 minutes.
Also, if you use local trains from Ueno station, the time to Takasaki station will be 119 minutes.

In addition, depending on the shop hosting the rafting tour, there are places where you are picking up and transferring to Minakami Station.

On the other hand, as for the amount, the amount by train is 3020 yen for one way when using limited express, the amount of money for tour participation costs depends on the shop, but for half-day course etc. you can enjoy at around 8000 yen.