Activity Japan Limited Plan! It is! Special discount! It is!
【Weekday AJ Limited · Shinjuku Kabukicho】 Team to challenge the mission! Play 3 times plenty! Spy experience / escape game ★
Plan ID: 16917 It provides:InSPYre
3,040yen~​ ​(tax included)
1,980yen~Reduced rate
Fee per adult
Plan ID:

16917

提供:
Tokyo / 23 wards
escape game
Empty-handed OK
Charter Allowed
Rain departs Allowed
Children can join
Active refreshing
Families enjoying family
Starting time

11:00

12:00

13:00

14:00

15:00

16:00

17:00

18:00

Participating age

4 years old ~

Time required

2-3 hours

ScheduleRegularly
Assemble point Look in GoogleMap
There are no story stories of this plan yet
Description​ ​
"InSPYre (Inspire)" is the mission accomplishment time attack attraction that enables you to experience Japan's first full-scale spy experience.

Participants form a group of 1 to 5 people and up to 8 groups play simultaneously under different missions.
Various gimmicks are set in the facility, and depending on instructions and hints issued one after another to the terminal to be rented,
You can challenge and enjoy towards mission clear while making full use of brains and physical strength as well as luck.

As the attraction, we introduced the industry's first face authentication system,
It records not only the group but also the grades during play of individuals. (Confirmed by application)
There are several missions, there are various strategies to attack.
Also, even though exactly the same course, the correct answer of each gimmick changes at random, so you can enjoy it as many times as you want!

▼ Overview of Attractions
Suddenly appeared waste warehouse in the city of the middle. Hideout of villainy organization BLACK-MAX there is bent on world domination.
In order to stop their wrongs, you challenge missions as a agent dispatched from the intelligence agency inSPYre!
I can only experience it here! How to play with inSPYre
As a spy, infiltrate the black-Max hideout of evil organization and destroy that evil!
Follow the instruction of the terminal you give as support and carry out the mission within 10 minutes,
It is a spy experience attraction aiming at escape.
Like a movie to avoid the laser network brilliantly, puncture secret weapons as a sniper,
Even scenes of unlocking esoteric ciphers and grasping the secrets of enemies. Make full use of mental strength and capture!
Reason for group or team building recommendation!
▼ Cooperativeness
Dense communication with colleagues is possible in a different environment from the desk and everyday!
▼ Aggressiveness
To hold missions in cooperation with colleagues within the time limit, refrain is useless. We can hope for more aggressive response than usual.
▼ role sharing
By challenging and challenging roles such as leader, time keeper, map managers, physical strength staff, responsibility is born and you can learn team play.
Noticed ▼
There is the possibility of finding new aspects for fellows.


~ PDCA ~
By repeating three times, you can expect learning in the cycle of "planning" "running" "evaluation" "improvement"!

Brand new attraction inSPYre ever before.
Always it will be habit anyone When you have once experience!
---
Attractions of the plan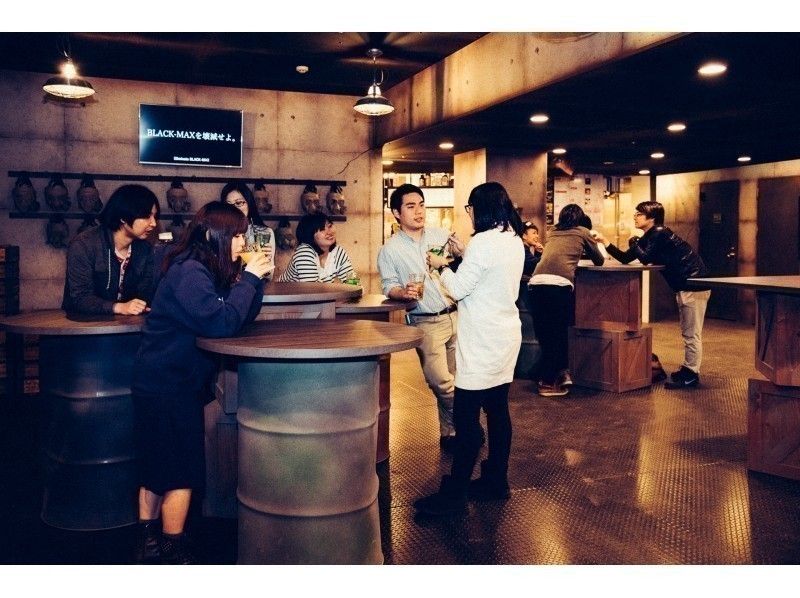 Adjacent safety (dedicated cafe) セーフティでは、チーム分け、作戦会議を行います。 飲み物や、軽食のご用意がございますのでお気軽にご注文ください。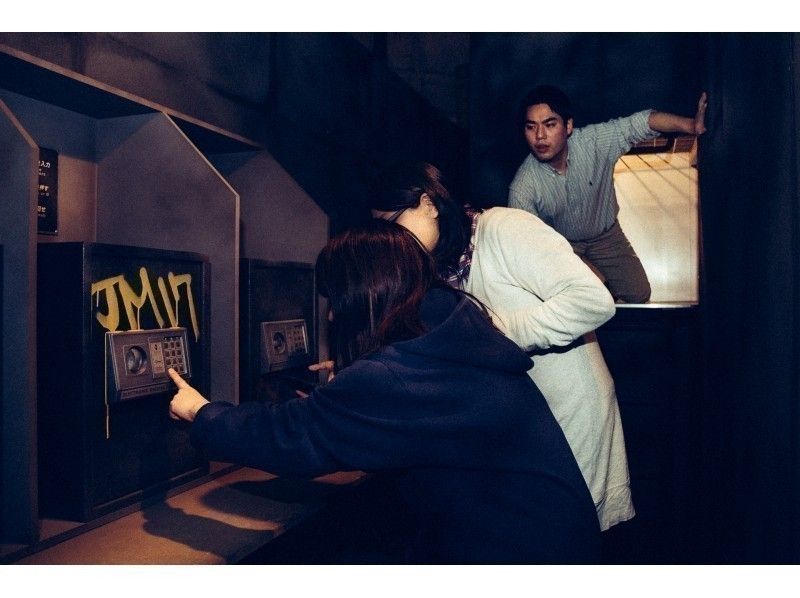 Challenge various missions! We will cooperate with the team and clear the mission. It is the key to decide and recommend the role for each.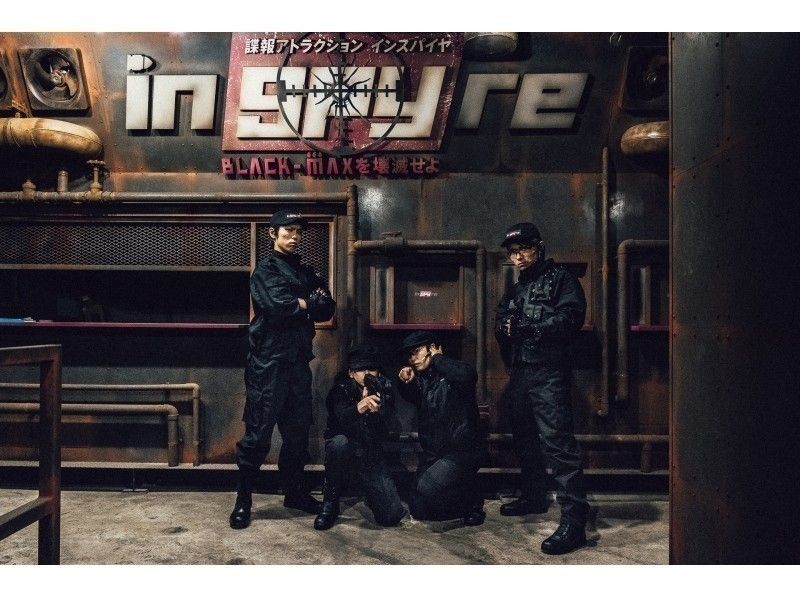 Senior agent (staff) From the senior agent you can learn important things. Because I lurk inside as a follower within the hide, I might get a clear hint.
---
Information
Minimum number of people
2 people
Number of people who can book
2 to 40 people
Schedule
Regularly
Assemble time
Please select your preferred time at the time of reservation.

▼ Duration: about 2 hours

▼ Time schedule image
① Assembly / team division (5 minutes)
② Explanation by staff (15 minutes)
③ Move to Orien Room · Pre-show viewing (10 minutes)
④ ★ First infiltration · Mission accomplishment (10 minutes)
⑤ Operation Conference (20 minutes)
⑥ Move to Orien Room · Pre-show viewing (10 minutes)
⑦ ★ 2nd infiltration · mission accomplishment (10 minutes)
⑧ Operation Conference (20 minutes)
⑨ Move to Orien Room · Watch pre-show (10 min)
⑩ ★ 3rd infiltration · mission accomplishment (10 minutes)
⑪ Leave
Assemble point
Humax Pavilion Shinjuku Kabukicho 6F
Tokyo, Shinjuku-ku, Kabukicho 1-20-1 6F
Reservation deadline
7 days before
---
Regarding advance preparation
| | |
| --- | --- |
| About clothings and must-bring items | Easy to move clothes (women skirt, heel, we will ask for your cooperation as able as much as possible to avoid.) |
| About rental items | Crocs for women is inspiring, we offer the shorts for free. |
---
Facility information
Changing room
toilet
shower
Hot spring
Locker
Hairdryer
Parking Lot
convenience store
Supermarket
---
Access and map
location
Tokyo, Shinjuku-ku, Kabukicho 1-20-1 Humax Pavilion Shinjuku Kabukicho 6F
How to reach by train
About a 5-minute walk from JR Shinjuku Station East Exit
---
time schedule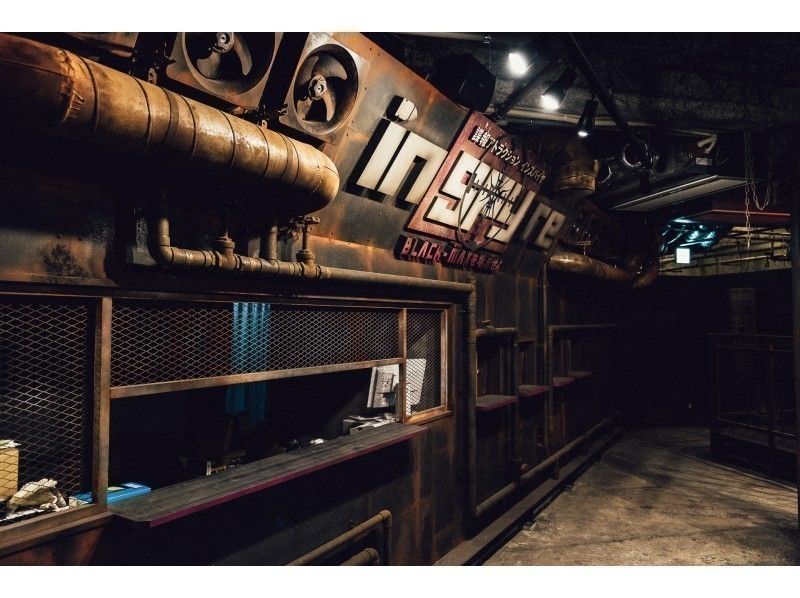 ① Assemble in the adjacent safety café.
② Put your personal belongings and mobile phones to free lockers. (Keep valuable items at your own risk)
③ Team up to 5 people × 8 teams.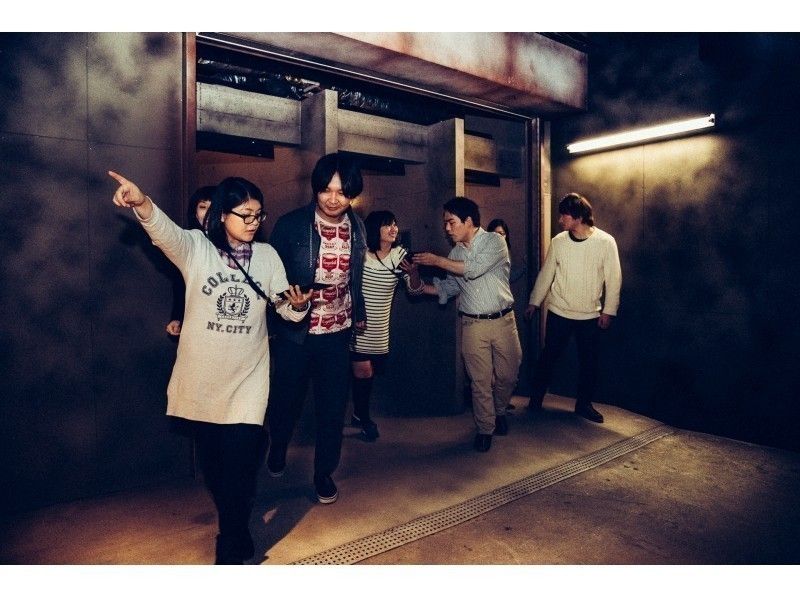 ① Relationship between inSPYre and BLACK MAX (VTR viewing).
② Outline of the mission of the agent (student).
③ About the role, such as leader, time keeper, planning drawing, physical fitness, brains etc.
④ Spy kit explanation.
⑤ Awareness of infiltration.
⑥ Prohibited items, etc.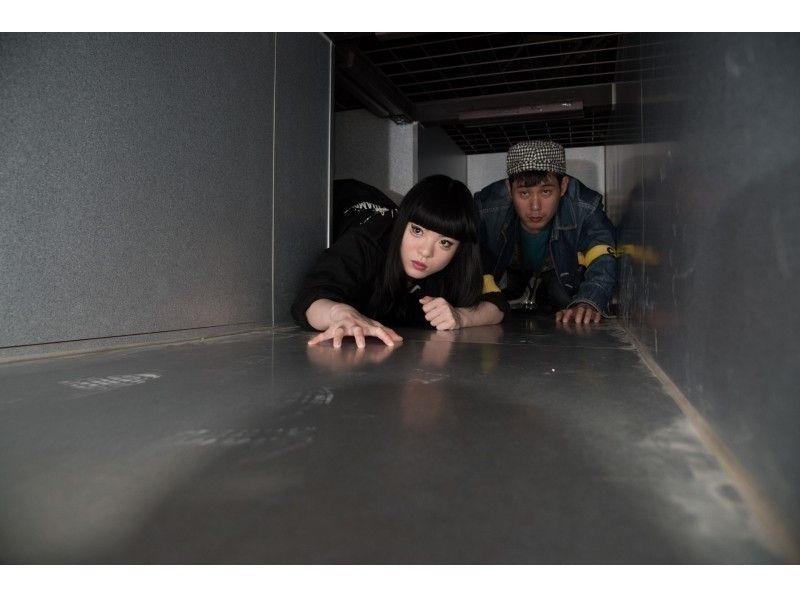 ① According to the instructions of the senior agent, move to the orientation room (individual room) for each group.
② Hold the ID card over the prescribed light and register in the face authentication system before the camera.
③ The picture from the head office flows, the mission is notified.
④ Notes in the hide will flow again.
① The time limit is 10 minutes (BGM in the hall will inform you 5 minutes, 3 minutes, etc.).
② Clear a number of gimmicks that have been traced, aiming to escape from missions and hideouts.
③ In the hide the senior agent is lurking as an overseer. When you are in trouble you may get clear tips.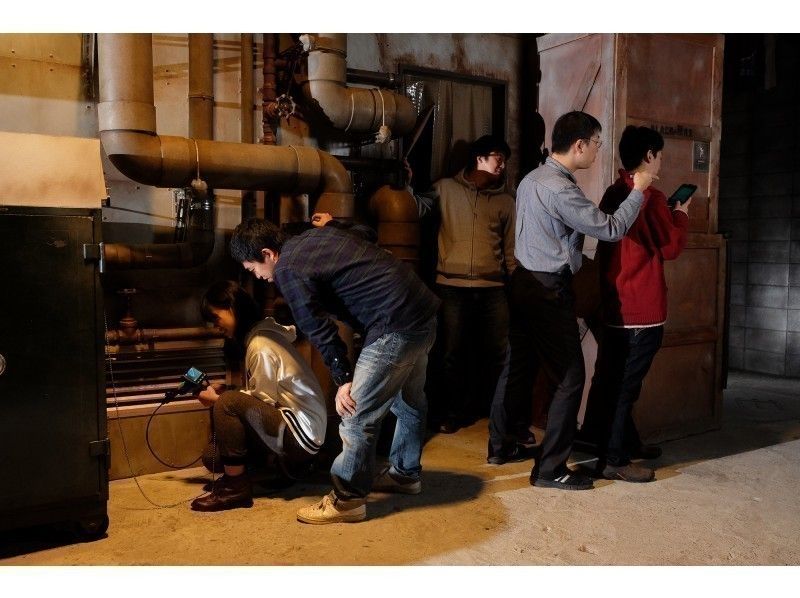 ① Mission success? → Successor's path ~ heavens gate / failure? → hell gate
 いづれのエージェント(生徒)もセーフティーへ。
② Once the terminal and the armband are returned (ID card is used also at the next infiltration).
③ Registration meeting & strategy meeting for the second time.
④ The unclear point may be to tell the strategy method when asking the senior agent.
⑤ When the operation meeting is completed, "To the second infiltration at the time!"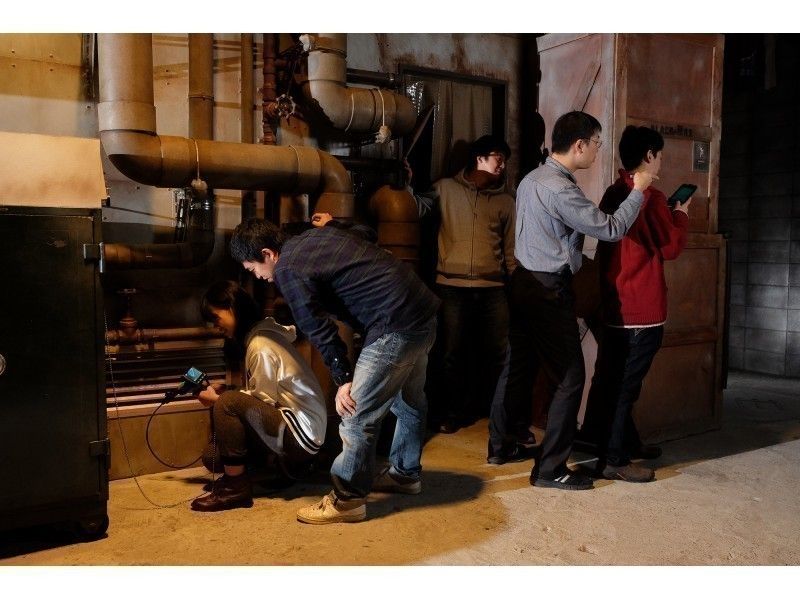 ① Challenge new missions.
② There are 4 types of missions, and three strategies are prepared for each.
 すなわち全12通りのコースがあります。
③ Also, the exact same course, the correct answer of each gimmick will change randomly.
---
Price list
Basic charge
| | |
| --- | --- |
| Adult / person 3,040yen 1,980yen | 13 years old - |
※Prices including all taxes.
※ The above is the basic charge.
* Prices may vary depending on the schedule, so please see the price list displayed after selecting the schedule.
---
---
About payment / cancellation
| | |
| --- | --- |
| About payment | Payment in cash on the day |
| Payment method | The payment method specified by the operator. |
| About cancellation fee | キャンセル・変更の場合は、お電話にて速やかにご連絡ください。 お客様のご都合によりキャンセルされる場合、下記のキャンセル料を申し受けます。 前日:50% 当日:100% |
| Cancellation by operators. | |
---
Other
Matters require attention
· We may not be able to accept reservations such as system maintenance, renewal construction, and other customers' reservations are in advance.

· It is not for charter use. Please contact us beforehand when you wish to charter.
Everyone's experiences
There are no reviews yet
3,040円~(税込)
Reduced rate1,980yen~​ ​(tax included)
Fee per adult
Included in price
・3回プレー ・顔認証IDカード ・セーフティ(カフェコーナー)の部分占有 ・先輩エージェントによるレクチャー&助言
When you book this plan 28 pt I will save it!
| | |
| --- | --- |
| | Starting time 11:00 12:00 13:00 14:00 15:00 16:00 17:00 18:00 |
| | Participating age4 years old ~ |
| | Time required 2-3 hours |
| | ScheduleRegularly |
| | Assemble point Look in GoogleMap |