【Okinawa · Naha departure】 We will produce the best holiday ♪ Private charter cruise (1 day: 6 hours)
【Okinawa · Naha departure】 We will produce the best holiday ♪ Private charter cruise (1 day: 6 hours)
Plan ID:

15433

Provided by:​ ​​ ​Reeffers (Rifazu)
129,600Yen ~ (tax included)
Reefer's number (capacity: 42 people) Fee per boat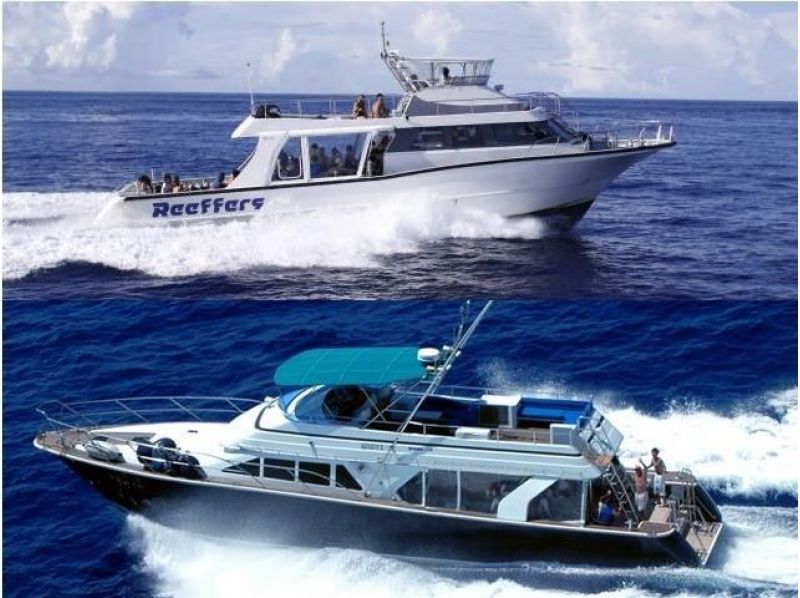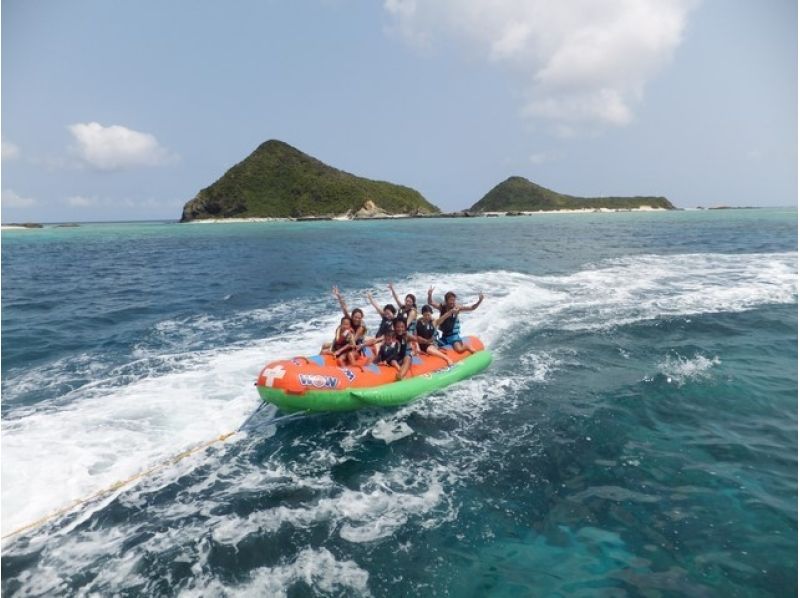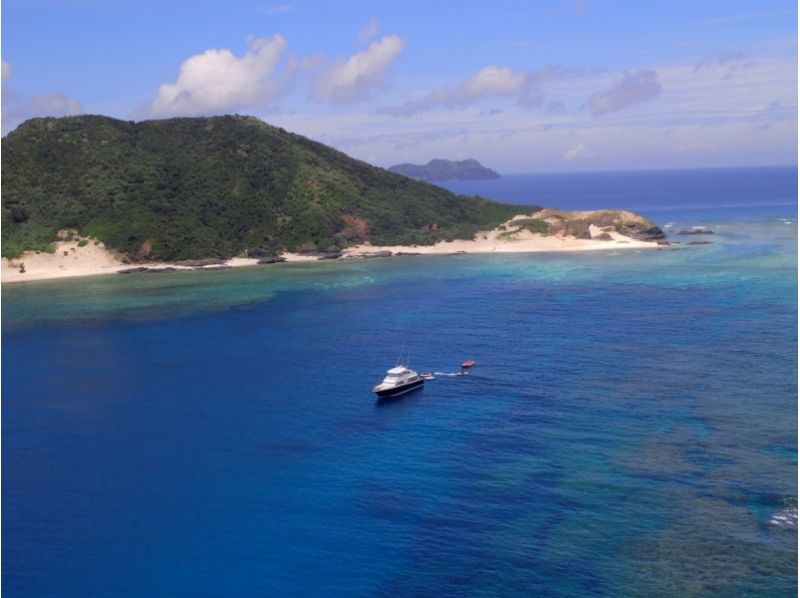 Click on your Preferred Date
Please click on the date of your choice from the calendar.
Starting time

Participating age

Age 0 ~

Time required

5-6 hours

6時間以上

ScheduleRegularly
Assemble point Watch on GoogleMap
There are no story stories of this plan yet
Description of plan
Why do not you spend relaxing luxuries in the ocean of Okinawa by renting a large cruiser "Rifers" and "Aquarius" boasting?
There are various things such as sunset cruise, whale watching, fireworks cruise, uninhabited island swimming and so on, just by family and friendly associates.
Of course, we can organize diving tours and snorkeling tours to Kerama at employee trips and student's diving camp.
You can also prepare a barbecue on board, drinks and meals (extra charges). We will also produce the best holidays, including preparation of jet skis from the preparation of fishing rods.
* Prices will change according to the content and charter time, so please inquire in detail.
Okinawa · How to play is free! Luxury cruising relaxing by charter
Reefers has bases in Naha City, Okinawa Prefecture. We will guide you to comfortable cruising from Mie castle port!
Request welcome! You can make your request
We will respond to various requests in order to enjoy the Okinawa sea. Request big welcome, such as "I want to see the sunset" "Fishing trip!" Optional snorkeling and experiential diving are also available. We will realize your original plan. Please feel free to contact us!
Let's hire a large cruiser for elegance
Our cruising is charter (private charter). Please spend relaxingly with mutual companions and families.
We have a Aquarius that also has an air-conditioned cabin room with a capacity of 57 guests, with a Reefer's number optimum for marine sports for 42 people.
Both are equipped with hot water showers and toilets. You can play elegantly with a large cruiser!
Let's enjoy a gorgeous moment with a private cruiser! Our shop will help you.
Attractions of the plan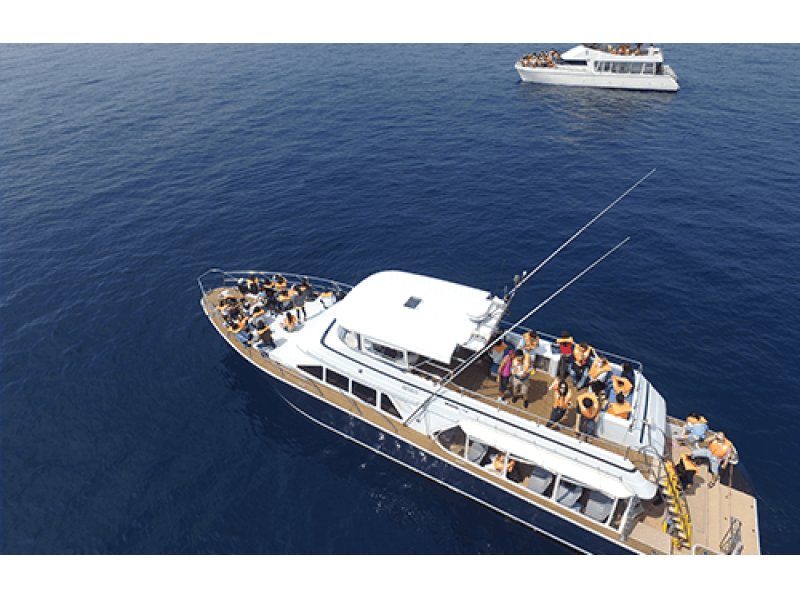 Our company boasts a boat Cruising plan which allows you to spend a day relaxing a large cruiser. I leave from Mie Castle Harbor in Naha City. As we can attend up to 50 people, please use for various purposes such as employee trips and camping camps. I will produce a nice day spending in the sea of ​​Okinawa!
Information
| | |
| --- | --- |
| Minimum number of people | 2 people |
| Number of people who can book | 2 to 57 people |
| Schedule | Regularly |
| Start time | 20 minutes before start time |
| Assemble point | Naha Miejo (Miegusuku) harbor shelters (Naha West 3-20) |
| Reservation deadline | Before 3 days |
Advance preparation
Clothings and must-bring items
Swimsuit, towel, change of clothes
About rental items
[Additional options]
· Snorkel set · · · ¥ 1,620 (1 person)
· Wetsuit ··· ¥ 1,080 (1 person)
· Experience diving · · · · ¥ 5,400 (1 person)
· Fishing set · · · · · · ¥ 4,860 (1 person)
· BBQ set · · · · · ¥ 2,700 ~ (1 person)
· Parasailing ··· ¥ 8,640 (1 person)
· Marine pack · · · · · ¥ 37,800 (1 boat) (JETSKI, banana boat, with biscuits)
Please contact us for other information.
Facility information
Changing room
Restroom
shower
Hot spring
Locker
Hairdryer
Parking Lot
convenience store/
supermarket
Access and map
Location
Naha, Okinawa Prefecture west 1-21-6
How to reach by car
The in-port parking fee will be ¥ 500 / day.
About price
Basic charge
Reefer's number (capacity: 42 people) / boat
129,600
yen
Aquarius (capacity: 57 people) / boat
162,000
yen
Option fee
| | |
| --- | --- |
| Reefer's Time Extension / Hour 21,600yen | |
| Aquarius time extension / hour 27,000yen | |
※Prices including all taxes.
※ This is the basic charge.
* Prices may vary depending on the schedule, so please see the price list displayed after selecting the schedule.
| | |
| --- | --- |
| Included in price | Boarding fee / captain / crew 2 people / insurance |
Reeffers (Reefer's) handling plan list
About payment / cancellation
About payment
Credit card or transfer.
※ I will make it a reservation confirmation after confirming the advance settlement of boarding fee.
Payment method
The ways assigned by operators.
Indication on Specified Commercial Transactions Law
Indication on Specified Commercial Transactions Law
About cancellation fee
Cancellation by 1 week in advance.
Cancellation after 19:00 three days before the reservation date will result in a 100% cancellation charge.
Cancellation by operators.
- Taking into account the safety by bad weather and ocean conditions, it might tour stop.
· We may refuse during busy season such as consecutive holidays, New Year's holidays during GW period.
Please contact us in advance.
Others
Matters require attention
· Please refrain from boarding with pin heels.
· Food and drink can be brought in. We will charge \ 5,400 as a carry-on commission.
· We will refuse swimming after drinking.
- Seasickness easy person, we recommend taking motion sickness drugs.
· You can not steer by customer.
---
Everyone's experiences
There are no reviews yet
---
129,600円~(税込)
Reefer's number (capacity: 42 people) Fee per boat
Included in price
Boarding fee / captain / crew 2 people / insurance
When you book this plan 1199 pt I will save it!
| | |
| --- | --- |
| | Starting time |
| | Participating ageAge 0 ~ |
| | Time required 5-6 hours 6時間以上 |
| | ScheduleRegularly |
| | Assemble point Watch on GoogleMap |