プランID:14129 Brought by:​ ​​ ​Rebun guide service
[Hokkaido Rebun Island] picked agate on the shore also burnt small sunset Course Guide
Service out of period
This season of sales has ended. Next season is scheduled to reopen in early May 2017.
Plan ID:

14129
Hokkaido / remote island (Rishiri-Rebun-teuri-yagishiri)
eco-tourism
Transfer Yes
1 person participation Allowed
Private tour
Charter Allowed
Children can join
Nature fullness relaxing school
Families enjoying family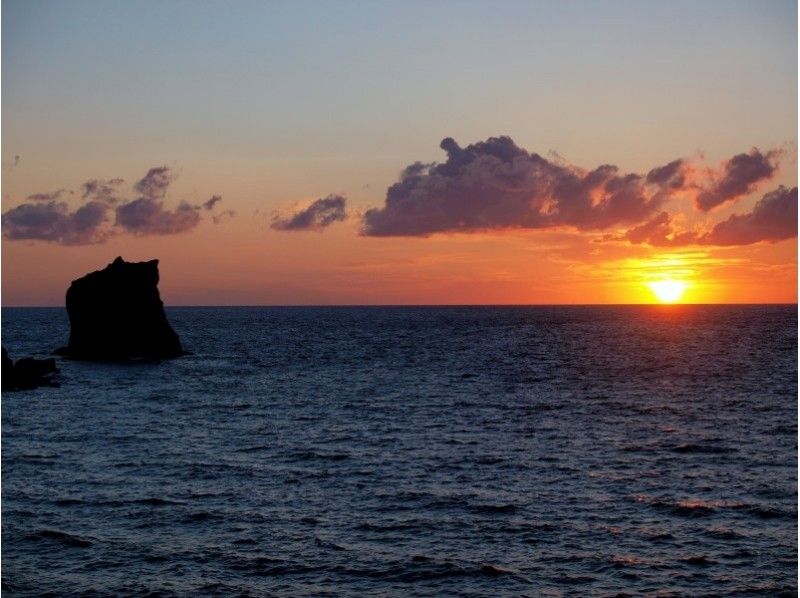 Starting time

Participating age

6 years old ~

Time required

1-2 hours

ScheduleMay - October
Assemble point Look in GoogleMap
There are no story stories of this plan yet
Description​ ​
Rebun This course is going to see the sunset to the west coast. Flower appreciation, in the vicinity of, wait for the sunset while and pick up agate.
Sunset of Rebun to a lifetime of memories with.
Course to go to see the sunset to the west coast. Stunning evening of Rebun Island will be the memories of a lifetime. Feel course of about an hour and a half.
Enhancement even while waiting for the sunset
Since the flowers guide will accompany, it will guide you through the different again flowers near the coast and the mountains. Such as picking up agate in the other coast, you can enjoy even you while waiting for the sunset.
One hour before the departure time is sunset time
For the convenience of the calendar, it has become the starting at 30-minute intervals, but an hour before sunset, time, go up to the pick-up to accommodation location (your designated location).
Attractions of the plan

Pre-dinner moments also not to waste. By effectively utilizing the pre-dinner moments, the sea of ​​Rebun and evening, and then you can enjoy the flowers.

You go out on the west coast of Rebun Island. West coast of Rebun Island. The calm and trekking can be enjoyed is also different facial expressions.

Flowers also the coastline is full! Rebun Island is the island blooming flowers from above sea level 0m, photo bloom rare blue flower in nature "Hamabenkei".

Even if the name is similar. . . This flower is is it so different even though similar to the name "Rhodiola rosea".

Sepia world of But it is the setting sun may be a photo on the back, and commemorative photo at sunset also have taste.

Please baked in eye Rakuyo from Momodai, near the cat stand. Description do not think I need.

Green Flash It is a few times a year, but luck of the green flash.
Information
Minimum number of people
1 person
Number of people who can book
1人〜27人
Schedule
May - October
Assemble time
Around 18:30 (June-July)
18:00 around (August)
17:30 around (September)
16:30 around (May 10)
In about an hour before sunset, time, welcome to the accommodation (Kafuka district)
Assemble point
Accommodation to (your designated place) pick you up.
Reservation deadline
Before 3 days
Regarding advance preparation
About clothings and must-bring items
Since there is to walk, such as sand, please participate in the equipment easy to walk, such as sneakers.
Please refrain from participation in such high heels.
Because there is reduction of the temperature at the time of evening, please bring one and much more long sleeves.
About rental items
Nothing in particular.
Facility information
Changing room
toilet
shower
Hot spring
Locker
Hairdryer
Parking Lot
convenience store
Supermarket
Access and map
Location
Hokkaido Rebun-gun Rebun-cho Kafuka village Waushi
---
Price
Basic charge
Participate in more than 5 people / people 1,944yen
For 1 party up to 9 people, if there are more than 10 people, 2 guides will be attached
Participation by 4 people / person 2,160yen
Participation by 3 people / person 2,700yen
Participation by 2 people / person 3,780yen
Participation by 1 person / person 6,480yen
※Prices including all taxes.
※The above is the basic charge.
※Prices may vary depending on the schedule, so please see the price list displayed after selecting the schedule.
| | |
| --- | --- |
| Included in price | Guide fees, transfers, consumption tax |
| Those not included in the price | Nothing in particular. |
---
About payment / cancellation
| | |
| --- | --- |
| About payment | Please pay by the day of cash. |
| Payment method | The payment method specified by the operator. |
| About cancellation fee | 7日前~2日前:体験料金の30% 前日:体験料金の50% 前日・無断キャンセル:体験料金の100% |
| Cancellation by operators. | Please be sure to follow the guide of instructions when the guide, such as weather of the jump has decided to stop along the way. |
Other
Matters require attention
Sunset, sunset because of natural phenomena, there is no guarantee that is certainly seen, please understand.
Dinner time, such as your inn will be adjusted ask in advance.
In the case of participation in your family, please contact us.
Everyone's experiences
No reviews yet
Service out of period
This season of sales has ended. Next season is scheduled to reopen in early May 2017.
Included in price
Guide fees, transfers, consumption tax
When you book this plan 17 pt I will save it!
| | |
| --- | --- |
| | Starting time |
| | Participating age6 years old ~ |
| | Time required 1-2 hours |
| | ScheduleMay - October |
| | Assemble point Look in GoogleMap |