【Shonan · Kamakura】 Kimono rental ★ Yukata (Yukata) plan ★
プランID:17161 提供:Furumachi Kimono Salon
3,000yen~​ ​(tax included)
大人1人あたりの料金
プランID :

17161
Kanagawa / Shonan Kamakura
Kimono rental
Empty-handed OK
1 person participation Allowed
子供参加可
アクティブ爽快
自然満喫リラックス派
ファミリーで楽しむ派
Starting time

10:00

11:00

12:00

13:00

14:00

Participating age

18 才~

Time required

Within one hour

Schedule6月〜9月
Assemble point Look in GoogleMap
Description​ ​
Enjoy the summer Kamakura with yukata!
Shoan and Kamakura in kimono. Kamakura (Kamakura Great Buddha, Tsurugaoka Hachimangu Shrine, Hase Temple, Republic Temple etc.) There are many sights. Let's go for a walk while melting into the atmosphere of the ancient capital with the kimono shape.

※ Please return within business hours (~ 17: 00).
Changing to a cool yukata and sightseeing in Kamakura ★
If you enjoy sightseeing in summer in Kamakura, recommend Yukata rental! It's cool and easy to move so you can easily walk around. Also with fan rental, the atmosphere is perfect.
You can come and visit by hand ★
Underwear, socks, sandals and purse clothes can also be rented, so please hand in hand.
Includes great hair set ★
Hair set suitable for kimono, hair ornaments are included.
---
Information
Minimum number of people
1 人
Number of people who can book
1人〜10人
Schedule
6月〜9月
Assemble time
10:00~(最終受付:14;00)

※ Please return within business hours (~ 17: 00).
Assemble point
Rental space Yamago
Reservation deadline
The day before, until 5 PM
---
Regarding advance preparation
About clothings and must-bring items
Sorry, we have not found in particular. Please come empty-handed.
About rental items
We have all the necessary equipment for the experience.
※ fan, sweat-off sheet (free)
---
Facility information
Changing room
toilet
shower
Hot spring
Locker
Hairdryer
Parking Lot
コンビニ
スーパー
---
Access and map
所在地
Komachi, Kamakura, Kanagawa Prefecture 2-2-10
How to reach by car
About 20 minutes from Yokohama Yokosuka Road (Zushi IC)
How to reach by train
5 minutes on foot from Kamakura Station
About 60 minutes from JR Yokosuka line, Tokyo
---
time schedule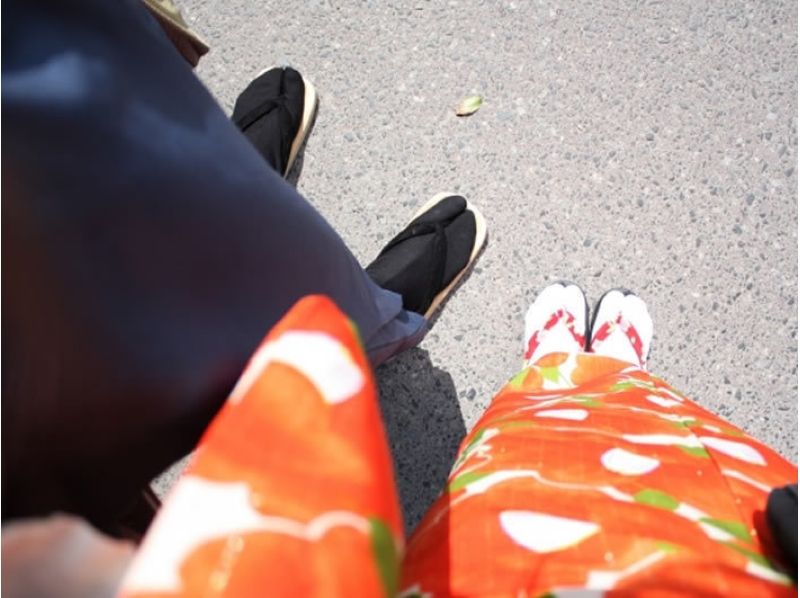 1 来店、受付 2 着物選び(約10分) 3 着付け(約10分) 4 ヘアセット(約10分) 5 散策(17:00までに店舗にお戻りください) 6 着替え、解散
---
Price list
Basic charge
| | |
| --- | --- |
| Adult / person 3,000yen | 12 years old - |
| Child / person 2,000yen | 7 years old - |
※Prices including all taxes.
※上記は基本料金になります。
※日程によって料金が異なる場合がございますので、日程を選択した後に表示される料金表をご覧ください。
---
---
お支払い・キャンセルに関して
| | |
| --- | --- |
| お支払いについて | On the day, the payment in cash |
| Payment method | The payment method specified by the operator. |
| About cancellation fee | Cancellation charges do not occur, but in that case please contact us by phone in advance. |
| Cancellation by operators. | Please note that we may cancel the loan due to bad weather on the day. |
---
Other
| | |
| --- | --- |
| Matters require attention | · We will keep your luggage and suitcase. |
みんなの体験談
There are no reviews yet
Included in price
Yukata set / rental fee / dressing / hair set / consumption tax
| | |
| --- | --- |
| | Starting time 10:00 11:00 12:00 13:00 14:00 |
| | Participating age18 才~ |
| | Time required Within one hour |
| | Schedule6月〜9月 |
| | Assemble point Look in GoogleMap |