«Only for single people! »Asakusa enjoyed in the 40s and 50s" Adult Gokon "authentic Brazilian food & all you can drink 【9984】
プランID:16206 提供:POKENCAL LTD.
5,980円~​ ​(tax included)
大人(女性)1人あたりの料金
プランID :

16206
Tokyo / 23 wards
restaurant
Meal
1 person participation Allowed
スタート時間

Participating age

40 才~

Time required

2-3 hours

Schedule〜7月
Assemble point Look in GoogleMap
Description​ ​
Item number P009984
It is an adult community that started as a friends making exchange party in April 2015, but we will hold "Singles limited" and "40s 50s only" to respond to opinions from participants.

This venue is Brazilian specialty shop 【Que bom! 】

With a freshly baked juicy Schurco in hand, we have a menu where you can fully enjoy Brazilian cuisine.
We offer a variety of dishes that attract customers' interests, "What kind of taste is Brazilian cuisine?" In a buffet style.

Besides boasting Schlussko, we have plenty of vegetables! All-you-can-drink alcohol!

◆ Participant conditions
· Men and women aged 40 to 59
A single person
· Those looking for a lover

◆ Recommended for those who
· Seriously looking for a lover
· I am in trouble because I do not have encounter
· I want to talk with a lot of people at once

There are also many people who like to travel because they are "pocket members", and it is exciting with common topics.
Pokekaru staff will strive to provide secure and comfortable support. Please feel free to enjoy it.
【Contents】
◆ Venue: Que bom! (Kivon)
Tokyo Branch 15-13 Nishi Asakusa Taito-ku, Tokyo Nikko

◆ Menu items and drinks menu
· Brazilian food + Schlussko
· All you can drink (with alcohol)

◆ Participation Fee
Male: ¥ 6,980
Women: 5,980 yen

Please join us!
[Please Note]
※ The number of men and women may differ depending on the participation situation. Please note.
※ This tour can be a single person from 40 years old to 59 years old can participate. Those under the age of 60 who are over 60 years old, married people can not attend, so please be forewarned.
※ Please follow the staff's instructions on that day. Those who do acts that cause trouble for customers around you may be sent off.
---
Information
Minimum number of people
1 人
Number of people who can book
1人〜
Schedule
〜7月
Assemble time
12:40
Assemble point
Schwarzkalia Kibon (2-15-13 Nishi Asakusa, Taito-ku, Tokyo, 1st Floor, Nikkoza Building) Collective · Reception
※ If you come before your time, please wait exactly at the time as you will be waiting outside the store.
Reservation deadline
3 days before
---
Regarding advance preparation
About clothings and must-bring items
Please bring your ticket stub of the paid-up paper that we received payment that day.

※ As we will confirm the identity at the reception desk at the reception desk, please bring one of "License" or "Insurance Certificate" that understands your name / birth date.
About rental items
None
---
Facility information
Changing room
toilet
shower
Hot spring
Locker
Hairdryer
Parking Lot
コンビニ
スーパー
---
Access and map
所在地
Schwarzkarria Kibon (2-15-13 Nishi Asakusa, Taito-ku, Tokyo, 1st basement of Nikkoza building)
---
time schedule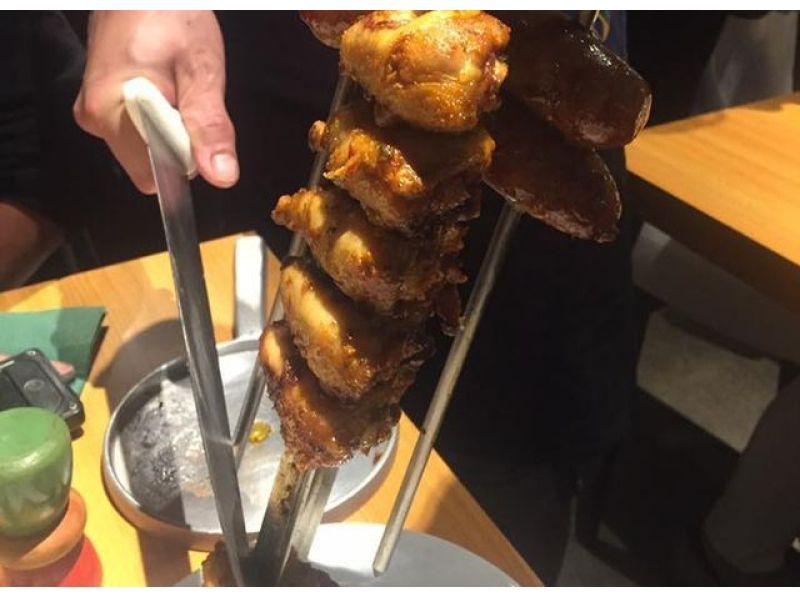 12: 40
シュハスカリア キボン集合・受付
※お時間よりも前にお越しいただくと、店外でお待ちいただきますのでお時間丁度にお越しください。 13:00 イベントスタート (乾杯~自己紹介タイム~おしゃべり~席替えなど)  15:00 イベント終了後、各自解散 ※当日、受付にてご本人様確認を致しますので、お名前・生年月日のわかる「免許証」「保険証」のいずれかをご持参 ください。
---
Price list
Basic charge
| | |
| --- | --- |
| Adult (woman) / person 5,980yen | |
| Adult (male) / person 6,980yen | |
※Prices including all taxes.
※上記は基本料金になります。
※日程によって料金が異なる場合がございますので、日程を選択した後に表示される料金表をご覧ください。
---
---
お支払い・キャンセルに関して
お支払いについて
※要事前入金※ ご予約確定後、店舗の地図やご注意事項を記載した案内書と払込用紙をご郵送いたします。 郵便局またはコンビニエンスストアにて事前にお支払ください。 予約日からご来店日までの日程が近い場合、銀行振込(振込手数料はお客様のご負担)をお願いする場合がございます。
Payment method
The payment method specified by the operator.
About cancellation fee
※ After contract is established (after deposit), 100% cancellation fee will be generated. Please be careful.
※ If you can not confirm payment by 2 days prior to the opening date, we may cancel your application. Furthermore, in case of cancellation certainly customer center please contact us.
開催中止に関して
---
Other
Matters require attention
※ Smoking is prohibited in the venue.
※ Please do not shoot the video camera at the venue on the day, and release the movies you shot on the Internet.
Other notices
* Participants themselves assume the responsibility for participating in association with participants when the participants start dating with the other participant through the service offered by this event, and we are not responsible in any case.
* The accident resulting from the relationship in the preceding paragraph, or compensation for damages resulting from the damage, will be borne by the participants themselves and we will not be held responsible.
みんなの体験談
There are no reviews yet
Service out of period
This season of sales has ended.
Included in price
Food and beverage (with alcohol) + management staff)
| | |
| --- | --- |
| | スタート時間 |
| | Participating age40 才~ |
| | Time required 2-3 hours |
| | Schedule〜7月 |
| | Assemble point Look in GoogleMap |