※ Special Sale! Now one flight addition service! Do not miss this opportunity!
【Acceptance】 Japan's first landing! Let 's dance in the air "at the topic indoor skydiving! Now one flight addition service!
プランID:15631 It provides:FlyStation Japan (FlyStation Japan)
10,000yen~​ ​(tax included)
9,800yen~Reduced rate
2フライトチケット(+1フライト)1枚あたりの料金
Plan ID:

15631
Saitama / Soka-Koshigaya, Misato
sky diving
Empty-handed OK
1 person participation Allowed
Rain departs Allowed
Children can join
Active refreshing
Families enjoying family
Starting time

09:00

09:20

09:40

10:00

10:20

10:40

11:00

11:20

11:40

12:00

12:20

12:40

13:00

13:20

13:40

14:00

14:20

14:40

15:00

15:20

15:40

16:00

16:20

16:40

17:00

17:20

17:40

18:00

18:20

18:40

19:00

19:20

19:40

20:00

20:20

20:40

21:00

21:20

21:40

Participating age

4 years old ~

Time required

For 1.5 hours

ScheduleRegularly
Assemble point Look in GoogleMap
始めは 少し緊張したけど スタッフの おかげで 初めてでも 楽しい時間を 過ごせました 興味 有る方は 是非
Description​ ​
"Activity Japan" only! Additional service with 1 flight!
The hottest indoor skydiving finally landed in Japan! It is!
Leaving himself in the wind blowing up from the huge tunnel called Wind tunnel,
Enjoy the floating in the air, it is an activity competing skills such as acrobatics!
This experience can only be done here in Japan! Let's experience it now ♪

※ This plan is different depending on the number of flights and weekdays / holidays. Both are plans for Neck Gator Free Offer.
(The neck gaiters are recommending to those who have resistance to wearing a helmet directly, or those who have long hair)

※ 1 flight = about 1 minute. The flight time is equivalent to that of normal skydiving one flight.
The topic is boiling! Indoor skydiving landed in Japan for the first time!
Indoor skydiving conducted in St. Petersburg, Russia, landed in Japan as the second implementation place in the world! It is!
Enter the wind tunnel, the body dances in the air.
Wind tunnel is a device that allows floating experiences by flowing a lot of wind from the bottom of a tube (tunnel) 4.5 m in diameter and 19.8 m in height.
There is a net like a trampoline at your feet, you can stand, there is no worry of falling. It will be an unforgettable moment.
Children can participate! Better than normal skydiving! It is!
Experience from 4 years old! The trick to flying is to relax. You can fly more naturally by taking a stabbed posture.
In the case of general skydiving, it is about 30,000 yen in one free fall.
With FlyStation Japan's indoor skydiving, you can enjoy two flights at less than half of it!
(The flight time is 1 flight = about 1 minute, which is the same time as the free fall.)
---
Attractions of the plan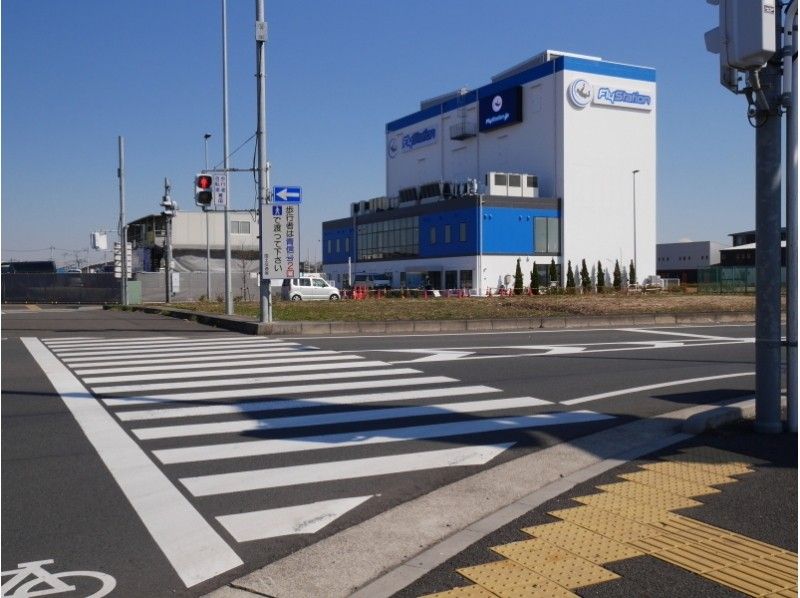 Close to Koshigaya Laketown About 10 minutes on foot from Koshigaya Lake Town Station! It is a preeminent facility presence!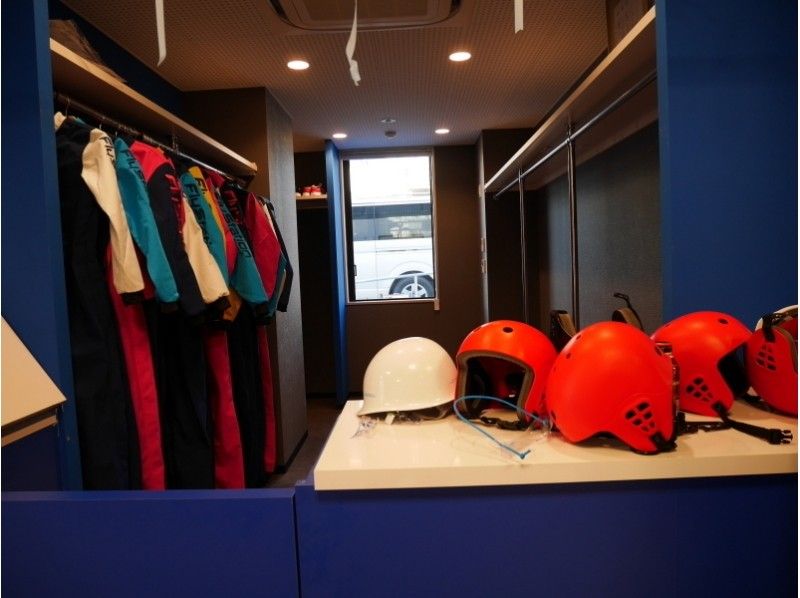 Full flight suit! Authentic flight suit with Flystation's logo is cool! Even colorful ◎!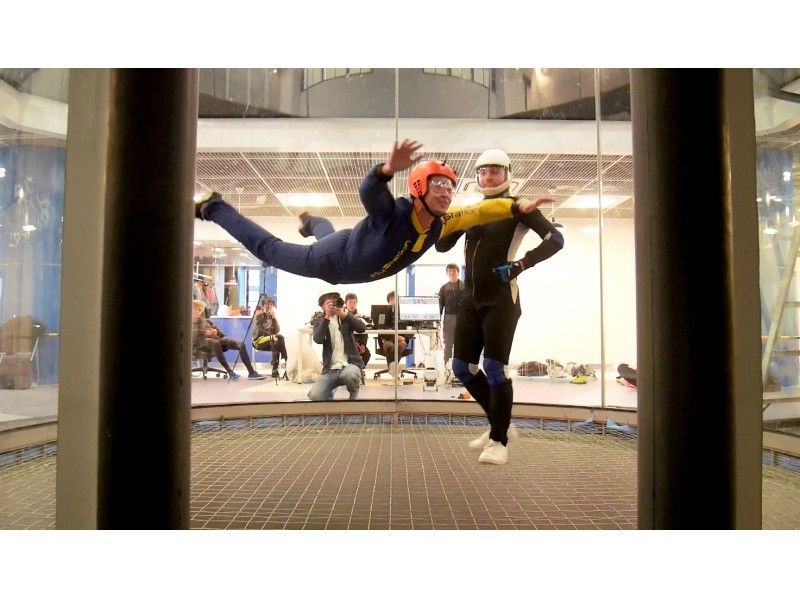 Of course it is OK even for the first time! The instructor will tell you carefully!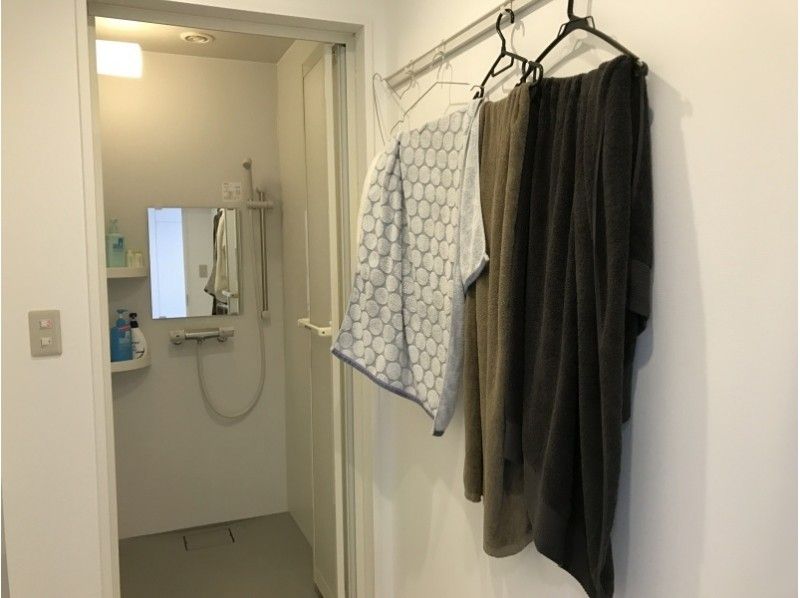 Shower room is also equipped! Very happy shower room included! After I finish it is a refreshing sweat!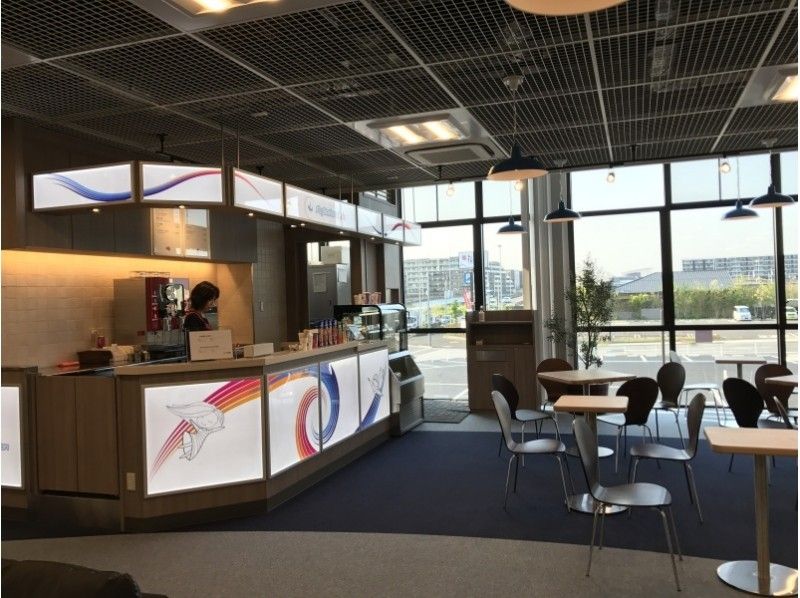 Also eating and drinking shop on the second floor!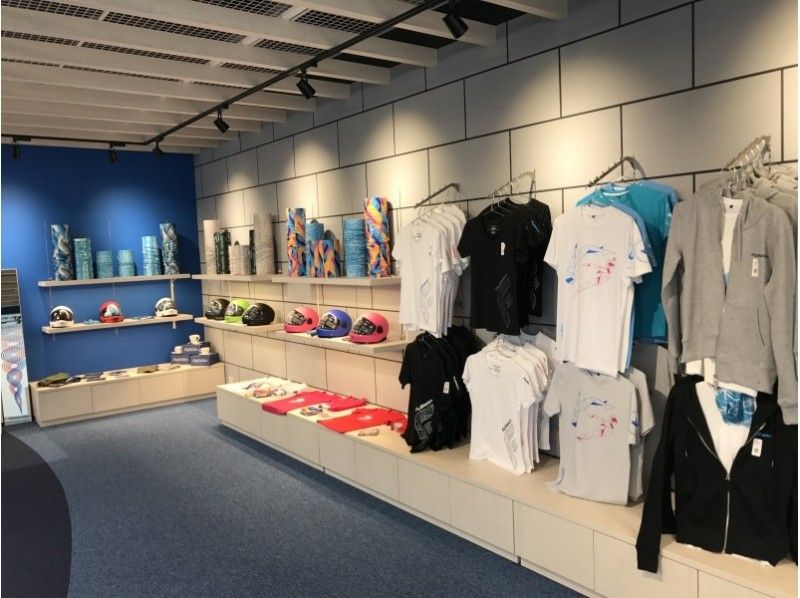 Flystation goods are also on sale at the shop!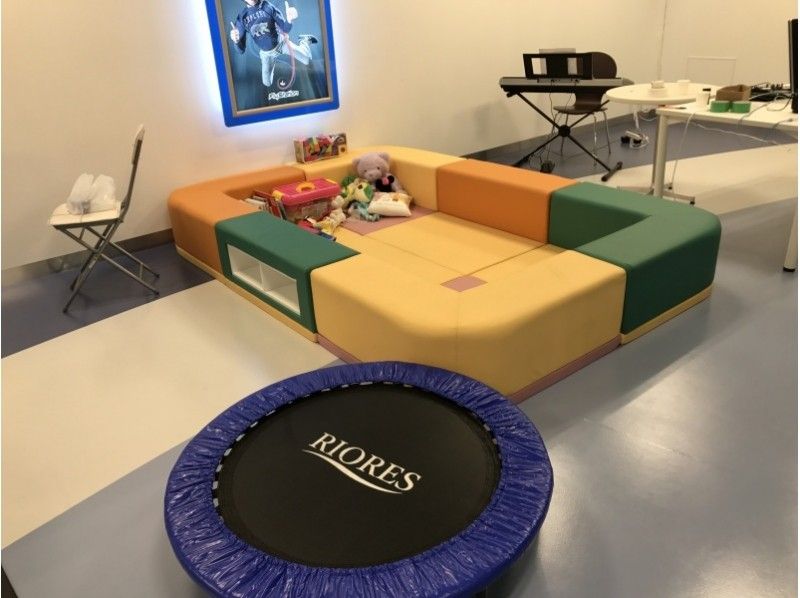 Child friendly also relieved! Kids space is also available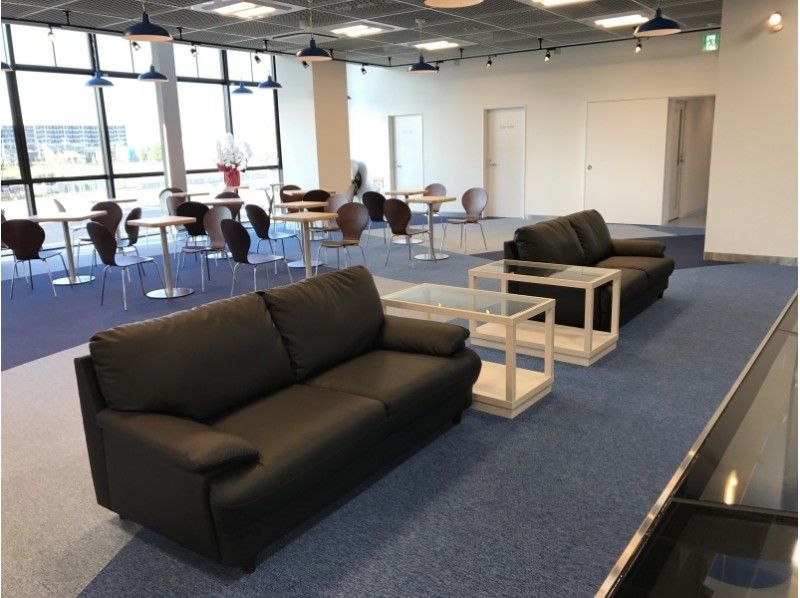 Spacious space! It can also be used for events etc!
---
Information
Minimum number of people
1 person
Number of people who can book
1 to 10 people
Schedule
Regularly
Assemble time
Please choose your desired time from the course setting.

※ On the flight day, please come by "1 hour before" the flight start time for registration confirmation, advance training etc.
If your visit is delayed, your flight may be deemed canceled.
Assemble point
Saitama prefecture Koshigaya city Lake Town 6-19-3
Reservation deadline
The day before, until 5 PM
---
Regarding advance preparation
| | |
| --- | --- |
| About clothings and must-bring items | Please come with easy - to - wear clothes, athletic shoes. |
| About rental items | Equipment such as flight suit and helmet is included in the price. |
---
Facility information
Changing room
toilet
shower
Hot spring
Locker
Hairdryer
Parking Lot
convenience store
Supermarket
---
Access and map
location
Saitama prefecture Koshigaya city Lake Town 6-19-3
How to reach by car
Get off at Souka or Misato exit at the outer ring road,
About 3 km north of national highway No. 4 East Hokkaido road
Near "Lake Town South" intersection
How to reach by train
It is a 12-minute walk from JR Musashino Line "Koshigaya Lake Town Station" South Exit,
Near "Lake Town South" intersection
---
Price list
Basic charge
2 Flight Ticket (+1 Flight) / Sheet 10,000yen 9,800yen
※2フライト1名様までのご利用ができます。
"Activity Japan" only! Additional service with 1 flight!
2フライト⇒3フライト
5 Flight Ticket (+1 Flight) / Sheet 20,000yen 18,800yen
1フライト分お得
※5フライトで2名様までのご利用ができます。
"Activity Japan" only! Additional service with 1 flight!
5フライト⇒6フライト
※Prices including all taxes.
※ The above is the basic charge.
* Prices may vary depending on the schedule, so please see the price list displayed after selecting the schedule.
---
---
About payment / cancellation
About payment
Payment by cash on the day, or credit card payment please.
※ Available Cards: Visa / MasterCard
Payment method
Pre-card payment, the ways assigned by operators
About cancellation fee
The cancellation fee will be required in accordance with the policy below.
Free up to 4 days in advance of use day
It is 50% from 3 days before the day before to the day before it
100% after the day of use (non refundable)
Cancellation by operators.
---
Other
Matters require attention
【Those who can not use】
Customers falling under any of the following can not use this attraction.
· Children under 4 years old
· Those who weigh more than 120 kg
· Those taking sake or drugs
· If you are pregnant or have the possibility of pregnancy
· Persons who have dislocation habits on their shoulders, or those with a second-class disability on their backs
【Other Notes】
· Please bring your identification card etc that you can prove yourself on that day.
· If the participant is under 18 years old, the signature of parents consent is required. A person who can print out the consent form part of the lower part of the terms of use attached to the reservation confirmation email and sign it with the parents on the flight day or sign a parent or guardian on the day of the flight Please proceed to reservation only.
· On the flight day, you will be present at least 1 hour before the flight start time for registration confirmation, advance training etc. If your visit is delayed, your flight may be deemed canceled.
· Please be sure to read the PDF Terms of Use attached to the Confirmed Confirmation Mail before joining.
Everyone's experiences
始めは 少し緊張したけど スタッフの おかげで 初めてでも 楽しい時間を 過ごせました 興味 有る方は 是非
Joined date: June, 2017
Latest activity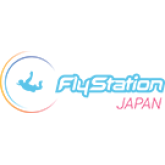 Reply comments from operators
Thank you for your post.
It is FlyStation Japan.

I am pleased that you have a good time.
またのお越しを、心よりお待ちしております。.
Couple
family
And friends
alone
10,000円~(税込)
Reduced rate9,800yen~​ ​(tax included)
2フライトチケット(+1フライト) 1 枚 あたりの料金
Included in price
Experience fee, advance lecture, special equipment (suit · helmet · goggle · neck gator), photos and movies during flight
When you book this plan 92 pt I will save it!
| | |
| --- | --- |
| | Starting time 09:00 09:20 09:40 10:00 10:20 10:40 11:00 11:20 11:40 12:00 12:20 12:40 13:00 13:20 13:40 14:00 14:20 14:40 15:00 15:20 15:40 16:00 16:20 16:40 17:00 17:20 17:40 18:00 18:20 18:40 19:00 19:20 19:40 20:00 20:20 20:40 21:00 21:20 21:40 |
| | Participating age4 years old ~ |
| | Time required For 1.5 hours |
| | ScheduleRegularly |
| | Assemble point Look in GoogleMap |