[BBQ · Miura] Recommended for family! Enjoy local produce BBQ in front of the sea! Foodstuff, grill etc. All set
プランID:15458 提供:Miura sea of ​​school (Divenavi Scuba Academy)
4,000yen~​ ​(tax included)
参加者1人あたりの料金
プランID :

15458
Kanagawa / Yokosuka Zushi-Hayama Miura
BBQ
Empty-handed OK
Meal
With BBQ
子供参加可
ファミリーで楽しむ派
スタート時間

Participating age

0 才~

Time required

2-3 hours

Schedule4月〜10月
Assemble point Look in GoogleMap
Description​ ​
Local area for BBQ garden in Miura Sea's school BBQ!
Seafood such as prefectural pig which can be purchased directly from the pig farm, sticky Miura vegetables with outstanding freshness, tuna karu landing at Misaki Port is the set contents.
All necessary items such as barbecue grill, charcoal, foodstuffs and tables are prepared so you can do it by hand!

We also have beverages, draft beer, cocktails, soft drinks, New Caledonian manta beer which we can rarely drink in Japan, so please feel free to order with a bar counter.
You can also enjoy marine activities such as sea kayaking and SUP as options.

【Things you can not bring in】
Please refrain from bringing in food and drink, so thank you for your understanding.

【Experience time】
I will assume 1 group 2 hour system.

【Option experience】
Sea kayak rental: ¥ 3,980 per person
Guided SUP (Stand Up Paddle Board): 4,980 yen per person
Guided snorkeling: 4,980 yen per person
Since it is all inclusive in the plan, OK with hands!
We prepare all necessary items for BBQ such as meat and vegetables, barbecue grill, charcoal, gloves etc, so please come by hand.
"Price, taste, quality" and stuck to the local produce erase food ingredients.
Meat is pork made in Kanagawa Prefecture!
Vegetables are Miura vegetables which is the most season and excellent in freshness at that time!
Tuna's bear picked up in Misaki, we stuck to the local production of local disappearance!
Sea front
Since the sea is in front of you, you can also enjoy marine activities at BBQ!
Marine activities available for families and groups such as SUP, sea kayak, snorkeling are also available ♪
---
Attractions of the plan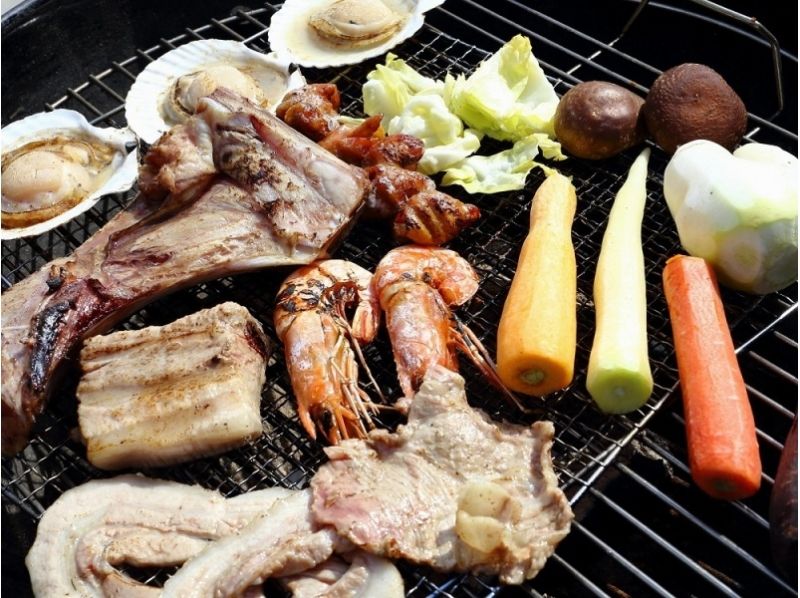 Local produce BBQ All the ingredients are very tasty!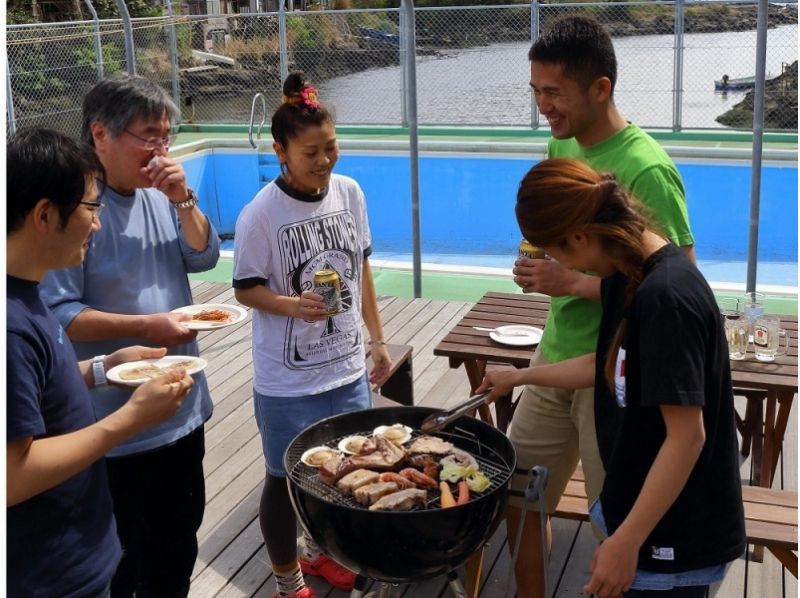 Ocean View BBQ in front of the sea is the best!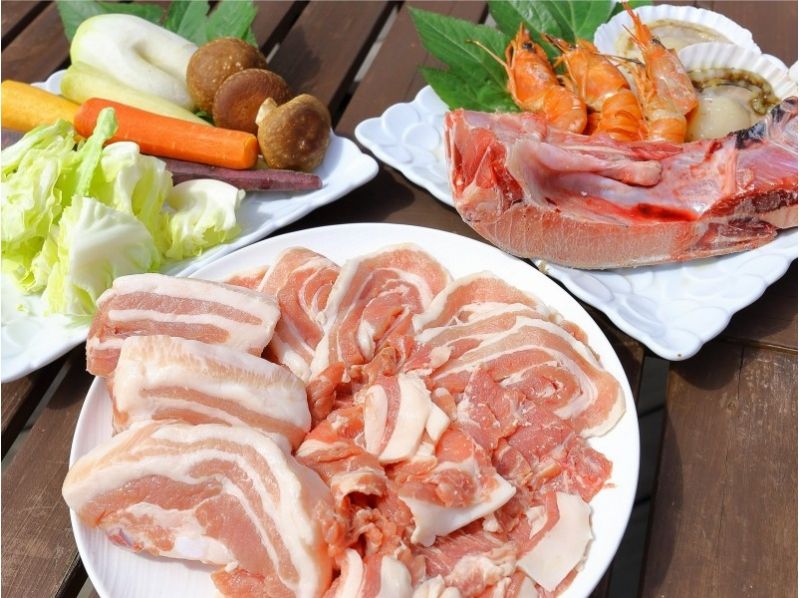 Fresh ingredients Price, quality, taste and commitment sticky ingredients!
---
Information
| | |
| --- | --- |
| Minimum number of people | 1 人 |
| Number of people who can book | 2人〜 |
| Schedule | 4月〜10月 |
| Assemble time | 11:30~19:00までご希望の時間をご記載ください。 |
| Assemble point | Miura sea of ​​school |
| Reservation deadline | Before 2 days |
---
Regarding advance preparation
| | |
| --- | --- |
| About clothings and must-bring items | Please come in regular clothes. |
| About rental items | BBQ grill, gloves, table, chair etc. We will prepare. |
---
Facility information
Changing room
toilet
shower
Hot spring
Locker
Hairdryer
Parking Lot
コンビニ
スーパー
---
Access and map
所在地
Kanagawa Prefecture Miura Misakimachimoroiso 1621
How to reach by car
Miura running through 25 minutes from the road forest IC
How to reach by train
15 minutes by taxi from Keikyu Misakiguchi Station
---
Price list
Basic charge
| | |
| --- | --- |
| Participants / per person 4,000yen | Complete ingredients, barbecue grill, table, chair, gloves |
オプション料金
| | |
| --- | --- |
| Participants / per person 4,980yen | Guided snorkeling |
| Participants / per person 4,980yen | Guided SUP (Stand Up Paddle Board) |
| Participants / per person 3,980yen | Rental sea kayak (2 hours 30 minutes) |
※Prices including all taxes.
※上記は基本料金になります。
※日程によって料金が異なる場合がございますので、日程を選択した後に表示される料金表をご覧ください。
---
---
お支払い・キャンセルに関して
About payment
Cash or card
Payment method
Pre-card payment, the ways assigned by operators
About cancellation fee
The day before 50%
On the day 100%
Cancellation by operators.
We may be canceled due to bad weather.
In that case we will contact you in advance.
In case of cancellation depending on the weather, there is no cancellation charge.
---
Other
Matters require attention
We will refuse bringing in foods.

Guests who participate in the marine activity as an option should withhold drinking such as alcohol.
Participation of marine activities after drinking alcohol is declined for safety reasons.
みんなの体験談
There are no reviews yet
4,000円~(税込)
参加者 1 人 あたりの料金
Included in price
Full set of ingredients, barbecue grill, table, chair, gloves, facility fee, parking age
| | |
| --- | --- |
| | スタート時間 |
| | Participating age0 才~ |
| | Time required 2-3 hours |
| | Schedule4月〜10月 |
| | Assemble point Look in GoogleMap |