【Tokyo · Asakusa】 Yukata / Kimono rental + rickshaw + kanji house ~ full plan ~
プランID:14364 提供:Rental kimono Sakura
9,500yen~​ ​(tax included)
大人1人あたりの料金
プランID :

14364
Tokyo / 23 wards
Kimono rental
Empty-handed OK
1 person participation Allowed
Rain departs Allowed
子供参加可
Starting time

09:30

10:00

10:30

11:00

11:30

12:00

12:30

13:00

13:30

14:00

14:30

15:00

15:30

16:00

Participating age

3 才~

Time required

On the day more than 6 hours

ScheduleRegularly
Assemble point Look in GoogleMap
Description​ ​
このプラン一つのご予約で「着物レンタル」「人力車」「漢字ハウス」が楽しめます。返却時刻18:00までは着物を着ての自由時間になりますので東京散策をお楽しみください。
We will make the name "Kanji" perfect for each customer.
A concert hall specialized in nomenclature makes the name of the person from overseas in kanji. ♪ to memories that came to Japan ♪ souvenirs for friends ♪ Do you not make memories of Japan?
Commemorative shooting option is popular ♪
And a commemorative photo 3 courses to choose an option, there is a guide course for a stroll while learning guide and Asakusa. Both are popular options.
---
Attractions of the plan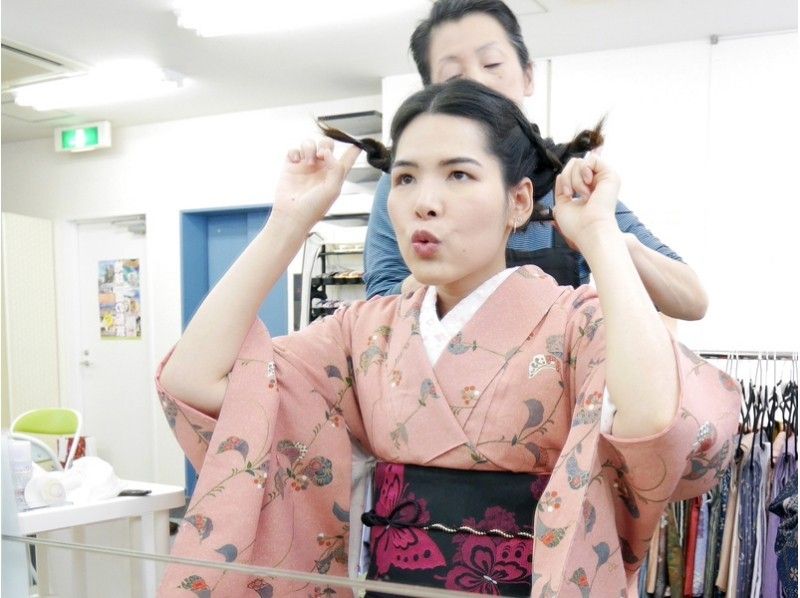 First dressed in kimono! About 45 minutes the time it takes to dressing-hair set! Veteran dressing nurses will let me transform you into a beautiful kimono ♪ kinds you will find rich and surely favorite one wearing ☆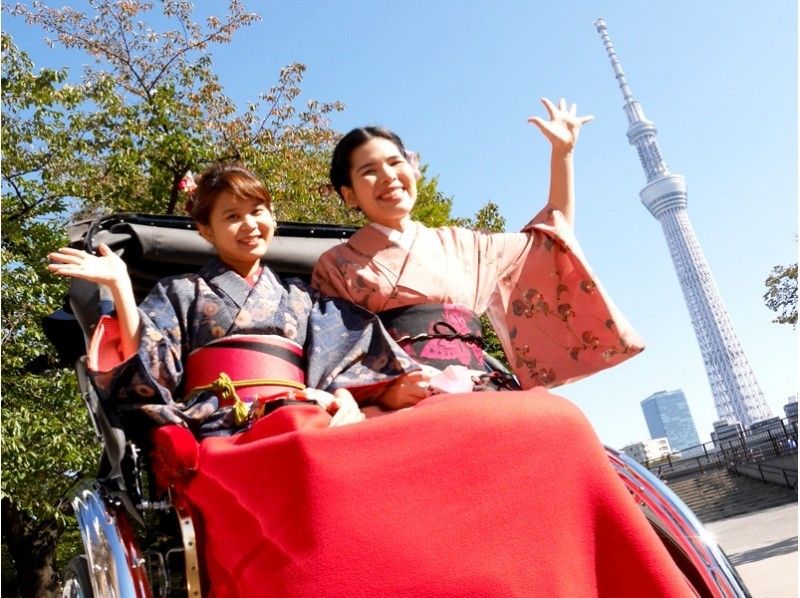 Rickshaw in to the popular spot! Indispensable in Asakusa tourism will guide you in the recommended course was condensed ♪ popular photo spot is a rickshaw. Please feel the essence of Japan riding a rickshaw in kimono ☆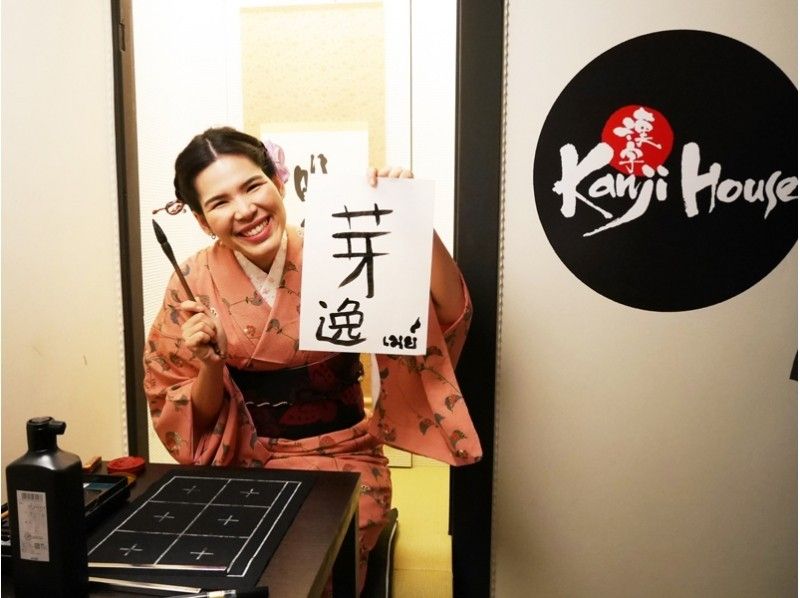 Cool Japan experience in Kanji House! Popular with foreign tourists! Customers of your name will be made with "kanji" ☆ your name became kanji will enjoy also ♪ calligraphy experience that you can take home in the "amulet" ☆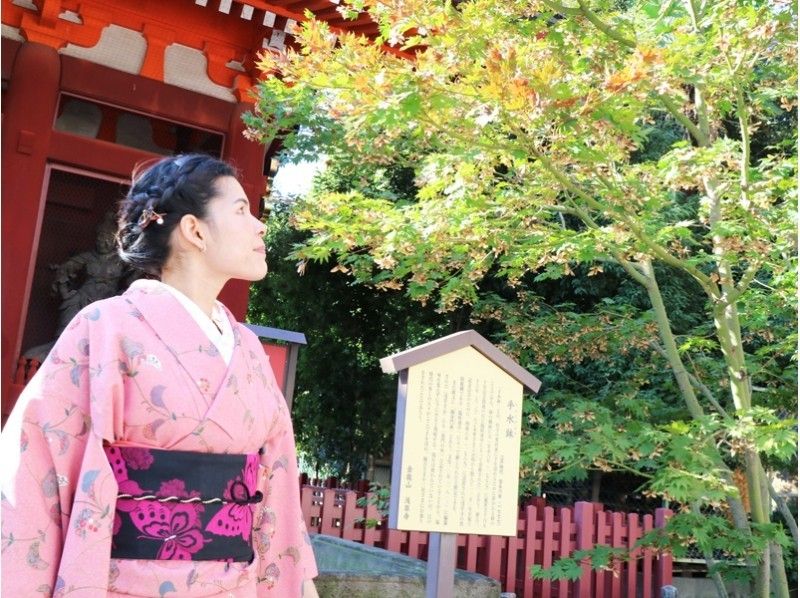 Free Tokyo stroll to return time! Until 17:00 of kimono rental return time can be free to explore Tokyo. Please, make a nice memories.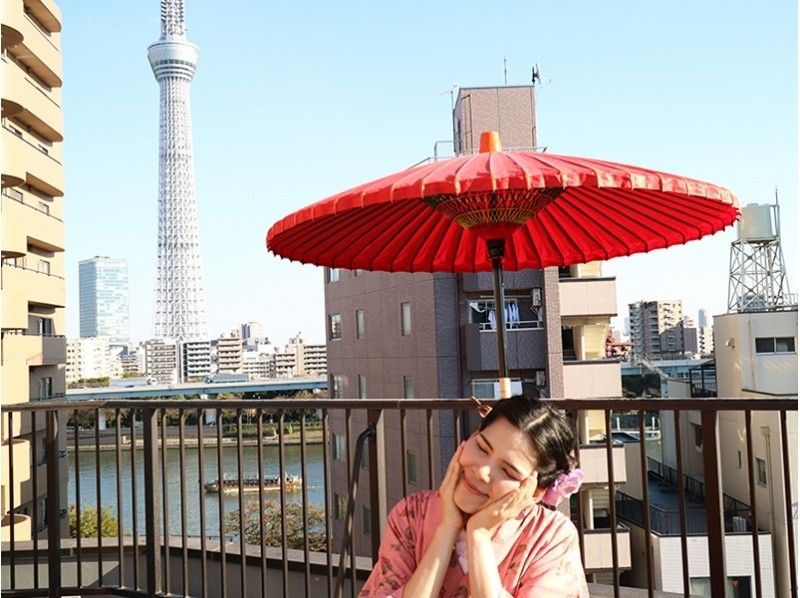 Photography, also guide option popular! Option 3 courses to choose where I am allowed to staff is taking a commemorative photo. English There is a guide course that can stroll while learning guide and Asakusa speak.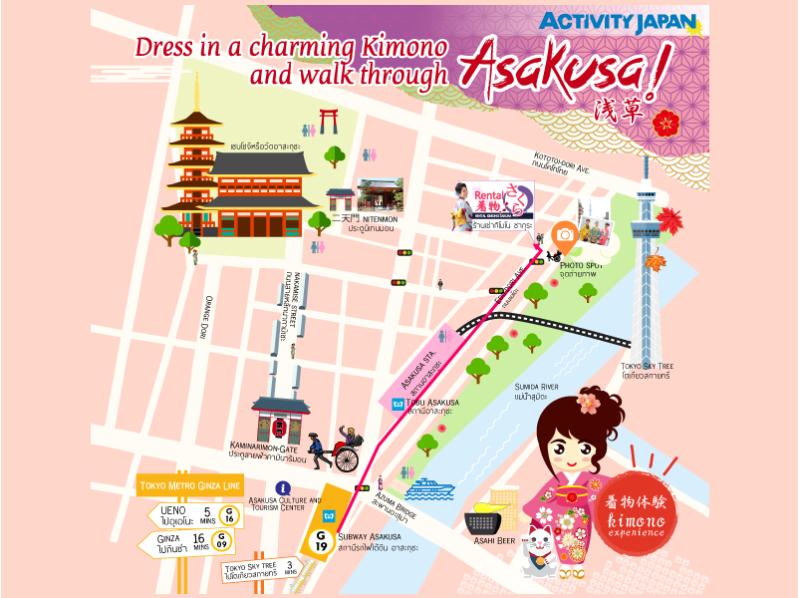 You will be given an Asakusa map on the day! Get the Sensoji Temple and original map that is easy to understand, such as popular spot and toilets of places such as Tokyo Sky Tree!
---
Information
Minimum number of people
1 人
Number of people who can book
1人〜30人
Schedule
Regularly
Assemble time
■10:00集合

※ On the day of the detailed schedule, we will inform you after your booking is confirmed.
Assemble point
Rental kimono Sakura, Taito-ku, Tokyo Hanakawado 2-3-11 Inkabiru 5F
Reservation deadline
Before 2 days
---
Regarding advance preparation
About clothings and must-bring items
In winter I think it is all right who was come wearing a HEATTECH up and down.
Please bring your If you have your socks. (It is also possible that you purchase in our shop.)
About rental items
We will rent everything you need.
And various sum small in the other options are available.
---
Facility information
Changing room
toilet
shower
Hot spring
Locker
Hairdryer
Parking Lot
コンビニ
スーパー
---
Access and map
所在地
Taito-ku, Tokyo Hanakawado 2-chome, 3-11 Inkabiru 5F
How to reach by train
Tokyo Metro Ginza Line: a 4-minute walk from Asakusa Station Exit 7
Tobu Sky Tree line / Nikko Line: a 4-minute walk from Asakusa Station
Toei Asakusa Line: a 4-minute walk from Asakusa Station A5 exit
その他の方法でお越しの方
Arriving by bus
Toei bus, Taito circulation bus: Tobu Asakusa Station bus stop 4-minute walk, Hanakawado bus stop 0 minutes
---
Price list
Basic charge
| | |
| --- | --- |
| Adult / person 9,500yen | 6-year-old - |
| Children (preschool) / person 7,000yen | To 5 years old |
オプション料金
| | |
| --- | --- |
| Rental until the next day extension / person 2,000yen | 翌日15時まで着物の1泊レンタルが可能です。 ※一時お預かり金を頂いております。詳細は「コース参加にあたってのご注意」をご覧ください。 |
| Memorial shooting plan (LL size) / pair 1,000yen | Memorial by photographer shooting options ※ Our only! Sky Tree and Sumida River can commemorative photographed by building rooftop with panoramic views. |
| Cameraman accompany (your camera) / time 4,000yen | Staff will accompany the walks, I will shoot your photos in your camera. |
| Asakusa tourist guide (up to 4 people) / pair 6,000yen | Guide time: 60 minutes, English-speaking |
| Asakusa tourist guide (5-8 persons) / pair 8,000yen | Guide time: 60 minutes, English-speaking, 9 people or more, please contact us |
※Prices including all taxes.
※上記は基本料金になります。
※日程によって料金が異なる場合がございますので、日程を選択した後に表示される料金表をご覧ください。
---
---
お支払い・キャンセルに関して
About payment
Pre-card payment only supports.
Payment method
Pre-card payment only
About cancellation fee
If you cancel your reservation, please contact us as soon as possible.
If it is canceled by the convenience of the customer, you will be charged a cancellation fee of following.

The day before: 50% of the reservation fee
On the day, the reservation: 100% of the reservation fee

Also schedule and number of people change, please contact us as soon as possible.
By timing and availability, there are times when it does not attach to hope.
Please note.
開催中止に関して
---
Other
Matters require attention
▼ if the next day you would like the rental of kimono
Returning the next day at +2,000 yen (tax included) is possible. However, we will deposit 15,000 yen as a lending guarantee fee at the shop front and refund it at the time of return.

In the case of returned goods desired by mail, it will be refunded by the payment to the next day of the kimono set arrival date. Please note that shipping and transfer fee will be paid by the customer.
9,500円~(税込)
大人 1 人 あたりの料金
Included in price
・着物レンタル一式(10:00~18:00):着物・肌着・帯・下駄・足袋・和バック・ヘアセット(髪飾り)※長襦袢(10月~5月)、 ・人力車体験(約15分) ・KanjiHouse体験 ・荷物預かり
| | |
| --- | --- |
| | Starting time 09:30 10:00 10:30 11:00 11:30 12:00 12:30 13:00 13:30 14:00 14:30 15:00 15:30 16:00 |
| | Participating age3 才~ |
| | Time required On the day more than 6 hours |
| | ScheduleRegularly |
| | Assemble point Look in GoogleMap |