Plan ID: 13460 Provided by:​ ​​ ​Institute Yatsugatake Outdoor activism Tees
[Yamanashi Yatsugatake] ♪ with adult Noasobi bonfire cafe ※ lunch box
5,000Yen ~ (tax included)
Charges per person over junior high school students
Plan ID:

13460
Yamanashi / Yatsugatake-Kobuchizawa, Kiyosato-Oizumi
Trekking (climbing / hiking)
Meal
With snack
With drink
Pets participation Allowed
Eco-tour
Children can join
Nature fullness relaxing school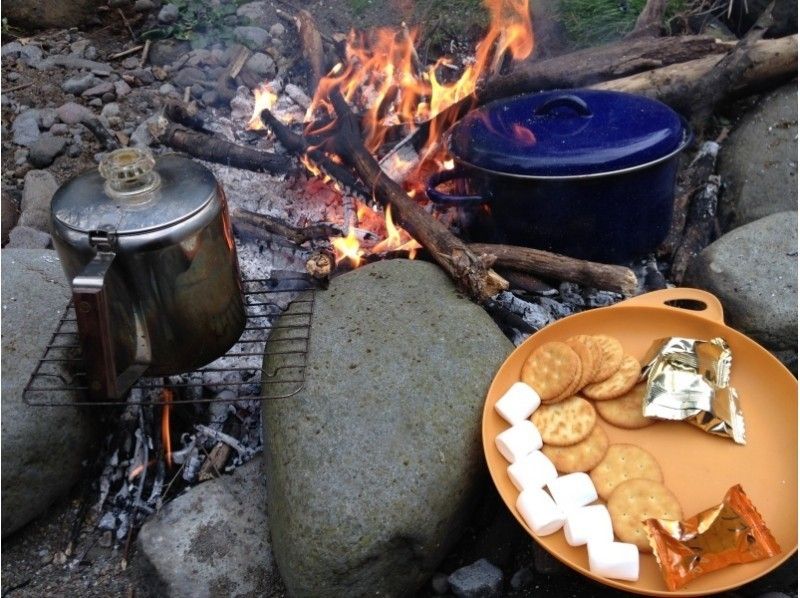 Starting time

Participating age

Age 6 ~

Time required

2-3 hours

ScheduleOctober 1 - April 30 Wednesday / Thursdale Closed (January - March Tuesday, Wednesday and Thursday Closed)
Assemble point Look in GoogleMap
There are no story stories of this plan yet
Description​ ​
Nature guide tour to taste the "season" of the Yatsugatake. Early winter from the time of autumnal leaves to dye the foothills to the color palette, and until the early spring. After enjoying a simple trek Spend a quiet moment around a bonfire in the much-valued point. Coffee and Russian tea was put in the percolator while watching the swaying flames, enjoy the wild adult time while drinking a hot wine. Chic landscape of this season unique also makes me calm the mind.
fire
After a simple trek, let's warm up around the bonfire with everyone.
Leisurely lunch time
While drinking warm tea, and enjoy the baked marshmallows and specialty of the lunch box in the fire.
Attractions of the plan

Fire cafe It is chilly season. Surrounding the fire at all, let's spend a laid-back time with a cup of warm tea.

Toasted marshmallow Roasted, baked marshmallows in the fire. And eat everyone in noisily, delicious fun!

lunchbox Lunch time is after the cafe. Please enjoy the special lunch box of the hotel maid. (The photograph is an image)
Information
| | |
| --- | --- |
| Minimum number of people | 2 people |
| Number of people who can book | 2 to 6 people |
| Schedule | October 1 - April 30 Wednesday / Thursdale Closed (January - March Tuesday, Wednesday and Thursday Closed) |
| Start time | 9:50 |
| Assemble point | Moe tree village Hall of Halls before parking (Yatsugatake Outdoor activist Tees office before). |
| Reservation deadline | 2 days before |
Advance preparation
Clothings and must-bring items
The low temperature situation is considered throughout the period. Fleece and sweaters, please be sure to offer a rain gear such as rainwear as prepare for winter clothes and rainy weather, such as a down jacket. Wool or fleece hat and gloves, as well, such as firm shoes is a must-have.
About rental items
[Rainwear]
One wearing · L two wearing men M
Women M three wearing · L two pieces

[Zach]
Male 32 liters × 2
Women 30 liters × 2

[Trekking shoes]
Women /23.5cm×3 feet, 24cm × 2 feet, 24.5cm × 1 foot
Men /26.5cm,27cm (each pair at a time)

All of the above
Half-day (1 to 3 hours and 30 minutes) 1,000 yen
One day (4-9 hours) 2,000 yen
Facility information
Changing room
toilet
shower
Hot spring
Locker
Hairdryer
Parking Lot
convenience store
&Supermarket
Access and map
Location
Village Hall of Halls before Yamanashi Prefecture Hokuto Takane-cho Kiyosato 3545 Moe tree
How to reach by car
Car available (Star Mania IC, Nagasaka about 20 minutes from the IC)
By train
JR available (a 10-minute walk from Kiyosato station)
---
Price
Basic charge
Junior high school students or more / person
5,000
yen
Elementary school students or more / person
3,000
yen
※The price includes tax.
※The price is basic fee.
※Prices may vary depending on the schedule. Please check the price list displayed after selecting the schedule.
| | |
| --- | --- |
| Included in price | lunchbox |
---
About payment / cancellation
About payment
Please pay at the day of cash.
※ credit card (VISA, MasterCard, AMEX) Available
Payment method
The payment method specified by the operator.
About cancellation fee
• If the pre-contact without not set to a set time of the day is regarded as a cancellation, you pay the full amount of tour participation fee as a cancellation fee
- In the case that has been canceled on the day reserved by the customer convenience, 50% of the tour entry fee,
 前日にキャンセルされた場合にはツアー参加費の20%をキャンセル料としてお支払い頂きます
Cancellation fee does not occur If you contact us of cancellation before, two days before.
Cancellation by operators.
Bad weather at the time of such as rainy weather, snowfall might cancel the departs Please note.
Others
Other notices
※ elementary school or more (toward the infant can not also be your participation in the guardian)

※ In the case of pets (dog) allowed please contact us in advance. If you are accompanied with an always leads, please note that you do not become a threat to the nuisance and wild animals to other customers.
The departs in principle rain will stop.
Everyone's experiences
No reviews yet
5,000円~(税込)
Charges per person over junior high school students
Included in price
lunchbox
When you book this plan 46 pt I will save it!
| | |
| --- | --- |
| | Starting time |
| | Participating ageAge 6 ~ |
| | Time required 2-3 hours |
| | ScheduleOctober 1 - April 30 Wednesday / Thursdale Closed (January - March Tuesday, Wednesday and Thursday Closed) |
| | Assemble point Look in GoogleMap |