【Asakusa / Tsukiji】 Cruise on the Sumida River and walking around Hamarikyu & Tsukiji "Sushi Zamai" handful sushi lunch 【2695】
Plan ID: 13126 It provides:POKENCAL LTD.
5,980yen~​ ​(tax included)
Adult / Child (Common) Price per person
Plan ID:

13126
Tokyo / 23 wards
cruising
Meal
1 person participation Allowed
Rain departs Allowed
Children can join
Starting time

Participating age

3 years old ~

Time required

3-4 hours

ScheduleAugust - December
Assemble point Look in GoogleMap
There are no story stories of this plan yet
Description​ ​
Item No. P002695
In large vessels, cruising the Sumida River from Asakusa to Hama! Hama After and Tsukiji curb market stroll, please enjoy your lunch of sushi in the popular sushi shop "Sushi Zammai" ♪
Sumida River cruising in large vessels from Asakusa!
From Asakusa pier Tokyo Sky Tree (R) is visible, the Sumida River about 40 minutes cruising! I will duck the 13 things quirky bridge felt the ♪ dynamic splashes and the sea breeze, while looking up at the back side of the bridge that do not see everyday, enjoy the extraordinary moments.
Shopping of Hama Rikyu Gardens & Tsukiji curb market
The cruise ship to arrive, the Yukari Tokugawa of Daimyo garden, Hama Rikyu Gardens. Seasonal flowers and a large black pine, such as pond and teahouse floating in the bottom of the Shioiri, is about does not seem to be located in the city of the middle! After a walk through Hama, the walking movement to Tsukiji. If there are confusing Tsukiji curb market also Pokekaru original Tsukiji map & guide and go alone, ogre with an iron club! From seafood, dried fish, omelet, you set anything up to the fresh vegetables!
Lunch at the popular restaurant "Sushi Zammai"
"Speaking of sushi, sushi Zammai ♪" is also famous in the TV commercials, nigiri sushi lunch at Sushi Zammai. Gorgeous 12 consistency of fresh sushi to please enjoy!
---
Information
| | |
| --- | --- |
| Minimum number of people | 10 people |
| Number of people who can book | 1 person~ |
| Schedule | August - December |
| Assemble time | 10:20 |
| Assemble point | Tokyo Cruise Ship Asakusa landing site |
| Reservation deadline | 4 days before |
---
Regarding advance preparation
| | |
| --- | --- |
| About clothings and must-bring items | The moving distance of the walk, it will be about 2.5km, please participate in the "easy to walk clothes, shoes." |
| About rental items | None |
---
Facility information
Changing room
toilet
shower
Hot spring
Locker
Hairdryer
Parking Lot
convenience store
Supermarket
---
Access and map
location
Taito-ku, Tokyo Hanakawado 1-1-1
How to reach by train
■ 3-minute walk from Tokyo Metro Ginza Isesaki Line and Tobu "Asakusa Station" (to the foot of Azumabashi there is a depot.)
---
time schedule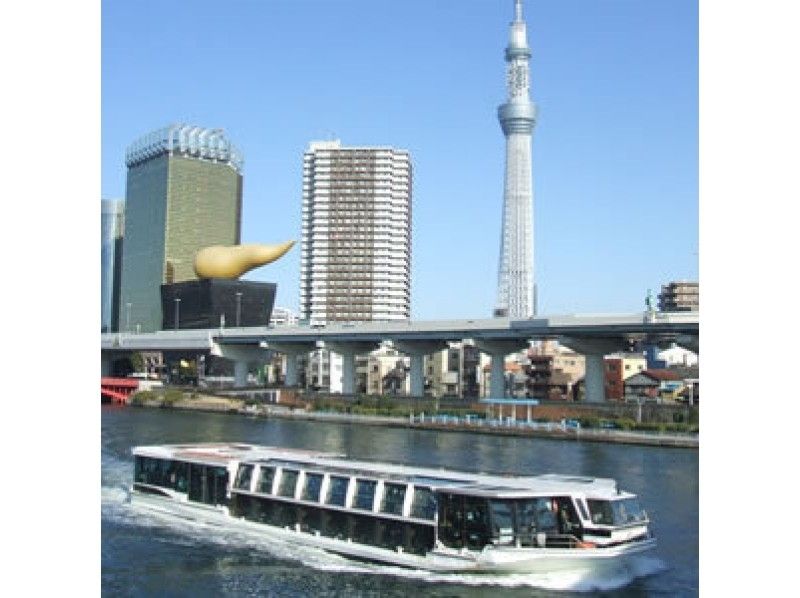 10:20
At the Tokyo Metropolitan Sightseeing Steamboat Asakusa Depot Plant · Reception
10:40 | Sumida River Cruise (Asakusa departure → Hama arrival)
11:20 time | guide you through the Hamarikyu gardens
       浜離宮恩賜庭園→築地へ徒歩移動(約1.5km)
       築地場外市場 フリータイム
13:30 | nigiri sushi lunch at Sushi Zammai
14:30 time | after the meal ended, disbanded their
---
Price list
Basic charge
Adult Children (Common) / person
5,980
yen
※Prices including all taxes.
※ The above is the basic charge.
* Prices may vary depending on the schedule, so please see the price list displayed after selecting the schedule.
---
---
About payment / cancellation
| | |
| --- | --- |
| About payment | ※要事前入金※ ツアー開催決定後、プランの案内書と払込用紙をご郵送いたします。郵便局またはコンビニエンスストアにて事前にお支払ください。 出発日間近でのご予約の場合、銀行振込(振込手数料はお客様のご負担)をお願いする場合がございます。 |
| Payment method | The payment method specified by the operator. |
| About cancellation fee | 旅行開始日の前日から起算してさかのぼって7日目~2日目 30% 旅行開始日の前日 40% 旅行開始日の集合時間まで 50% 旅行開始後の取消または無連絡不参加 100% ※取消日は、お客様が当社の営業日・営業時間内にお申し出いただいたときを基準とします。 ※旅行契約の成立後、上記取消日区分に入ってからの人員減、旅行開始日・コースの変更は取消とみなされ、取消料がかかります。 |
| Cancellation by operators. | 雨天の場合も決行いたします。 運航が中止の場合のみ、ご連絡をいたします。 |
---
Other
Matters require attention
● 0 children to 2 years old Please note we do not offer participation.
● within the stroke, because there is such as gradient-step, is your participation in the hand in wheelchairs and strollers, wheelbarrow, etc. Please refrain from.
Everyone's experiences
There are no reviews yet
5,980円~(税込)
Adult / Child (Common) Price per person
Included in price
Tour conductor, boarding fee, lunch, entrance fee and Tsukiji MAP
When you book this plan 55 pt I will save it!
| | |
| --- | --- |
| | Starting time |
| | Participating age3 years old ~ |
| | Time required 3-4 hours |
| | ScheduleAugust - December |
| | Assemble point Look in GoogleMap |