BIWAKO × SUP × YOGA holding!
2018/9 / 29.sat - 30.sun 2 Days
Let's SUP × YOGA together at Lake Biwa!
Venue: Yumihama Sunshine Beach · Park, Otsu Shiga Prefecture
The second event of Sappyoga 's event to be held at Lake Biwa which was very popular last year was decided!
Like last year, SUPYoga of Professor Tanaka Riko, Park Yoga full of charm, Hammock Yoga of great attention appeared!

Event program
2018 well, YOGA is the centerpiece of many programs such as Funeyoga, Park Yoga, time-dependent morning yoga and lunch yoga. In addition, FOOD and a sales booth are substantial this year.
---
SUP YOGA
---
YOGA
---
Funyoga
---
Sunset Yoga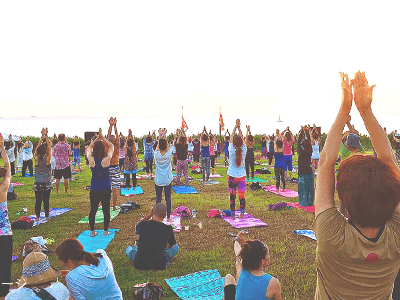 No Participation / No Capacity!
To conclude the Sun , everyone who participated, everyone who visited, and all the staff, together with a happy navigation of SPOUT ALLSTARS, let's relax yoga at sunset time!
September 29 (Sat) 17:15-17:45 (about 30 minutes program)
※ The time schedule is planned, may be changed slightly.

timetable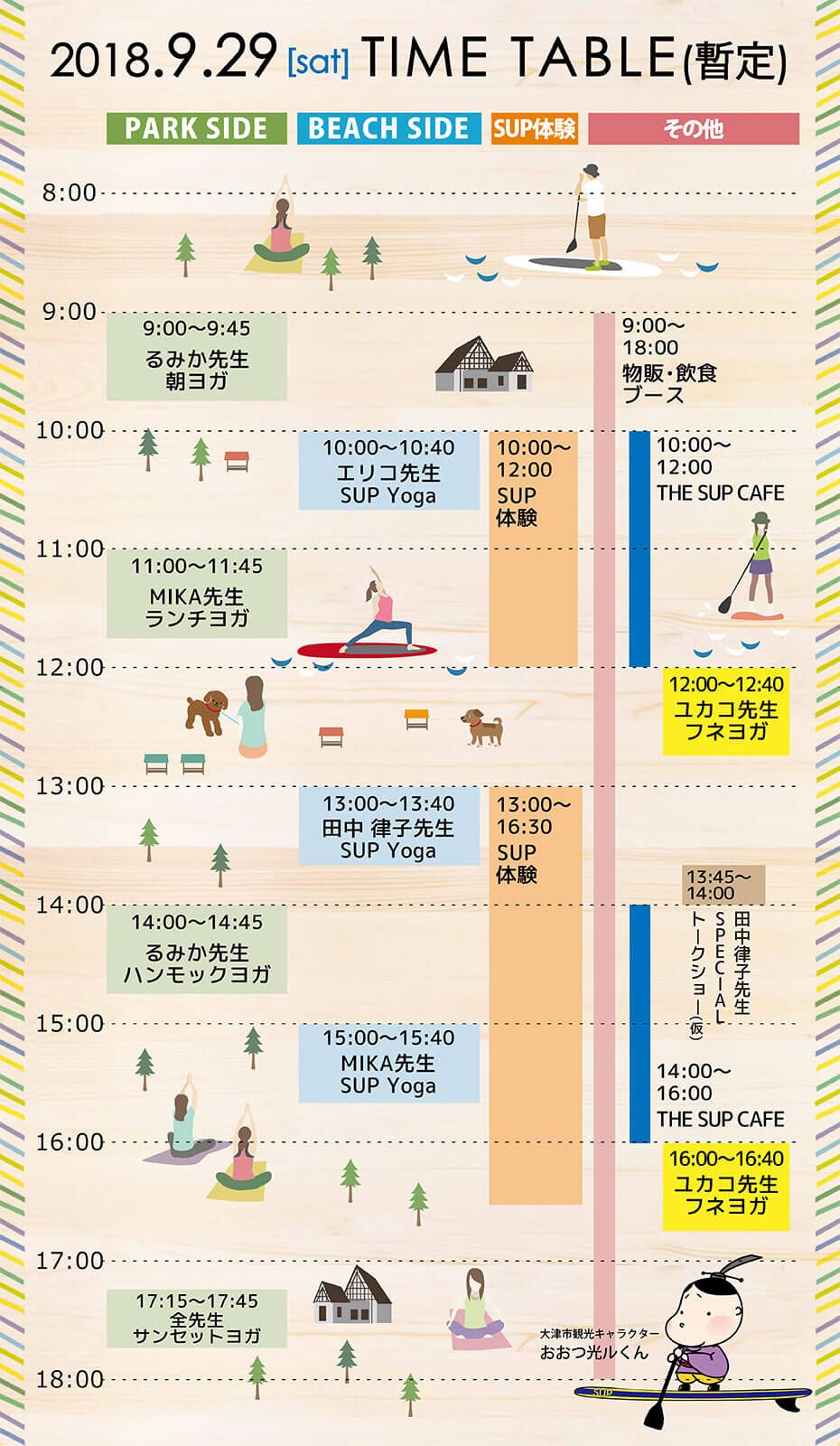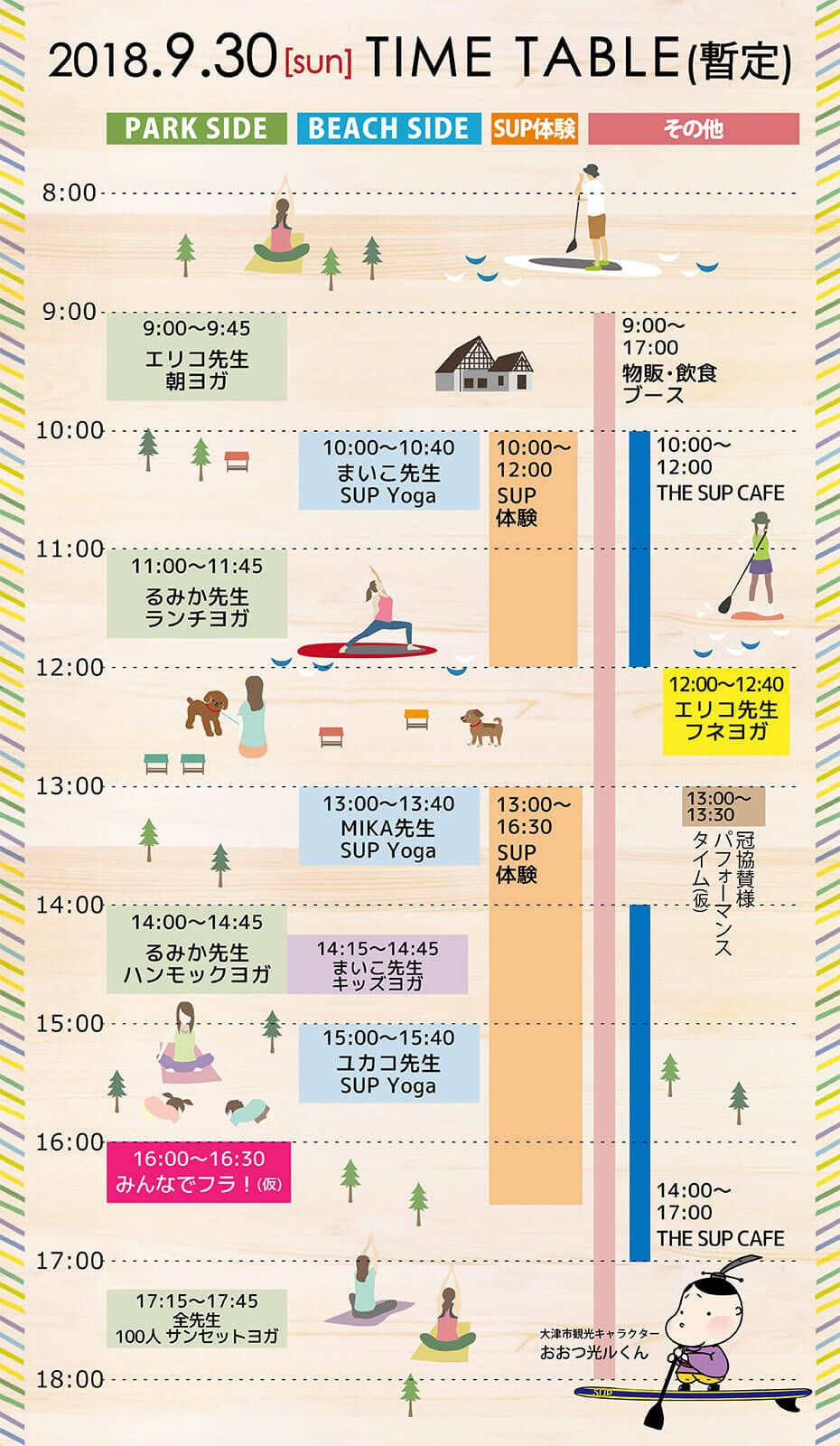 ---
BIWAKO × SUP × YOGA Outline
Events Name
BIWAKO x SUP x YOGA 2018
Schedule
2018 September 29-30 (Saturday / Sunday)
※ Rain weather holding, stormy weather cancellation plan \ ※ Events In the case of cancellation, we will guide you through the official site, SNS at 6 am on the 29th.
open time
From around 9:00 AM until around 6:00 PM
Venue
Yuhama Sunshine Beach · Park area , Otsu shi, Shiga Prefecture 520-0811
Host
BSY Project Executive Committee / Otsu shi
Supported by
Sun this SUP Yoga Association / Shiga Prefecture Industrial Support Plaza / Otsu Chamber of Commerce and Industry / Biwako Visitors Bureau / Biwako Otsu tourism organizations
Notes
*meeting time If you are late, you may not be able to participate. Also, participation may be canceled if you are drunk or drunk.

* There is no longest time fee set in the venue / nearby Parking Lot There is On the day Is expected to be very crowded. Please avoid the car as much as possible and thank you for your cooperation in "Visit by public transport".

* During the experience, we will keep your luggage temporarily.