Reservation for spring and summer leisure as soon as possible
The beginning of the water sports season also in 2018! Let's experience "Rafting" in the Okutama area "which is known as one of the most active activities spots in Tokyo with outstanding access from central Tokyo. This time, we will thoroughly explain the basic knowledge of Okutama Rafting together with the popularity ranking of the rafting plan and the shop list that you can book at Activity Japan ◎ If you enjoy active hot summer in 2018 Excellent cooling feeling Bisho Enjoying "Rafting" absolutely husband I will not!
What is rafting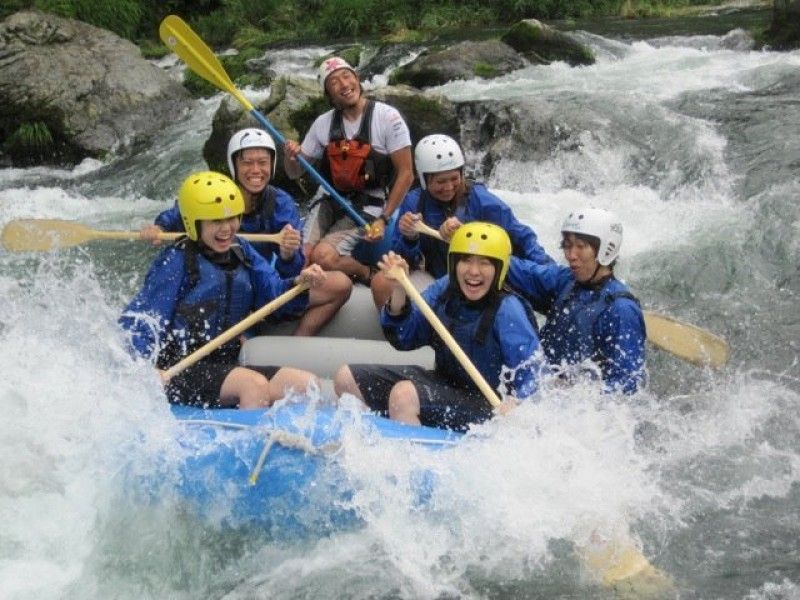 Rafting is a small boat called raft which is one of summer river playing which is also called line descending to enjoy river descent. The exhilarating natural waterslider is familiar as river leisure royal road activities as well as canyoning and shower climbing etc. ◎ Also, from the course which enjoys thrilling rushing descent to the course leaving the boat to the flow of relaxing river from the river You can enjoy rafting experiences at points that make use of its features. There are also many courses that can be taken from children (elementary school students), and it is attractive that you can enjoy with large groups such as groups and families ◎
Characteristics of Okutama Rafting
Rafting experience tour to be held in the Tama river upstream of the Okutama · Otake volleyy area which is good about 90 minutes from central Tokyo center with good car and train access. The Tamagawa River, famous for its cleanliness, is famous as one of the best rafting spots in the Kanto region, and you can experience Nakagawa descent with a spectacular view of Okutama Nature. It is also possible to accept reservations for small groups, such as couples, for adults such as schools and companies, and it is gaining popularity as group summer leisure for groups.

A guide that familiarize the river in any shop experiences a safe and safe rafting tour. The period during which rafting can be enjoyed in Okutama is roughly from April to October, and the amount of water and flow speed of the river vary depending on each season. Generally it is said that April to May when the mountain's melting water flows in is the season that you can enjoy the most drastic rafting, but again the peak season is from July to September.

"Rates for rafting"
At Activity Japan, we accept reservations up to the maximum value plan of 4,000 yen per person from the plan of the river 's body board "Hydro Speed ​​(River Bugi)" and a profitable set plan of 14,000 yen per person. There are also benefit plans such as a set plan with BBQ (BBQ) and family discounts so you can choose your favorite rafting experience tour firmly by checking the fee and service details ◎ enjoy half-day plan and Tamagawa river can easily participate We can plan a day etc. Since the hours and start times are also various, let's plan ahead and make a reservation in advance in accordance with the schedule ◎
"What to prepare for the rafting experience"
The Okutama rafting tour is held at the shop's experience plan, which includes rental of equipment such as life jackets, helmets and wet suit as well as professional rafting goods such as boats. It is okay to prepare only the basic items necessary for water play, such as towels, bathing suits and changing clothes.
Popular Plot Ranking
Activity We will announce Okutama Rafting Popularity Plan Ranking TOP 10 based on Activity Japan Reservations (2017 season ~ April 8, 2018) ♪ There are set plan with BBQ (BBQ) and special discount plan on weekdays, so so according to the schedule Let's choose your favorite plan! ! As for reservation of popular plan as soon as possible ◎
First place




Second place




3rd place




4th




5th place




6th place




7th place




8th place




9th place




10th place




Based on booking data as of 2017 to April 8, 2018
Rafting shop list
There is a shop list that holds a rafting experience plan in the Okutama area ♪ In addition to rafting, there are shops dealing with tours of popular river leisure such as SUP (stand-up paddle board) and canoe · kayak, so combine in Okutama It is also recommended to enjoy the nature of the day for a day ◎
As I wrote in the beginning, the Tokyo Okutama area is a river activity spot that represents the Kanto region ◎ It is surrounded by abundant nature that is unlikely to be inside of Tokyo, a barbecue, camping, fishing, etc are enjoyed and it is popular area for outdoor freak ♪ Let's enjoy the spring and summer season of 2018 with the most important activity of Okutama "Rafting" ☆