Leisure in Lake Biwa! Lake Activity Spot in Japan Lake Biwa Special Feature!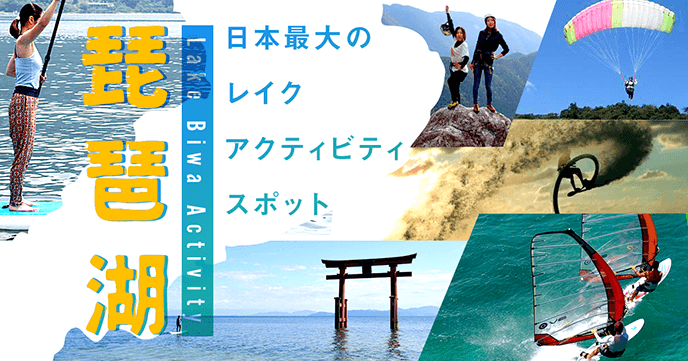 Lake Biwa, located in Shiga Prefecture, is the largest lake in Japan and is the first-class river boasting the highest water storage capacity in Japan. It occupies about one sixth of the area of ​​Shiga prefecture and is divided into four municipalities, Hunan, Lake East, Hubei, Lake West. It is a popular area as one of the biggest sightseeing spots in Shiga Prefecture, famous for such as the Biwako Museum and pleasure boats Michigan Cruising around Hunan.

Shiga Prefecture has its Lake Biwa and has good access from Kyoto and Osaka There are many tourist attractions such as Hikone Castle and Enryakuji temple, but outdoor leisure and activity experiences utilizing the magnificent area of ​​Lake Biwa are actively being carried out and Kansai It is gaining popularity as a representative playing spot.
Popular latest water activities such as canoe and kayak, wakeboarding, windsurfing, SUP (stand-up paddle board) and other typical lake activities, flyboards and hover boards that fly in the sky with hydraulic pressure, kiteboarding and other popular water activities There are a lot of shops to organize till until the beginners can also book an experience plan. In addition, not only in the leisure and activities at the lake but also in the surroundings the paragliding experience is also popular.
In this special feature of Lake Biwa, we introduce the popularity ranking and recommended leisure activity plan of activities that can be enjoyed in Lake Biwa and its surroundings in the spring and summer season of 2017 and propose how to enjoy Lake Biwa with family and friends during the holiday season. Clearly, it is not only Shiga Prefecture, Hikone Castle (^ ^) Lake Biwa is very special! ! ! ! Activity Japan Handling Let's check all events of Biwa Lake ~!

▼ Leisure activities that you can play on Lake Biwa
-Canoeing -Kayak -SUP (Stand Up Paddle Board) -Windsurfing -Wakeboard -Fly board -hoverboard -Banana boat -Yacht · sailing -Kite board -Paragliding
In Lake Biwa, the experiences of fly board (flying sky with water pressure) that became a hot topic in TV programs and commercials is extremely popular! It is attractive that you can easily experience the fly board which became a classic leisure activity from the big boom. It is close to Higashi line Higara station with good access from Kyoto ♪
First place
Second place
3rd place
4th
5th place
6th place
7th place
8th place
9th place
10th place