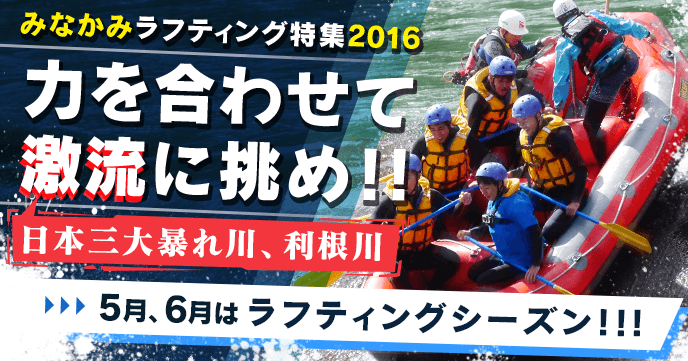 Minakami Tone River in May and June
You can experience the world's torrent
Speaking of the rapid rafting spot in Japan, "Fuji River" in Shizuoka, which is also named for "The Three Major Torrents in Japan", "Kumagawa River" in Kumamoto, "Chikugo River" which is called the Three Rampage River and crosses Kyushu and Shikoku " Yoshino River "and Gumma Minakami cho" Tone River ".

Among them, the season of May and June, when spring comes, the amount of water increases by flowing thawing water from the mountain, and Gumma Minakami town "Tone river" can experience "the world's torrent". In addition, in Japan, following the Shikoku "Yoshino River", the history of rafting is old, it can be said that it is a representative rafting spot in Japan.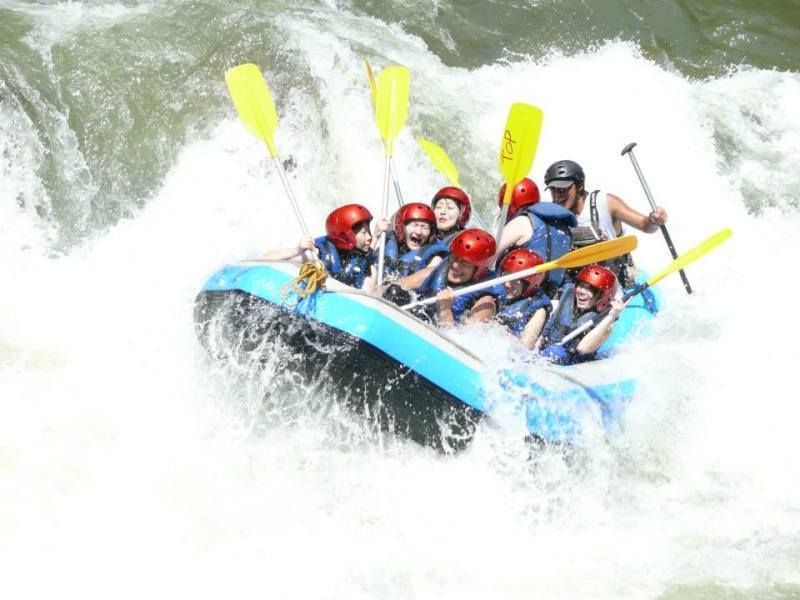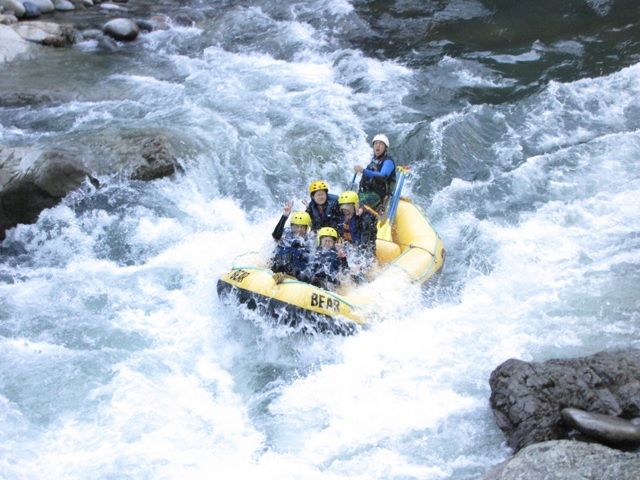 Rafting at Minakami Town "Tone River"
The attraction of rafting is that "thrill" and "refreshing feeling". If you put yourself in the great nature and run a boat on the river's torrent, you will definitely blow off everyday stress! Many fans are addictive to this pounding feeling, and rafting is one of the activities with the most repeaters.

There are also many shops holding rafting experiences since the history is old, and it is also the recommended point of rafting in Minakami town "Tone River" that many guide staff familiar with torrent course are enrolled. We guide rafting experiences to various levels from novice to experienced people safely and safely.

Finally I will introduce the popular rafting experience plan of Minakami area. Activity "rafting" that is often taken up in television, magazines, etc. If you are going to experience in Kanto precisely now Minakami Tone River! May-June is recommended! !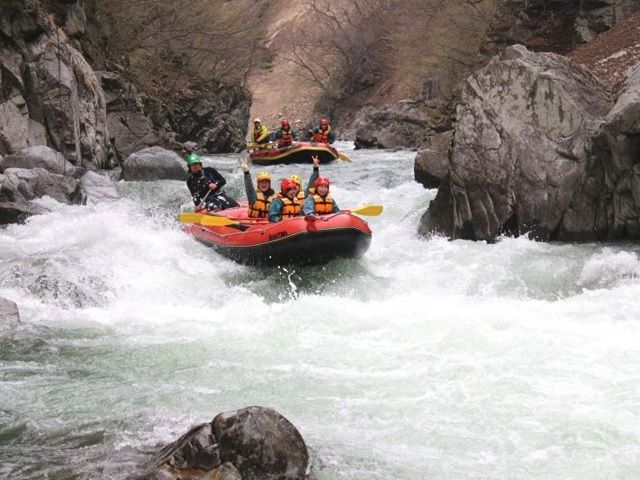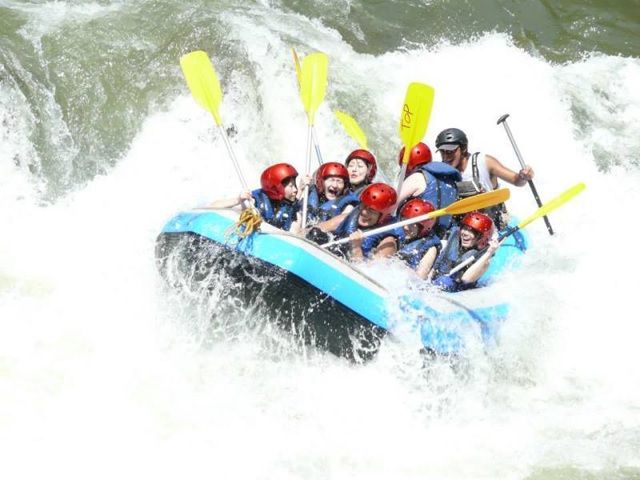 Rafting at Minakami Town "Tone River"
【Telephone reservation accepted】


Please contact us immediately before reservation · group etc




Activities Japan Support Center



Minakami Rafting Recommended Plan
Plan ID: 290

6,500

yen~

​ ​(tax included)
Torrent overcame a fellow, after the goal you want to play in the best sense of achievement ★ water other than the one and rafting, which is the first time rafting, also to slowly hot spring I'm day! Recommended for those greedy Nante. July - is relatively water also calm, enables you to join us in elementary school. here we go! Embark on an adventure ♪ best memories making Please leave the MAX!
Plan ID: 312

プランID:312
Uncle Bear (Uncle BEAR)
7,000

yen~

​ ​(tax included)
Rafting and is the outdoor sports that go down the river ride participants and guide the raft. Tone River, which is known in the Kanto one torrent-rich water-valley beauty. Please leave it to Uncle Bear If you want to attack a juicy wave of water! Tonegawa of the spring thaw, you can enjoy world-class torrent rafting. Summer is not only rafting, slider of using the boat, you can also enjoy, such as diving.
Plan ID: 8665
Plan ID: 8897

プランID:8897
TOP Water Company
6,500

yen~

​ ​(tax included)
Nationwide famous rafting spot, Come Party to Excite in the torrent rafting of the Tone River! If a half-day rafting, the afternoon can be enjoyed slowly tourism and hot springs ♪
Plan ID: 417

プランID:417
Nature Navigator Water base
8,000

yen

7,000

yen~

​ ​(tax included)

Special Deals
The most popular classic course in rafting water half-day course of Nature navigator tour! Very popular and enjoy doing many times! Around tourism and water hot spring after the rafting, also enjoy, such as a barbecue lots! ※ There is also recommended BBQ pack (yen +1800) and deals accommodation pack! Please tell us at the time of reservation.
Plan ID: 534

プランID:534
Kappa CLUB (kappa Club)
8,000

yen~

​ ​(tax included)
**春ラフティング** ★4月から6月下旬まで★ 中学生以上の方限定!!雪解け水で増水したスリル満点の春ラフティングがオススメ!! ツアー前にしっかりと安全説明するので、初めての方も安心♪ ☆☆春のお得なキャンペーンのお知らせ☆☆ 毎年恒例『水の日』キャンペーン *5/2~7/18 毎週水曜日 通常価格 8000円 → 半額 4000円!!! 春の利根川は、雪解けで増水するため日本屈指の激流が体験でき、特に4~6月はダムの放流により激しいラフティングが楽しめます。 半日コースでも約10kmの距離!激流ポイントがたくさん含まれ、日本国内では珍しい本格的なラフティングが体験できます! また、夏になって水量が落ち着くと下れる距離は約3kmと短くなりますが、水温も上がって絶好の水遊びシーズンとなります! 川の中で泳いだり、崖からジャンプしたりと、ラフティング以外にもツアー中のアトラクションが楽しめます。
Plan ID: 522

プランID:522
Canyons Canyons Water
9,500

yen~

​ ​(tax included)
Attractive in the four seasons of expression is rafting in Gunma Prefecture Water "Tone". Spring torrent season compete for Japan 1 and 2 in the melting snow flooding! Let's taste the pleasure to break through the waves! Summer Dari jumped from the rocks calm water, or try to be deliberately washed away ... the "hot summer" to "feel good summer"! Autumn, you can enjoy a relaxing rafting canvas for while flowing through the river a superb view that has been decorated with autumn leaves.
Plan ID: 88

8,000

yen~

​ ​(tax included)
Iruabu Outdoors's water floating (Minakami) rafting is a content that you can enjoy from the bottom of my heart even those who are not good at sports. Let's board the 8-seater rafting boat including qualified guides, cooperate with the team, row the paddle, and overcome the torrents of the Tone River full of thrill and adventure. If you cross the torrent, you can not usually visit, water play at the secret point of Secret.
Plan ID: 279

プランID:279
Forest & Water Water base
7,000

yen~

​ ​(tax included)
The most popular tour is this! In a stable amount of water throughout the season, there is laughter a beautiful torrent, please enjoy the special time of Yes tears. Below it is above the elementary school students in what year old if there is a healthy, is the best of the river to enjoy comfortably.
【Telephone reservation accepted】


Please contact us immediately before reservation · group etc




Activities Japan Support Center



At Activity Japan
Nationwide variety of activities
You can book and experience