【Ibaraki Ryujin Bungee】 "Night Bungy" jumping into the darkness of the night 8/12 (Sat) - 14 (Monday) Limited holding! Hurry up reservation!
8/12 (Sat) - 14 (Monday) only!
"Ryujin Night Bungy" held!
Every year enthusiastic bungee fan "Night bungee jump" of the Ryujin large suspension bridge boasts a tremendous popularity is decided to be limited only from 8/12 (Saturday) to 14 (Monday) in 2017! ! Because it is a super premium bungee jumping experience for a short period of time, there are few reservation frames that you can prepare, but reservation reception started at Activity Japan ◎

So this time we will recommend Night Bungy 's fee and experience conditions of Ryujin Large Suspension Bridge, its thrilling charm and dreaming to darkness of the night from Japan' s highest height of 100 m ◎ We will recommend unusual daily feeling ◎ Super Recommended Activity Plan for the summer vacation period of 2017! Entries of courageous people are waiting ♪ ('∈ `) v
About Ibaraki Ryujin Bungey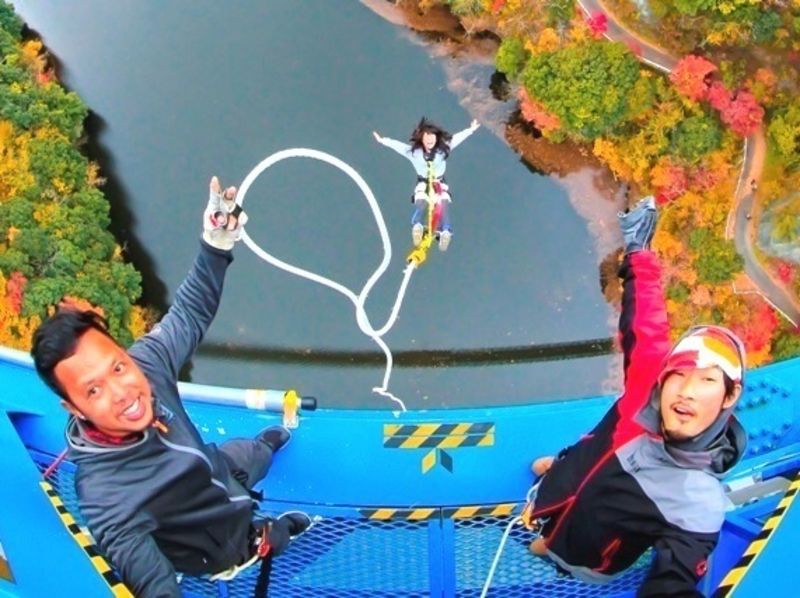 "Ryujin Bungee" that you can experience at Ryujin Large Suspension Bridge over Hitachiota City in Ibaraki Prefecture is operated by "BUNGY JAPAN" which operates bungee jumping sites throughout the country. As a permanent bridge bungee site, it boasts the height of 100 meters, which is the best in Japan, and is a super-famous bungee jumping spot that is frequently taken up in media such as television.

[Features of BUNGY JAPAN]
Bungy Japan, in Japan and New Zealand have the experience as bungee jumping provider of 20 years, offers the only bridge bungee jump in Japan!

● thorough safety management
Bungy Japan, we are confident that customer safety is the highest priority matters to be. In safety, it does not compromise any time. Precisely because absolute safety is guaranteed you will be able to try to bungee jump, which is also "a challenge to me"!

● Bungee Japan's greatest strengths are in the staff!
Our staff have been accredited are trained in accordance with the safety standards of New Zealand. Together from both safety and fun to experience value of the jumper, we promise to provide the best experience in all aspects! So we have to wait is always two people of New Zealand the jump master for the sake of safety, please do not worry.

● Popular tourist attractions!
Across the lake in the shape of a dragon, Honshu one is as a bridge of pedestrian dragon large suspension bridge. Overall length is a whopping 375 meters! It just creates a presence full of scenery, is the most popular tourist spot that attracts tourists of tens of thousands of people each year.

Charm of Night Bungee Jump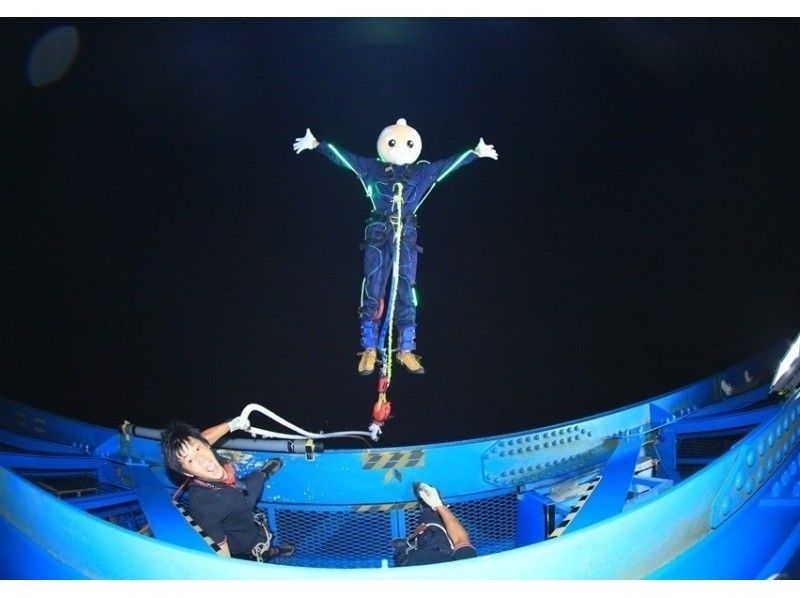 Sensation to be sucked from the height of 100 meters to the darkness of the night. . . It is surely unexperienced. . . There is no other activity that can taste unimaginable fear and accomplishment ◎ It is absolutely recommended for those looking for exciting activity experiences this summer ♪ Illumination Suit Rental is also included in the experience fee ☆ *: ... o (≧ ▽ ≦) o ...: * ☆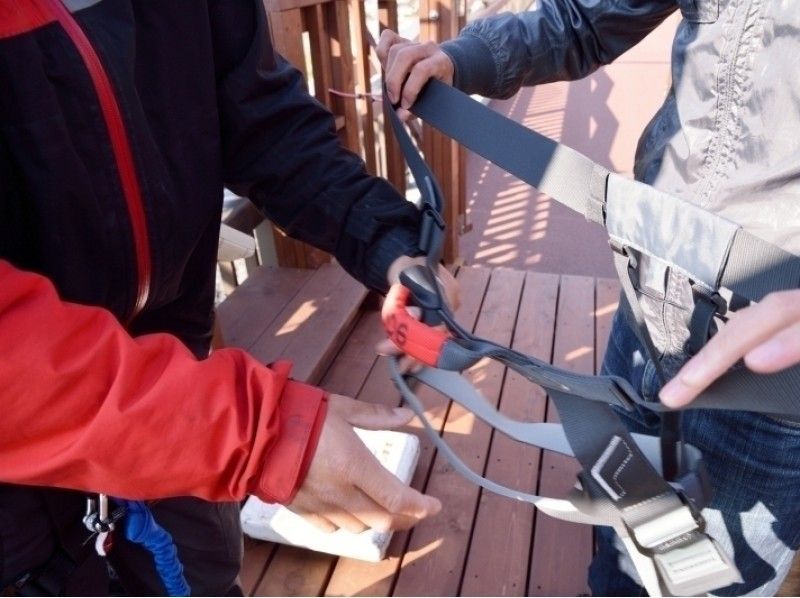 BUNGY JAPAN Ryujin Bungee site where you can experience Night Bungie has thorough safety management. You can fly bungee jump for the first time by carefully adjusting the instruments according to each jumper and checking double triple ◎ Let's enjoy it safely according to the instructions of the staff ♪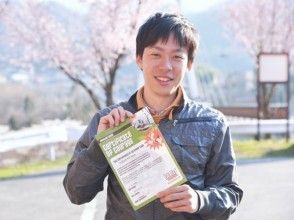 Those who fly bungee jumps with courage will receive a certificate certifying that they flew the bungee jump from Bungy Japan ◎ This is a testimony of those who are courageous ('Д `) y ━ · ~ ~ Let's brag to fellows with SNS etc. ★ ★ ★
Ryujin Knight Bungee Details
[Organizer]
BUNGY JAPAN (bungee Japan) dragon bungee
[Participation fee]
Per adult 15,000Yen (tax included)
[Included in price]
Experience fee, necessary equipment, insurance premiums
[Duration]
August 12 (Sat) - 14 (Mon), 2017
[The meeting place]
Dragon large suspension bridge
Ibaraki Prefecture Hitachiota Kegano cho 2133-6
Ryujin Bungy surrounding map
2133-6 Tenri-nano cho, Hitachiota-shi, Ibaraki Prefecture 313 - 351 1
Information
[Minimum number of people]
1 person
[Number of reserved people]
1 person to 20 people
[Duration]
Limited holding from August 12 (Saturday) to 14 (Monday)
[meeting time]
Please fill in the start time of your choice at the time of booking. 18:30 20: we have departs every 30 minutes between 30
※ Since there is a need to dispense the reception to the booked time, please come in until about 15 minutes ago.
[The meeting place]
Ryujin Large Suspension Bridge Ibaraki prefecture Hitachiota-shi Tengano-cho 2133-6
[Reservation deadline]
one day before (until 5 p.m.)
[About clothes and belongings]
Skirt Please avoid. Please prepare a number one coat because there is that the early spring or early fall feel particularly cold.
· In addition to jump toward the river, because there rarely that would wet a little clothes after jump in Japan, it is recommended to prepare a change of clothes and the like.
• Always low-cut athletic shoes, thank you so give us use the string shoes.
[About rental item] There is nothing in particular.

About payment / cancellation
[Payment method]
The payment method specified by the operator.
[About payment method specified by business operator]
Please pay in cash on the day. For customers of groups of 2 people or more, we are requesting payment of all together. Be sure to prepare as if there is no fishing.
[About cancellation]
In case of cancellation or change, please contact us by soon to call us. In the case of cancellation by the customer convenience, a cancellation fee of the following will occur.
- The day before: 50% of the experience fee
- On the day: 100% of the experience fee
[Regarding discontinuation]
• In the normal rain will be decisive action. However, heavy rain and storm, is there rare that I am allowed to cancel due to the amount of water of the river.
- Abort when we will contact you by phone as soon as possible. In such a case it is not the cancellation fee will occur.

Others
[Precautions for participating in the course]
Weight limit: 40 ~ 105kg
Please offer in advance If you have a chronic disease of the following Upon a bungee jump.
Heart disease · Epilepsy · Hypertension · Diabetes · Mental disorder · Prosthetic limb etc · Persons who have undergone eye surgery such as cornea · Osteoporosis · Drying · Asthma · Experience experienced · If you are pregnant Please note we can not participate.
Please note that those who have been drinking even in a small amount on the day will not be able to join you become covered by insurance ※.
[other noteworthy things]
If there are less than 20 years old, you will need to sign a confirmation in accompanied a parent or guardian or person responsible.
If you can not accompanied by, it will be pre-attached to the book document to E-mail (mobile e-mail address can not), or to send by FAX.
Other bungee jumps all over the country