To enjoy Stand Up Paddle Board (SUP)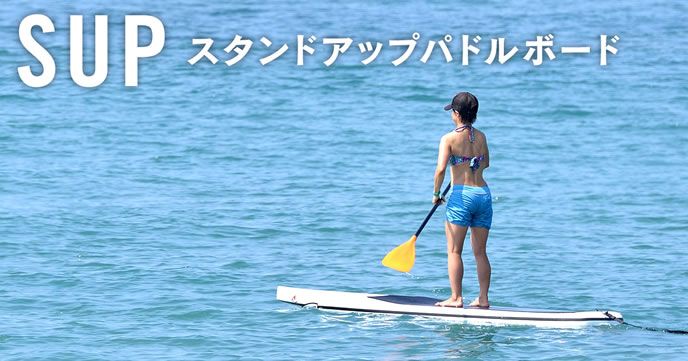 What to do with paddle when enjoying SUP
The stand-up paddle board (SUP) will paddle on the board and enjoy it. You can also enjoy it in the sea, the lake, the gentle river of flow etc. Although it has an image which looks like a surfing in the wave, it is a feature that it can be enjoyed by cruising even if there is no waves, in a sense like a canoe if anything. What you can not do with the paddle is not to drop the paddle in the water first. Also do not paddle in a paddle where there are many people, paddle on the board and paddle with your hands. It is dangerous to drop the paddle and lose sight of it, it is important to care about the surroundings!
Stand Up Paddle Board (SUP) How to hold a dangerous paddle
The stand-up paddle board (SUP) moves by paddling. You also have to pay attention to how to hold the paddle. The paddle holds the top grip with dominant hands and grasps the shaft part 50 cm to 60 cm below from the other hand with the other hand. If you hold a dangerous paddle with a hand with a short width you can not put in force, fatigue will also double. The stand-up paddle board (SUP) which can row even in middle posture and in a sitting posture will change how to hold each time, but also in this case there will be some distance between hands. Paddle is a very important tool for stand up paddle board (SUP).
What should I do if I lose the paddle with SUP
Stand Up Paddle Board (SUP) can use the paddle to get off the coast and enjoy cruising. You can go out to fish and enjoy fishing and snorkeling. I want to be careful not to lose the paddle. There are times when you go off the coast and do fishing and snorkeling to eliminate paddle. Moreover, it may shed a paddle when falling over the wave. If you are enjoying the Stand Up Paddle Board (SUP) like this and you lose the paddle, what to do is to paddle lying on the board in such a case. You should surf on a daily basis in such a meaning!