People who want to enjoy surfing with their families as well as those who want to improve their skills can have substantial time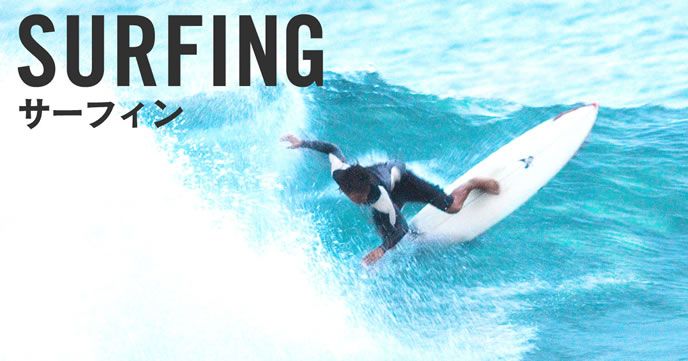 Gacky surfing which is near from the airport and the sea
For those who want to have fun of Miyazaki's sea right away, or perfect for those who want to learn surfing, it is the use of Gacky Surfing Shop.

The Gacky Surfing shop located 3 minutes from Miyazaki airport station also offers schools and guides. We provide waves information every morning and there is no waste of time as people who visit for the first time can tell us the best places to enjoy surfing soon. Because it is a short distance of 10 minutes by car from shops to beaches no matter what, you can feel the sea immediately!

People who wish to experience before starting full-scale surfing from now on are equipped with a set of tools from wet suits to surfboards, so after experiencing and experiencing fun, you can start with full tools starting with tools.
Characteristic of the business owner's husband and wife responding at home school
It is the owner and couple of the Gacky Surfing shop that will guide you at the surf school, so it is the feature of this business operator that you can receive fine-grained correspondence. It is ideal for those who want to learn with parents and children, so female instructor will correspond to girls so it is very safe!

Beginners have difficulty in choosing waves, but since they can show you the best points of the wave, it will also be an opportunity to learn good waves. You can do surprising with reasonable teaching, so you can have a fulfilling school experience.

Since I am going on almost seven days a week, if I want to go to the beach, feel free to contact me and apply for a school.
The activities we are dealing with include surfing and body board
Even the first person can enjoy the feeling of waves to the fullest, and the body board can start with confidence in your child because it does not stand on the board. Techniques are necessary to do turns, so adults can enjoy authentic marine sports.

Teaching surfing not only for beginners but also for people who want to raise the level, so we can improve our skills while enjoying!

Both Surfing and Bodyboard tools handled are available at the Gacky Surfing Shop, so you can visit and rent by hand. You can choose the tool that suits you.