Stand-up paddle board (SUP) that you can enjoy various ways to use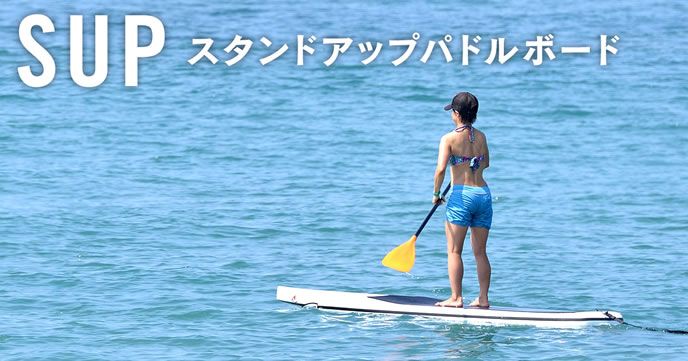 Size of stand-up paddle board (SUP) board
There are various kinds of leisure that you can enjoy on the waterside such as marine sports, but among those, there is what is called Stand Up Paddle Board (SUP) in what has attracted attention recently.

This stands on a board that closely resembles a surfboard, and can move freely on the water with a paddle like a canoe, which makes it a great appeal.
Although the appearance is very similar to the surf board, the size of the board is as large as 11 feet from the same as the long board, which is about 9 feet.

It is necessary to note that there are differences in behavior and stability depending on the difference in size.
Difference in usability characteristics depending on board size
The size of the stand-up paddle board (SUP) is about the same as that of the long board or the slightly larger one, but its thickness and width are characteristic.

Compared to ordinary longboards, it is thick and has a large width, so it is characterized by excellent stability when people ride on.
Also, increasing the buoyancy by making it a little larger affects raising the sense of stability.

It is a big feature of the Stand Up Paddle Board (SUP) that you can enjoy not only watching a wave like surfing but also taking a leisurely walk on the water or sitting in a favorite place, at your favorite pace.
Various usage of stand-up paddle board (SUP)
The stand up paddle board (SUP) is greatly different from surfing and canoeing in that you can enjoy various uses.

Surfing etc can not be enjoyed enough without waves, but stand up paddle board (SUP) is attractive to be able to freely move around the water by the amount of paddle.
Also, it's easy to get on the water by snorkeling etc. because it is only on the board and you can also enjoy fishing by putting a fishing tool on it because buoyancy is large.

It is a feature of stand-up paddle board (SUP) that it can handle with ease without having to take time and effort on getting on and off like a canoe and it is the most appealing.