Let's enjoy rafting on the water (Minakami)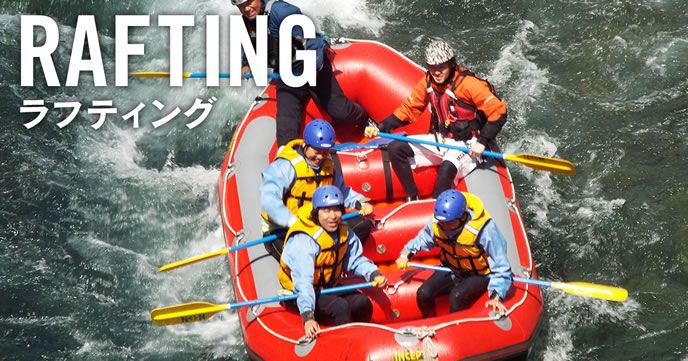 Enjoy rafting fun at the water (Minakami)
The town of Mizukami (Minakami) in Tone-gun, Gumma Prefecture is a popular tourist destination. Especially from spring to autumn, many tourists visit to enjoy leisure such as outdoor sports at the waterfront.

Rafting is a particularly popular outdoor sports, even in leisure that you can enjoy on the water (Minakami). As some people ride on a rubber boat called raft, everyone cooperates and goes down the river with a paddle, so it has a sense of unity with the thrill and it is very interesting.

You can enjoy a variety of rafting courses ranging from full-fledged things in water (Minakami) to easy things you can enjoy with your family.
If you experience rafting while staying you can enjoy more
Rafting on the water (Minakami) can be enjoyed enough even if playing on a day trip. But as long as you stay, you can enjoy more than day trips because you can rest your tired body slowly while playing on the day you arrived, or you can play from the morning the day after your stay.

Families with children in particular are physically tight on a day trip, so it is recommended to stay on that day you played. I forgot about returning and can fully enjoy it, so I should be able to make great memories.

There are many hot spring spots such as Minakami Onsengyo in Minakami. So it is also attractive to have accommodation facilities that you can relax and enjoy meals and bathing.
Attraction of each hotel, camp, cottage
When experiencing while staying at the rafting, there are options such as hotels, camping and cottages. Each of these facilities has a different charm, so some people may wonder which one to use.

The charm of the hotel is that the facilities and meals are substantial and can stay comfortably. For families with small children in particular, fulfilling services are saved.

On the contrary, it is fascinating to do camping while doing various things by themselves in nature. Experiences different from usual are good memories for your child. Cottage is like feeling between hotel and camp. There are convenient facilities and you can also experience experiences devising themselves.