Diving where both beginners and experienced people can enjoy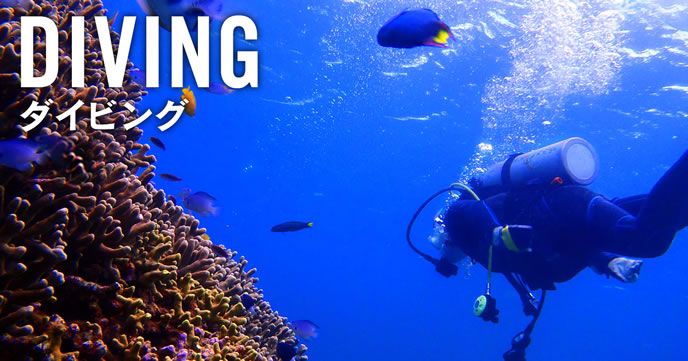 The charm of diving is to be able to walk underwater!
Generally speaking, diving is one of the marine sports subject to water depth of 30 m to 40 m.
It is characterized by being able to enjoy an underwater walk of about 30 minutes to 40 minutes, supplying oxygen from the oxygen cylinder in the water, with oxygen tank on the back, being able to stay for a long time in a place where human beings can not live is diving It can be called charm.
You can also see the colorful fish swimming in flocks in the ocean with coral reefs, so you can feel like you are swimming in the aquarium tank, and in fans diving etc drop On the cliff at the bottom of the ocean called off, there is the real pleasure that you can see the large fish swimming eyes elegantly swimming in the immediate vicinity.
In fun diving, large fish from macro organisms
Fan diving is a course for those who have license qualification for diving.
Some people have blanks in the divers, but even those who say anxiety because they have blanks in fan diving, they are in the offshore after practicing in the shallow for the first time to regain diving intuition I will use the boat to move to the point.
In fun diving, I will take a submarine to a depth of 20 m to 40 m deep and enjoy underwater walks, but there are drop-off points in the diving point, which are cliffs.
For such points, large fish and others are waiting for divers.

People who do not have diving experience also take a diving experience
Experience diving is a course for people who have never experienced diving, people who do not have licenses, and has the merit of being able to enjoy underwater walks in places around 10 meters deep.
Also, in the experience diving, the instructor of the shop will give a lecture on how to handle the equipment and how to behave underwater, and before practicing underwater, practice such as how to breathe using the regulator, You can enjoy underwater walks.
Enjoying underwater walks that you can not taste at snorkeling is the real pleasure of experiencing diving and its popularity is getting higher.