Spots that can be enjoyed in Mecca of Canyoning, Kanto and Kansai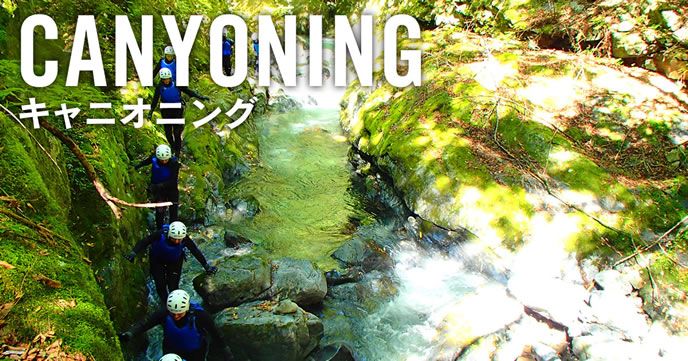 On the birthplace of canyoning and about Mecca in Japan
Canyoning is a sport that advances by leaning to the head to the river flowing in the majestic wilderness originating in France.
Depending on the choice of the course you can also go up the waterfall to counter the flow of water or enjoy the way to slide down the sloping rock like a water slider.
It is a popular activity worldwide, including France in the birthplace, but in Japan, Niseko in Hokkaido is regarded as Mecca of Japan and tourists who enjoy canyoning not only from Japan but from all over the world are visiting.
Therefore, many experiential plans and experience classes are held.
Spot for enjoying canyoning in Kanto.
In the birthplace of France, it is a canyoning enjoyed in the river which continues to flow in the same way long before human beings are born in the nature that has been left over from the ancient times, but even in the distance not far from the city center, you feel the original enjoyment I can do it.
There are many spots recommended in the Kanto region such as Tone River, Okutama, Nasu.
Many people in Kanto have an image that there are many artifacts, but majestic nature is left at a distance that you can enjoy with a schedule that you can afford even on a day trip.
It is a place that we can say as a source of water we use in our daily life, so it is suitable for social studies.
Spot for enjoying canyoning in Kansai.
In Japan, Niseko in Hokkaido is required to have not only the site where canyoning is enjoyed, but also its surroundings as well as its surroundings as it is said to be Mecca, but you can enjoy canyoning in Kansai as well There are several spots.
Suitable in Kansai and popular spots are many in Nara and Wakayama, there are many popular courses not only from the Kansai area but also from Kanto and overseas.
In Nara, the popularity of the course set up in Oku Yoshino is high, it is a popular reason why the way of playing around a waterfall is such that a waterfall exists and can dive into a waterfall vase!