Let's know about clothes when canoeing even in rainy weather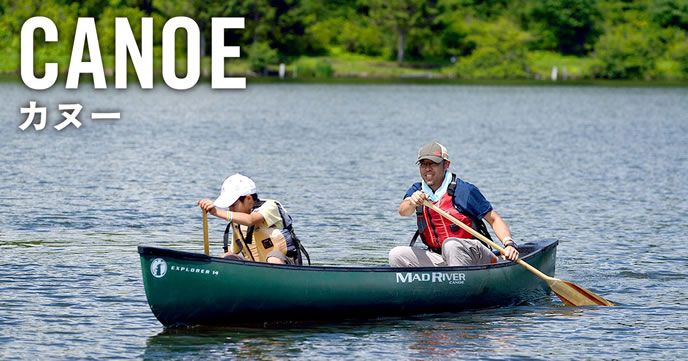 Can you enjoy canoeing even in rainy weather?
Canoeing can be enjoyed even in rainy weather. It is only when the wind with strong exceptions is blowing or it is judged dangerous as the watering is increasing. Actually rainy weather animals appearing on wetlands and the like will act more actively, so if it is a little rain, using canoes is not too bad. On rainy days you can see fantastic scenery. If it rains, you can rain clothes such as raincoats and go out and it is a no problem. In the case of tours etc, the presiding party may have prepared us. It is good to experience rainy days as well as what kind of scenery you can meet.
What kind of clothes should I wear when riding a canoe
When you do a canoe you basically dress you can get wet. It is particularly recommended to use chemical fiber materials and those that are fast-drying and water-repellent. Water shoes are the best for shoes, but if you have old sneakers and so on, you can use it. It is also good to take long sleeves as measures against ultraviolet rays. It would be nice to take a change of clothes so that you can change on your way home. Also, it is good to wear sunglasses which are prevention measures against falling like summer. In summer, short sleeve T - shirts, half pants, bathing suits looks good, and in winter it is good for wearing long T - shirts, long pants, wet suit and rain wear, wind breakers, jerseys and fleeces etc in outerwear.
Be sure to observe precautions on canoeing!
There are a couple of points to remember when you enjoy canoeing. First of all, as a basic matter, it is a requirement that you always put on a life jacket when you ride. When going to Kawahara it is also important not to throw the stones around it or leave the garbage. Let's not put it roughly when you put the canoe. Because this is fragile, it is better to stop quitting on river beds etc. and ride on a pebble as it may be broken due to it. If you are riding and overturning, deal with it without hurting, and when you reach the shore you say a seesaw and two people are in pair and you pull out the water that has gone inside.