SUP that even beginners can enjoy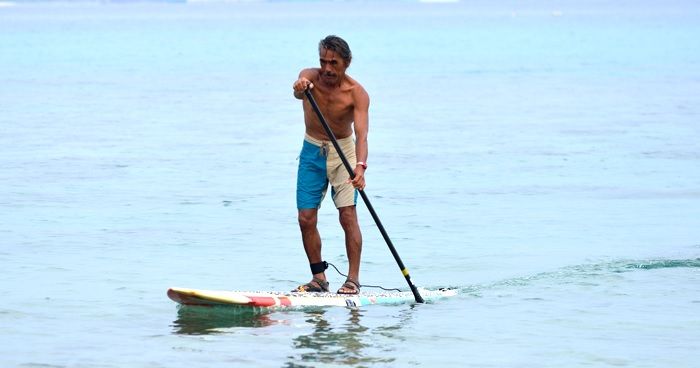 Next time to try it is yoga pose on SUP! What?
Originally it is impossible impossible for sports of the sea! Although I was thinking, I started SUP in the fall of last year, by a friend's recommendation. At first I was thrilled with what I was going to do, but it is quite different from surfing using similar boards when I do it, it is nice to enjoy the scenery slowly on the ocean, watch the sunset and enjoy the nature It was sea fun.

And, it is yoga that I plan on trying next I will do on the board. I can see many of these in the nearby sea recently. Probably because there is a board with strong buoyancy it is probably easy to take a pose on it and it feels comfortable! And it is around this time that I am very curious.
SUP using body trunk may be perfect for dieting
Recently he often hears the term "body trunk", but it seems that there are many good things when using sports general trunk. SUP is also the same, if you can use your trunk well, we will not have any strange power on your feet and arms, and will advance to Switzerland. Although I am still a beginner, this is probably not a mistake, as I have realized it every time I do it.

To say that if you continue exercising using the trunk is that the body will tighten. Even if my weight does not diminish visibly, I am very glad that my body gets tight. It's fun to be on the ocean, the time and distance you are riding quickly increases. SUP which can expect diet effect with nature and body tightening. It is also recommended for women.
The sea was not good at the sea SUP that even the novice beginners can enjoy
I am not good at water, but I was not good at entering the ocean. However, due to moving to the side of the sea and suggestions from friends, I dared to start SUP last autumn. The sea beside my house was not much waves and there was a beginner's perfect environment for me to enjoy and now it has become addictive.

When I first saw a person who is doing SUP, I felt strange, but now I am the side to do and I will swiss on the sea. Even beginners choose a board with strong buoyancy will almost never fall into the ocean, you can enjoy it all the while. While slowly sliding over the sea, you can enjoy even the beginners enough to watch the fish swimming, watch the sunset, it is also recommended for daily stress relief.