Segway became possible to travel on public road finally!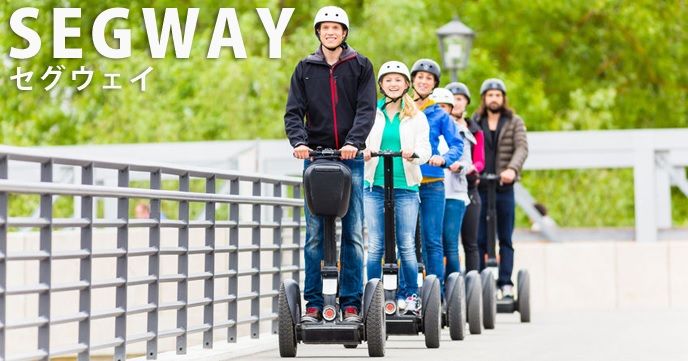 Futuristic scooter, price of Segway you care about
Speaking of Segway, it seems that there are a lot of people who know it as a motorized two-wheeled vehicle on the street.

Originally derived from a high-function wheel chair, the expectation of the American mass media had been heating up before release.

After the launch, it became a high-priced neck and it was hard to sell, but gradually it was officially introduced by police and private security companies, and traveling on footpaths and motorways became possible in many states in the United States.

It is a Segway that seems to be unstable at first glance because there are no front and rear supports only by the wheels of the left and right wheels, but special sensors etc. are built in and the stability performance of independence is very high.
That Segway is now available for public roads
In Japan, running on public roads is still not permitted, but it was announced that public roads will be available from July!

It is planned to be certified as a small special car or motorized bicycle by meeting the conditions such as the placement of the director and the permission of the road use, and also within the width of 70 cm, the maximum speed of 10 km / h or less.

It is not yet possible to run the Segway on a regular road on a daily basis, but the place where you can travel in Japan by sightseeing spots and events etc. should be gradually increasing.

As a movement support robot that runs at a low speed, it will become more and more expected from now on as an easy-to-use transportation tool for elderly people, disabled people and tourists.
How to ride is very easy, you can master quickly
The way to ride a Segway is very easy. Just move the center of gravity to the direction you want to intuitively and it will move automatically.

For speed adjustment, the speed increases when pushing the center of gravity forward, and gradually decelerates when you return to the center of the body. It reacts to the passenger's system, so it is very attractive that you can move by just tilting your weight.

All actions are very intuitive, so it's a futuristic ride that allows you to operate smoothly in the direction you want to go.

As an image, it is intuitively free operation like a computer mouse is possible. As a ride that feels like the wind, the day we will see the Segway on a daily basis may be close.