Flyboard is a new and fun marine sports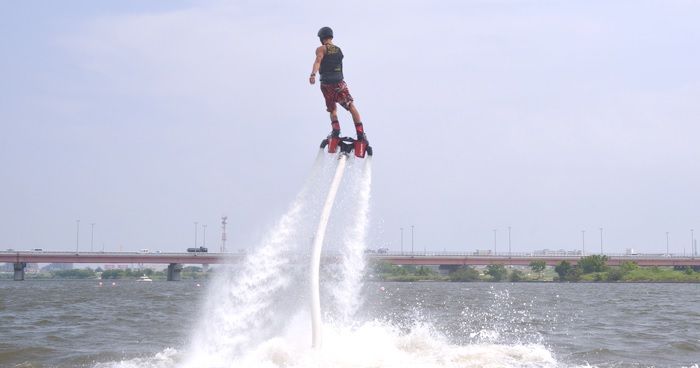 How do you fly in the sky though you do not raise the flyboard from above?
Flyboard is a marine sport originating in France. Its birthday is very new in 2012, but it became a hot topic in Japan as well. Have you ever seen a celebrity playing on TV with this?

This is a sport that you can fly over the water as it is fly and name, but when you see someone who enjoys it is not parsyered or parsheed or otherwise pulled from above. Then how do you fly in the sky? There may be people who have doubts that.

That answer is under your feet! I sprayed water vigorously from a board-shaped device attached to my feet and it is flying with that water pressure.
Mechanism for floating up in the air with a flyboard
So what kind of structure is the fly board that creates hydraulic pressure that allows people to float up?

There are also people who think that it is like a pump attached to the equipment attached to the feet and that it will spurt the water we have taken in. But with that method, you will not have enough power to make a man float. If you look closely at the person who is flying, you can see that the pipe is extending from the foot device. Actually this tube has its secret!

The pipe leads to a jet ski nearby. By using jet ski engines with power that can be promoted at high speed, it is a mechanism to create large water pressure.
How to enjoy the fly board which could not have been tasted so far
The reason why the fly board became popular in such a short period of time is because there are new ways of enjoying it, which we could not have tasted with marine sports so far.

It emerges as if it can be pushed up from the feet, and enjoying the way you fly by balancing in the air yourself will taste a thrilling unique floating feeling. About 10 meters can emerge if you are a good person!

People who feel that balancing is somewhat difficult, please feel at ease. The fly board is a sport that will be able to be enjoyed immediately even by the first person. I will be able to fly with practice hours as short as 15 minutes.