Fly board that you can feel free even for the first time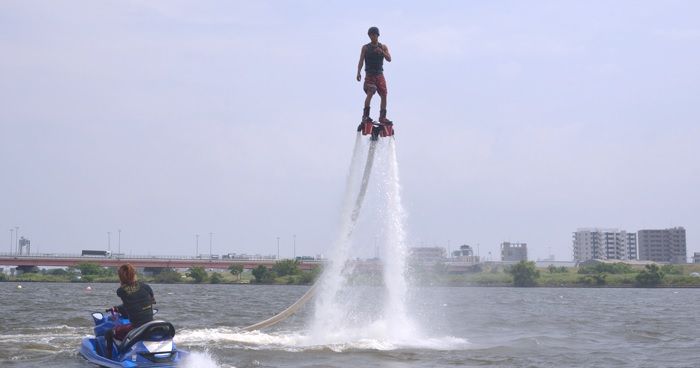 Women can also experience flyboard with confidence
Women who do not usually exercise may be worried about whether they can do it, but fry boards are marine sports that anyone can enjoy for the first time even if it is first time.

Because it fly to the sky with the force of hydraulic pressure, it becomes necessary to have balance sense rather than physical strength.

In the case of a beginner woman, a professional instructor firmly teaches how to ride, so you can definitely ride it and experience it with confidence.

Although there are individual differences, it will be possible to ride well in about 10 to 15 minutes practice, you can experience the feeling that you are flying in the sky with a flyboard!
Fly board where you can enjoy walking in the air even for the first time
The flyboard born in France which is very popular all over the world is a marine sport that floats with the water pressure by injecting the water pumped up with a powerful motor connected with a water bike.

It seems to be difficult to emerge at first glance, but being able to enjoy the aerial walk easily even for beginners has become the biggest attraction.

In addition to moving vertically and horizontally, you can rise to the height of the building that is built three times if you try one turn or get used to it, you can enjoy the scenery far away.

When experiencing, everyone will surely wear a life jacket so you can fully enjoy even those who can not swim.
Fly board to participate with good wearing goods
Although it is wear when experiencing fly board, it is good wear that getting needed becomes wet. If the temperature is high in the summer or the like, you can relax with fun if you bring swimsuit.

You can not ride barefoot on the flyboard, so you also need to prepare good shoes or beach sandals that you can get wet.

Since it is not very crowded from autumn to winter, it is ideal for challenging, but it is different from the feeling that cold water is comfortable like summer, so the necessities wear in cold weather will be a wet suit. If you do not have it, you have rental.