Enjoy the summer rafting at the Kumagawa River in Kumamoto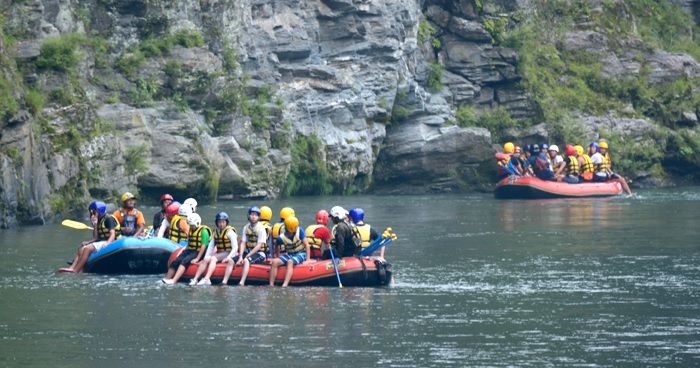 The Kumagawa River is a spot where you can enjoy torrents in Kyushu.
Rafting at the Kumamoto River river can enjoy a torrent which is enough to enjoy from children to adults.
Because it rushes into the torrent of your choice according to the person riding the boat, it avoids when there are small children.

For those who want to have more fun, after the rain, the watering is on the rise and the condition is good.
It is a popular rafting spot throughout the country, as well as boats, you can jump in from high places and go behind the waterfall, you can not usually experience the course.

Recommendation is a one-day course in the morning, enjoying rafting in the afternoon after getting into water and river.
The Tamagawa river is the fastest river in the nation's best 5.
Because the Rumagawa river is the fastest to enter the best 5 nationwide, you need to book early.

Also, it is fun to choose a rafting company, depending on who goes, such as family group, girls etc.
For girls only, if you are interested in hot springs, amenities, lunches, or family companies, sticking to the amount of money, each company has different characteristics, so let's check in advance.

In the hot spring after finishing, there are places that are not suitable for girls who do not have much dryers or shower rooms, so we need to check around here as well. Lunch is also various, such as sandwich place and barbecue form place.
The Rumagawa river is the best in Japan in the rafting area, delicious items.
Because the Kumagawa River is close to Aso and Amakusa in Kumamoto, it is no exaggeration to say that the most delicious ones are in Japan! If you stay, Aso is famous for red beef and cheese.

After getting tired after rafting a day, we only need to eat delicious items and go to bed. In Aso, volcanic hot springs are famous, so it is physical strength recovery with hot springs and meat. Cycling and paragliding etc are active lot, and the next day, it is Kumamoto that we can play a lot of eyes.

In Kumamoto, the tour of Kumamoto Castle is also popular, so the next day, if you want to slowly, you can also take a leisurely walk around Kumamoto Castle. Dolphin watching is also a popular spot in Amakusa near the Rumagawa River and seafood is delicious!