You can use immediately! 7 techniques to be used when first challenging rafting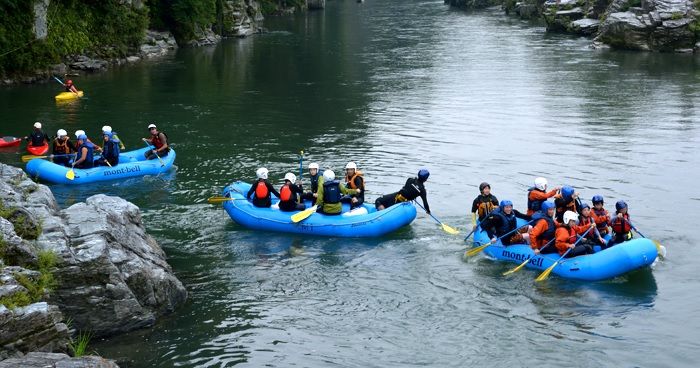 First try! What kind of sports is rafting?
Rafting is a sport that goes down a river by using a vehicle like a small rubber boat sailing by the buoyant force called raft, which had been done by rafts in Japan for a long time and still in the urban sightseeing spots etc. There are many spots that go down on the raft towards the downstream.

Rafting incorporates elements of sports into this, and it is becoming popular all over the world as an activity that you can enjoy enjoying the thrill by going down rapids.

There are many tours that can experience rafting now. In Japan, rafting is also taking place at the university's exploration department, so if you want to join the group there is also a way to enter the university's exploration department.
7 techniques to be used when first challenging rafting
When rafting is the first challenge, you need a solid preparation, you know when you first challenge to wear a helmet that protects your head, or arrange a life jacket that can float when you fall into a river It is a technique you want to keep.

In addition, if you pass through rocky grounds etc, you may be able to scratch the arm etc, so it is important to get on the raft by wearing a wet suit so as not to expose the skin as much as possible. Rafting is about 6 people and it is important to move the all together according to the timing, so you can safely go down the river by practicing in advance and deciding role sharing etc.

In the place where the flow is steep, it is necessary to move all around violently, so we raft the raft by multiplying the voice etc, but when challenging for the first time we chose the gentle stream river and challenge the natural beauty You can enjoy it.

Speed ​​and technique are the basis
In rafting to compete in the tournament etc, it is necessary to apply to the convention beforehand, but it is important for members to line up breathing in order to get good grades, but difference in speed and technique Because it is, it is important to firmly decide the division of roles of each.

It is important to row at the same timing in order to get speed, so you have to ride down the river by rhythm and so on. Regarding techniques, you need to be in a place where you can overlook the whole in the case of advanced users, but for beginners, you need to be in a position that is easy to receive instructions.

Especially when there is an abrupt flow, beginners may become panic, so it is important to steer clearly according to the instructions of the leader. World convention etc. are also being held, but all Japan tournaments are held in Japan as well.