Recommended for greedy you. Kyoto rafting which can enjoy play, sightseeing and gourmet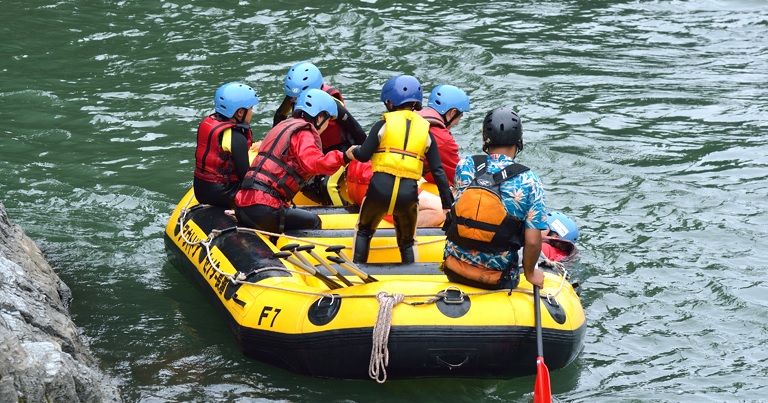 Rafting is recommended if you travel in Kyoto!
There are many shrines and temples in Kyoto. One of the most popular sightseeing spots is Arashiyama. As you can enjoy the view of the spring cherry blossoms, the fresh green of summer, the autumn leaves, the winter snow pattern and the four seasons, many tourists are visiting anytime.

Especially when the cherry blossoms and autumn leaves are in the best season, it will be difficult to see the scenery of Arashiyama by emotion as it is overflowing with tourists around Togetsukyo Bridge.

So we recommend rafting on the Hozugawa River. The river flowing under Togetsu Bridge calls the downstream of Kogetsu Bridge Katsuragawa, the Togetsuki Bridge per capita Oiigawa, and the little upstream of it is Hozu River. From Kameoka to Arashiyama there are also people who have enjoyed the Hozu River descending from the ship down the torrent. Hozugawa is also the most rippling point in Kansai and is a great outdoor spot to enjoy rafting.

Rafting point in Kyoto where you can enjoy play, sightseeing and gourmet
Many outdoor clubs hold an entry level experience course at Hozu River rafting. It is 30 minutes by train from Kyoto station, 40 minutes by car and good access, so not only 1-day plan but also half-day plan, it is possible to feel free to join between tours.

While enjoying the views of each of the four seasons, you can experience real rafting at large and small various torrent points, you can float and swim at a gentle point of flow, jump into the river from the rocks and enjoy a lot of Hozugawa river. Since experienced guides are attached, it is safe even for first-time users and children.

Also, some clubs have set up additional courses to enjoy barbecue after the end of the rafting. While eating with friends and family, it will be fun to be excited with the rafting story just experienced.

Greedy you are also satisfied!
After having enjoyed rafting in Hozugawa, how about sightseeing in Arashiyama? Take a cafe near Togetsu Bridge and take a break while looking at the river. Soft creams and specialty croquettes using Kyoto's like green tea and tofu are sold a lot, so it may be interesting to eat and compare.

Besides Arashiyama station around Kei Fuku Arashiyama Electric Railroad (Arashi Denshi), various stores such as Kyoto pickles, crispy mouthfellets and goodies, Mayuya and bamboo goods shops are lined up in the shopping district. Looking for souvenirs at the souvenir shop and finding favorites is also recommended.

Also, in addition to visiting the garden of Tenryuji and the Okochi Sanso, walking around the bamboo grove, walking around the bamboo grove, and visiting a love affair at Nomi Shrine, there are many famous temples such as Buddha temple, Jogunkoji Temple, Kiyunji Temple and Daimonji Temple in the direction of Sagano. It will be a trip that you can enjoy not only rafting but also a classic shrine visit.